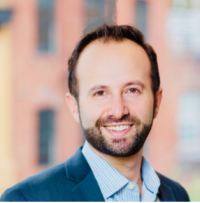 Edward Gorbis
Edward Gorbis is a career and business coach and author of the book "Unbreakable Mindset." Gorbis works with immigrants and first-generation professionals and entrepreneurs on how to rapidly accelerate their careers and businesses without sacrificing their lives. By eliminating the doubt, overwhelm, stress, frustration inherent in the demands of navigating the business journey, his clients achieve rapid growth in their career while creating fully integrated and thriving lives. Through his one on one coaching and online mindset program, his clients learn the strategies and systems necessary to maximize their career and financial potential and live a life of fulfillment. Gorbis is the CEO of Career Meets World, an online coaching platform. He is also a startup advisor and the host of the Career Meets World podcast. He was formerly a civil engineer turned senior sales leader at WeWork and has led various teams to generate more than $50 million in revenue over the last 10 years.
Education and certifications
M.S. in Civil Engineering, UCLA 
B.S. in Civil and Environmental Engineering, UC Davis
Career Meets World

Career Meets World is a career coaching platform that helps ambitious professionals and leaders maximize and thrive in their careers and life.
Available coaching methods
Virtual (via video conferencing and phone)
Career stages
Entry-level, Mid-Career, C-Suite, Career Pivot, Management
Industry
Business, Startups
Contact
Website: www.careermeetsworld.com/ 
LinkedIn: www.linkedin.com/in/edwardgorbis/ 
Email: edward@careermeetsworld.co
Member benefits offered
Cal Aggie Alumni Association (CAAA) and Student Alumni Association (SAA) members will receive a 20% discount off either one career or interview coaching package they purchase.