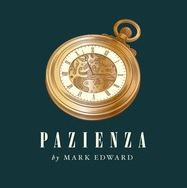 Welcome to Award-Winning Pazienza by Mark Edward!

Pazienza, or patience in Italian. It is designed as an outlet to slow down and spend more time with family; and the process of turning grapes into wine.
Mark Flowers, class of 2005 and vintner/proprietor of Pazienza by Mark Edward, joined the wine industry in 2010 with Foster's Wine Estates America before it became Treasury Wine Estates in mid-2011. Fresh off finishing his MBA, Mark worked as a planning analyst while participating in sensory evaluations and internal classes on viticulture and winemaking. His fascination with the art, science and beauty of wine expanded despite his administrative analysis role- ultimately phased out in 2012 due to a corporate restructure. Not long after, he accepted a logistics position with the cult Napa Valley Cabernet producer, Harlan Estate. Finding himself in a more administrative role again, Mark decided to expand his wine business acumen and get a supplemental job on weekends educating and selling wine at J Vineyards and Winery. This not only allowed him to learn more, specifically about sparkling wine, but also connected him to his native Sonoma County. All these experiences ultimately drove Mark to seek out an opportunity to make wine in 2014, or at least learn with the help of a mentor. Dylan Sheldon of Sheldon Wines has helped advise and guide Mark on his journey from harvest staff to winemaker. It was a fruitful mentorship in his own past that has caused Dylan to become so generous with his experience and expertise to aspiring winemakers, one from which Mark is grateful to reap benefits. In 2015 Dylan introduced Mark to grape grower and owner of Ceja Farms Vineyard, Jesus Ceja, to purchase beautiful Sonoma Valley Petite Sirah and Zinfandel fruit which make up the foundation of the Pazienza portfolio of red wines. This allowed Mark to realize his first goal of having a Sonoma County appellation for his wines. Since achieving this goal, Mark has won numerous awards at the Sonoma County Harvest Fair over the last 3 years. These are wonderful recognitions and certainly help reinforce Mark's confidence in his craft, but it is ultimately the joy of hearing how much his consumers enjoy and appreciate the passion in his wines that drives Mark to continue his venture regardless of the steep costs associated with being a small producer. Please visit Mark's website at markedwardwines.com to learn more about Pazienza by Mark Edward.
Address
Pazienza
3360 Coffey Lane E
Santa Rosa CA
95403
United States