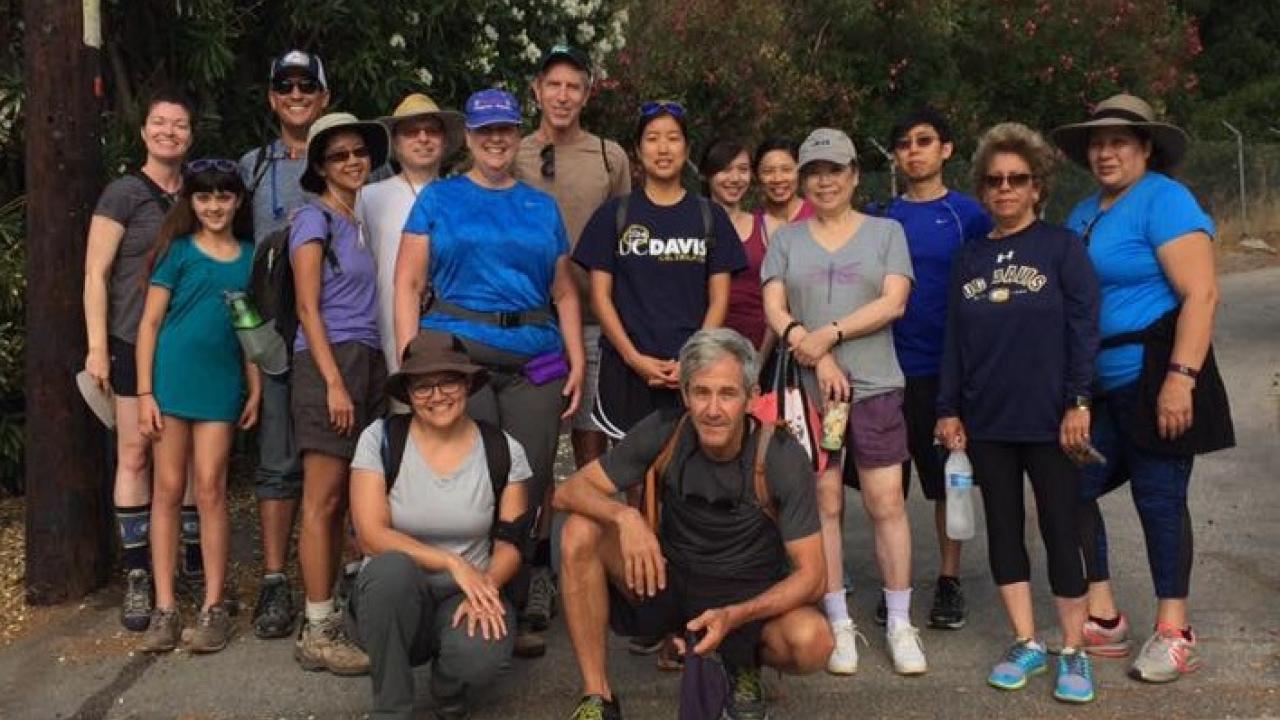 Join fellow Aggies and friends on Saturday, October 20 for a fun filled day. Please join us for one, two or all three of these activities. 
To start the day, there will be a short 1.5 mile hike at the Miller/Know Regional Shoreline beginning at 10:30. After that, people will head over to the Columbia Employee Store.  Items to bring for the hike: Water, sunscreen, hat, and optionally a light snack (nuts, dry fruits, chocolate, etc.).
Columbia Sportswear Company is pleased to extend access to their company employee stores in Richmond, Carlsbad and Portland to members of the Cal Aggie Alumni Association by exclusive invitation. CAAA members will be able to enjoy the same Employee pricing they make available to their staff. Columbia offers current season's products from Columbia, SOREL, Mountain Hardwear and prAna including the latest outerwear, sportswear, sleeping bags and tents.
If you are not a member, you are still invited to participate in the activities in Richmond. Sudwerk has partnered up with UC Davis' Department of Food Science & Technology and Doug Muhleman ('77) the retired vice-president of Anheuser-Busch to create the university's own beer: the "Gunrock" lager! Come and taste this new beer after your hike or shopping experience. CAAA has also invited Opies Truck (Gourmet Stacked Burgers http://www.opiestruck.com/) to be onsite to from 12:00 – 2:00pm for guest to purchase a bite to eat.
Join us at 2:00pm for an exclusive tour with Park Ranger Betty Soskin who shares her experience as a young African American woman during WWII.  This is one of the most sought after tours at the Rosie the Riveter WWII Home Front National Historical and we are excited to offer it to our guests! About the Rosie the Riveter WWII Home Front National Historical Park - Explore and honor the efforts and sacrifices of American civilians on the World War II home front.  Find out how they lived, worked and got along. Many faces, many stories, many truths weave a complex tapestry of myths and realities from this time of opportunity and loss. Please RSVP here for this event as there are a limited number of slots on the tour.
Saturday, October 20
Miller/Know Regional Shoreline Hike
10:30 a.m. - 12 p.m.
Meet at 10:30, the hike will begin at 10:45
Meeting Location:
1548 Dornan Dr
Richmond, CA 94801
At the Ferry Point Loop Trail Parking Lot (Brickyard Cove Rd and Dornan Dr)
If you have questions about the hike, please contact AL  Lavassani.

Columbia Store Event
12 - 2 p.m. 
1414 Harbour Way S
Richmond, CA 94804
*Besides the store discount, there will be food and drinks to purchase.*

Rosie the Riveter/WWII Home Front National Historical Park - Museum Tour
2 - 3 p.m. - Tour
Meeting Location: Visitor Education Center 
1414 Harbour Way South, Suite #3000
Richmond, CA 94804
Directions
Free - RSVP is required
Please arrive by 1:55 p.m. for a 2 p.m. tour start
To RSVP for one, two or all three of these events, please click here.
Tags