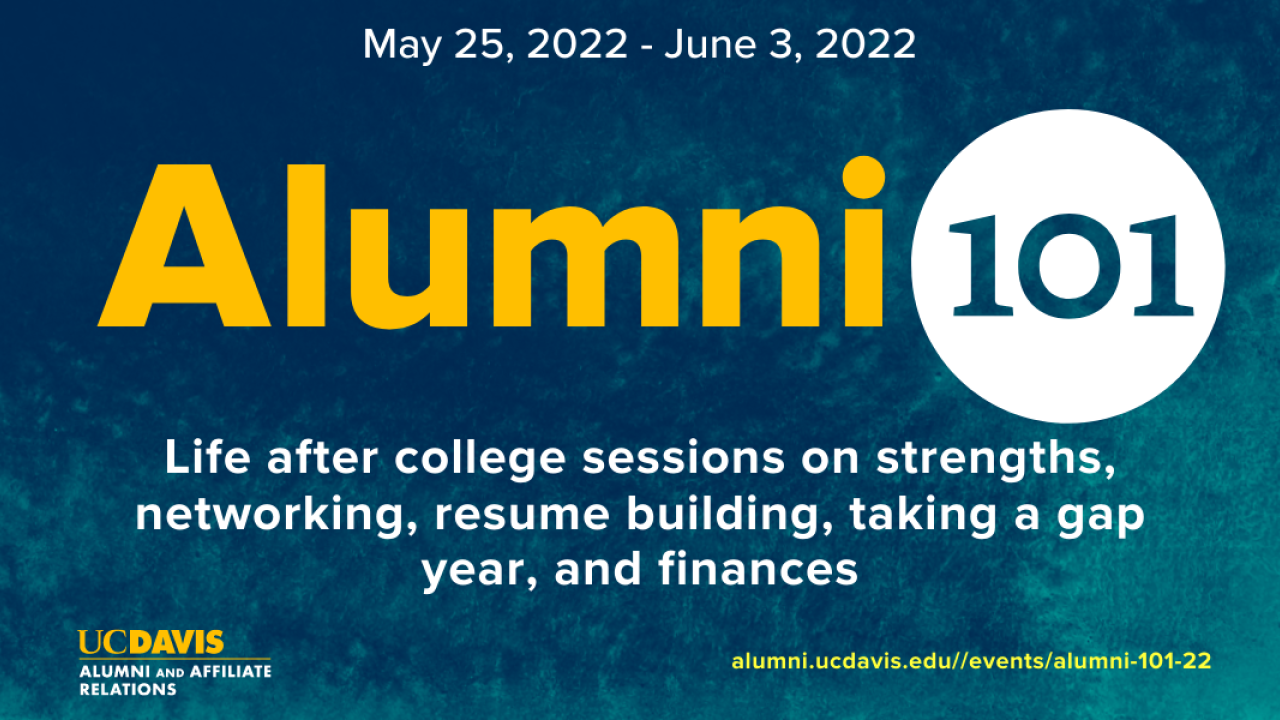 Graduating? We got you! Join your Cal Aggie Alumni Association for discussions on life after college. We'll be focusing each session on the things we wish we knew about post-grad life: managing finances, how to search for jobs, resume building, taking a gap year, and more! Check out the details and recordings about each session below.
Attend at least one session to get a free gift from the Alumni Association - just drop by the Walter A. Buehler Alumni Center and show us a screenshot from the virtual webinar you attended. All who collect their gift will be entered to win our grand prize: a graduation shopping spree at the UC Davis Bookstore!  
Finding Your Superpowers - Cancelled 
Overview: Everyone has a unique distinct set of superpowers and strengths. Investing time with this workshop will help you define them. This reflective session will provide you with tangible approaches to help you identify your strengths while exploring productive ways to combat imposter syndrome and achieve your goals.
Date: Wednesday, May 25
Time: 12:00pm-1:15pm Pacific
Presented by COOP Careers 
Job Search Workshop
Overview: Learn from UC Davis HR and recruitment experts about job search skills, resume-writing and cover letter best practices, as well as the do's and don'ts of your career search with prospective employers. 
Date: Thursday, May 26
Time: 11:00am-12:00pm Pacific
Recording of Job Search Workshop
Presented by UC Davis Human Resources
Personal Finance 101
Overview: Graduating often means a change in your finances.  You may be budgeting for a new salary for your Post-Grad job, trying to save up for graduate school, or unsure about what this means for your loans. This workshop will cover many topics related to personal finance to make sure you are on the right track. 
Date: Thursday, May 26
Time: 5:10pm-6:10pm Pacific
Recording of Personal Finance 101
Presented by University Credit Union
Handshake 101: From Building Your Profile to Networking
Overview: Alumni have access to Handshake, too! Learn how to use Handshake from start to finish including building your profile, finding jobs and internships, networking, and more.
Date: Friday, May 27
Time: 12:10pm-1:00pm Pacific
Register for Handshake 101: From Building Your Profile to Networking
Presented by UC Davis Internship and Career Center 
Strengths Discovery: The 5 Clues to Talent - Cancelled 
Overview: Your greatest talents are the foundation of strengths-based development. This interactive workshop explores the five clues to talent so you can begin to hone them to build strengths, and set you up for Post-Grad success. NOTE: Participants should be prepared to engage in conversations and breakout rooms as part of this workshop.
Date: Wednesday, June 1
Time: 9:00am - 10:00am Pacific
Presented by UC Davis Student Affairs Workforce Development
Resume Basics 
Overview: Learn the essentials of how to write a resume that gets you noticed by employers. This workshop will cover how you can market your skills, education and experience, and how to tailor your document for your next role.
Date: Wednesday, June 1
Time: 12:10pm-1:00pm Pacific
Register for Resume Basics (Virtual) 
Presented by UC Davis Internship and Career Center 
Maximizing the Gap Year(s) 
Overview: Is Graduate School in your future? This workshop explains what a gap year is, reasons why to consider taking a gap year, and what to do during that time.
Date: Friday, June 3
Time: 1:10pm-2:00pm Pacific
 Zoom Meeting for Maximizing the Gap Year(s)
Presented by UC Davis Pre-Graduate/Law Advising 
---
Can't attend any sessions live? We also have recordings of Alumni 101 sessions from 2021 available for learning more about topics that may not have been covered during this year's sessions. 
Making Friends and Building Community 
Overview: Once college is over, it can be difficult to meet new people when you aren't going to class, living on campus, or attending club events. Learn from a panel of recent alumni on how to build you community. Whether you are moving back home, staying around Davis, or moving somewhere new, our panelists will be sharing their experiences.
Leveraging Alumni and LinkedIn in your Job Search
Overview: Networking can help you find the job of your dreams. Join us for tips to leverage your personal network and the UC Davis Alumni network in your job search. We will also go over ways you can effectively use LinkedIn.
Post-Grad Personal Finance 
Overview: You're graduating which means your financial situation is also changing: loans may be coming due and you will have to budget for your post grad lifestyle. Join our conversation where we'll talk about credit (how to use it wisely), tools to develop a positive credit history and score, how to create and manage your own budget, ways to track spending, and options for student loan repayment.
Taking a Gap Year Before Grad School 
Overview: Are you thinking about graduate or law school down the road? Join us for an interactive workshop on the gap year(s)! Learn how to maximize opportunities during the time off between graduation and starting grad school.
Event Category
Tags