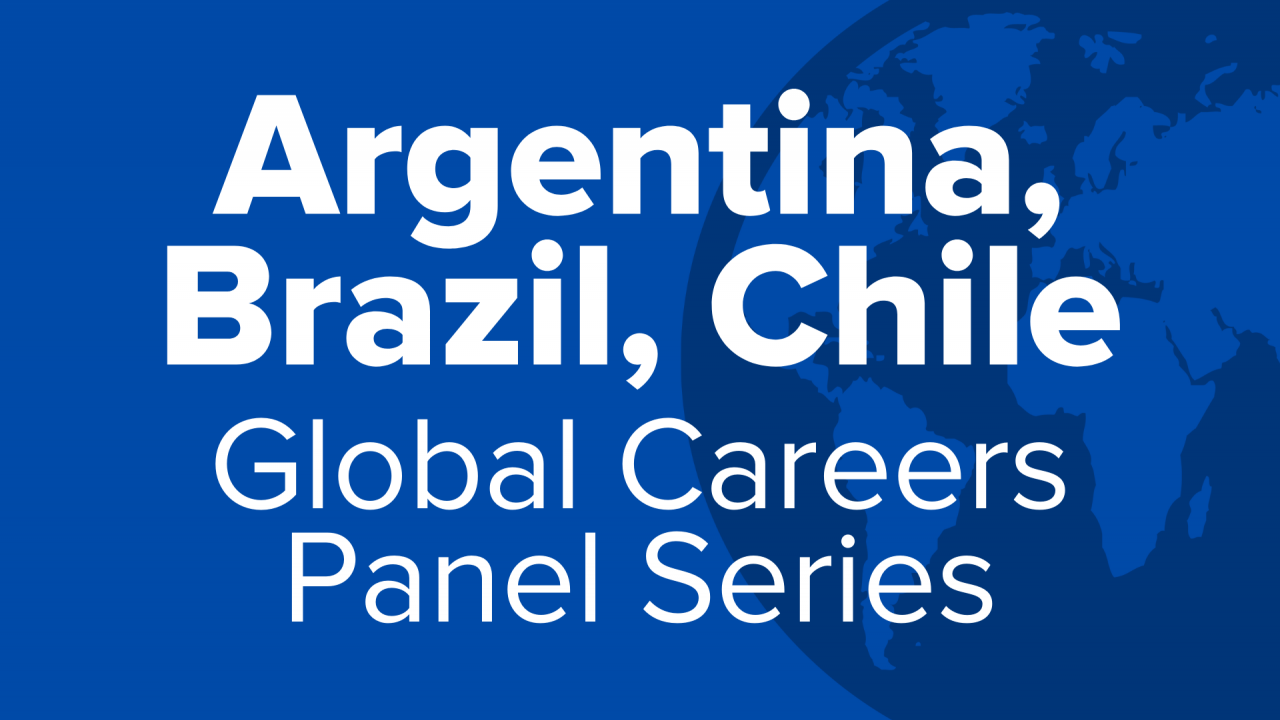 Join us for the Argentina, Brazil, Chile panel in our Global Careers Panel Series. At this panel, you will hear from leading professionals about their careers in Latin American. If you are not able to join us for the live panel, be sure to register so you can have a recording of it sent directly to your inbox.
Date: Tuesday, November 17
Time: 12:30pm-1:30pm PST
Panelists
Gaston Bottazzini ('91)
Argentina and Chile
Gaston Bottazzini was born in Argentina in 1969. On June 1, 2018 he was designated CEO of Falabella S.A. based in Santiago, Chile. He first joined Falabella in 2008 when he assumed the position of CEO of Falabella Inversiones Financieras, the business unit that groups Banco Falabella, CMR and Seguros Falabella. From this position, he was able to obtain an in-depth knowledge of the different businesses and markets in which Falabella operates. He was head of the digital transformation of Banco Falabella and CMR for the entire region, launched Banco Falabella in Colombia and led the entry of Falabella into Mexico.
Before joining Falabella he was a partner at McKinsey & Company, where he worked between 1996 and 2008, mainly advising companies in the financial sector in Latin America, the United States and Spain. His degrees include a Master of Business Administration from Harvard Business School and Bachelor of Science from University of California, Davis.
Gonzalo Vargas ('97)
Chile
Gonzalo Vargas has dedicated 30 years to different issues related to economics and management, such as agricultural economics, crime reduction policies, and innovation and higher education policies and management. He holds a Bachelor of Science in Agricultural Economics from the Catholic University of Chile, a Master of Business Administration and a Master of Science in Agricultural and Resource Economics from UC Davis. 
Gonzalo has been an Associate Professor at the Catholic University of Chile, Executive Director of Fundación Paz Ciudadana, and Chancellor of INACAP, the largest higher education institution in Chile. Currently he teaches at the Department of Agricultural Economics of the Catholic University of Chile. Gonzalo is an independent member of the board of Santo Tomas University (Chile) and a consultant for public and private organizations. He is also a husband and father of six children.
Pablo Zamora (Former Post Doc)
Chile
A scientist by training, the entrepreneur Pablo Zamora is co-founder of The Not Company, one of the fastest-growing biotech startups in LATAM. Pablo has a long history of research associated with business, patents, and the research of plants and their genomes.  He has been responsible for raising about 120MM USD in private capital and has participated in the creation of 3 scientific-technological based companies. Previously, Pablo was UC Davis research associate between 2009 to 2015 and Associate Director of the Life Science Innovation Center of UC Davis in Chile until 2017.
Moderator
Andre Antunes Soares de Camargo ('02)
Brazil
With twenty years of experience, André provides strategic assistance to clients in the corporate, contract, civil and corporate governance fields. He has great expertise in mergers and acquisitions, corporate reorganization, business restructuring and issues relating to management liability, as well as cases involving audit and anti-corruption matters. André has a strong academic background and solid experience as a professor at several institutions of higher education in Brazil and abroad (University of St. Gallen, Switzerland), especially in the subjects of corporate law, corporate governance, and mergers and acquisitions.  André also takes part in technical commissions and group discussions about the aforesaid subjects in relevant Brazilian institutions.  He authored several articles, book chapters and two books (one on related party transactions and the other on legal aspects of the Brazilian business environment".
Tags