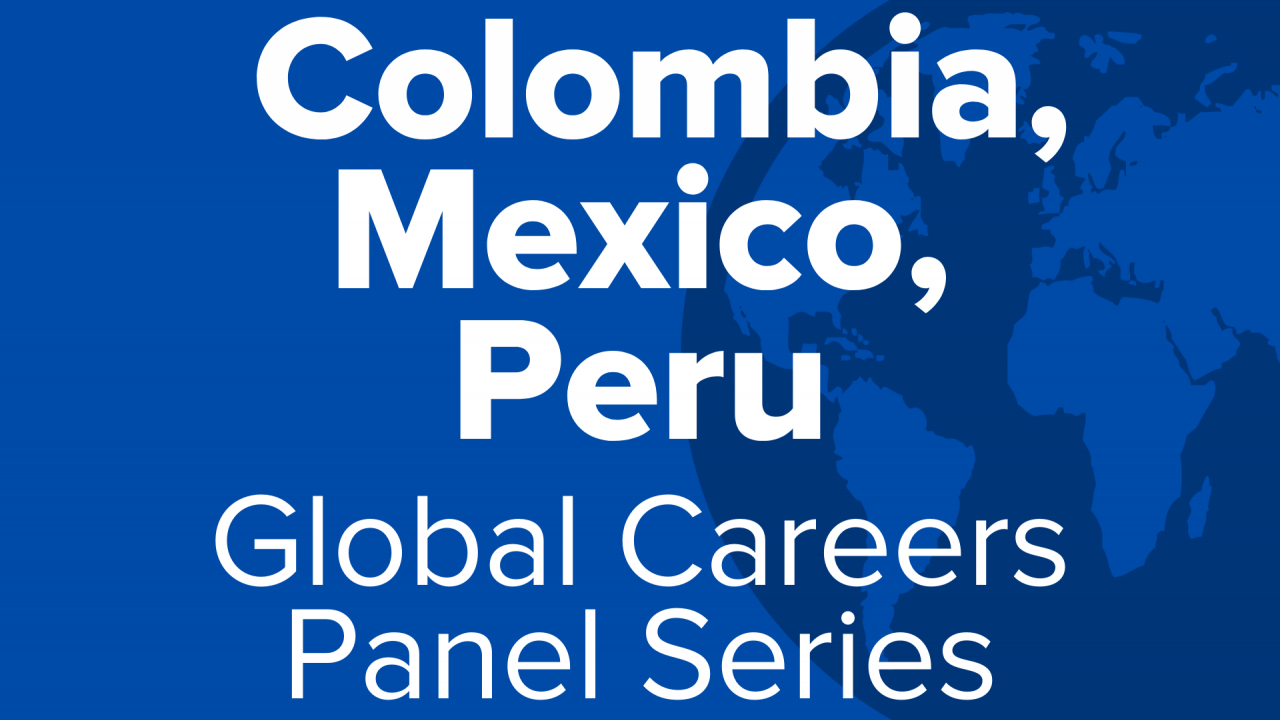 Join us for the Colombia, Mexico, Peru panel in our Global Careers Panel Series. At this panel, you will hear from leading professionals about their careers in Latin America. If you are not able to join us for the live panel, be sure to register so you can have a recording of it sent directly to your inbox.
Date: Wednesday, November 18
Time: 10:30am PST
Panelists
Ana Lucia Lepure (Humphrey Fellow Alumni)
Mexico
Ana Lepure is the youngest woman appointed as a national councilor in Mexico for climate change. This council represents the interests of civil society, academia and private sector before the Interministerial Commission of Climate Change of the Mexican national government. She spent one year at UC Davis (2010-2011) as a part of the prestigious Hubert H. Humphrey Fellowship Program, bringing leaders with unique stories and backgrounds from all over the world to campus.
She works at the International Energy Agency (IEA) as an energy efficiency coordinator in Mexico and the Latin American region. In the latest years, Ana has been involved in the design and implementation of energy efficiency policies across a range of sectors and themes, working very closely with government agencies, at national and subnational levels, and relevant stakeholders including research centers, industry associations, financial institutions, as well as international organizations in Mexico and other Latin American countries.
Robert Banchick ('88)
Mexico
Roberto Banchik-Rothschild was born and raised in Mexico City. He studied International Relations and Economics at the University of California at Davis, and two Master's degrees, one in Public Policy at the University of Oxford, England, and another in International Affairs at Columbia University in New York. 
He worked for several years for the Mexican government as part of an advisory unit to the President of Mexico and then as a member of Mexico's Foreign Service within the Ministry of Foreign Affairs. After finishing his post-graduate studies, Roberto became a consultant for the strategy-consulting firm McKinsey & Co., both in Mexico and in Spain. In 2002 he joined the publishing industry in the trade book division as CEO of Grupo Planeta in Mexico and four years later he changed companies to become CEO of Ediciones Castillo, part of Macmillan Publishers, in the Mexican curriculum textbook industry. Since 2011 he has been CEO of Penguin Random House Grupo Editorial in Mexico, with responsibility for all publishing activities in Mexico, Central American and the Hispanic market in the US out of its Miami office.
Alveiro Salamanca ('11, '15)
Colombia
Alveiro Salamanca Jiménez is a Colombian agronomist engineer with more than 18 years of experience in field agronomic research, holding a Master of Science (MS) and a Doctor of Philosophy (Ph.D.) degree in Soils and Biogeochemistry from the University of California, Davis.
His main areas of expertise include soil fertility, crop fertilization, experimental design, crops balanced nutrition, as well as technical evaluation, validation, and adoption of new fertilizers. Currently, Alveiro works as a Consultant and Agronomic leader for ICL in charge of evaluating and validating Polysulphate in coffee, palm, banana, rice, potato, corn, cocoa, pineapple, and other crops in Latin America. Alveiro strives to develop efficient and profitable crop nutrition recommendations tailored to the region.
Eduardo Perez Pico ('83)
Mexico
Agronomist of Tecnologico de Monterrey in Mexico and MS & PhD by University of California at Davis.  Weed scientist by training with 42 years of experience in the agricultural sector, both public and private. Eduardo has been a leader in Regulatory Affairs, R&D and Technology Development, with increasing level of responsibilities within Monsanto-Bayer for over 28 years, contributing to a sustainable growing business in Seeds, Biotech crops and Crop Protection Chemicals across Latin America North countries. During this period, Eduardo has effectively led teams for change management during business and portfolio integration, providing direction to quickly adapt to a continuous evolution of the Agricultural industry. 
Eduardo served as member of the Executive Commission of the National Agricultural Council in Mexico and the Board of Directors of CropLife Latin America for over a decade.
Moderator
Stefan Bederski
Peru
Stefan Bederski was born in Peru in 1969 and obtained his BS Degree in Food Science at California Polytechnic State University in San Luis Obispo.  His MS Degree in Food Science was completed at the University of Illinois in Urbana - Champaign.   After finishing college in 1994, Stefan Bederski joined his family business in Peru – a 300 acre Agricultural Farm located near Chincha, aprox. 200 Km South of Lima.  In 1995 he initiated the company AgroExport Topara SAC, which added the processing and commercial side to the existing family's farming business.   
Today, Mr. Bederski is Director and General Manager of this company with exports of organic products to the USA and Germany.  Organic Certification started in year 2000, with production of pecans, avocados, chili peppers, and purple corn.  In 2008 his company expanded with a new trading division of Peruvian organic foods and earned various new Certifications such as Fair Trade, HACCP /GMP, Kosher, Sustainable Farming among others.  Mr. Bederski served as the President of the National Subcommittee for Standards of Lucuma fruit, is a Founding Director of the Peruvian Lucuma Growers Association and  is currently a Professional Member of the Institute of Food Technology as well as an active Leader of the Peruvian Scout Association.
Tags