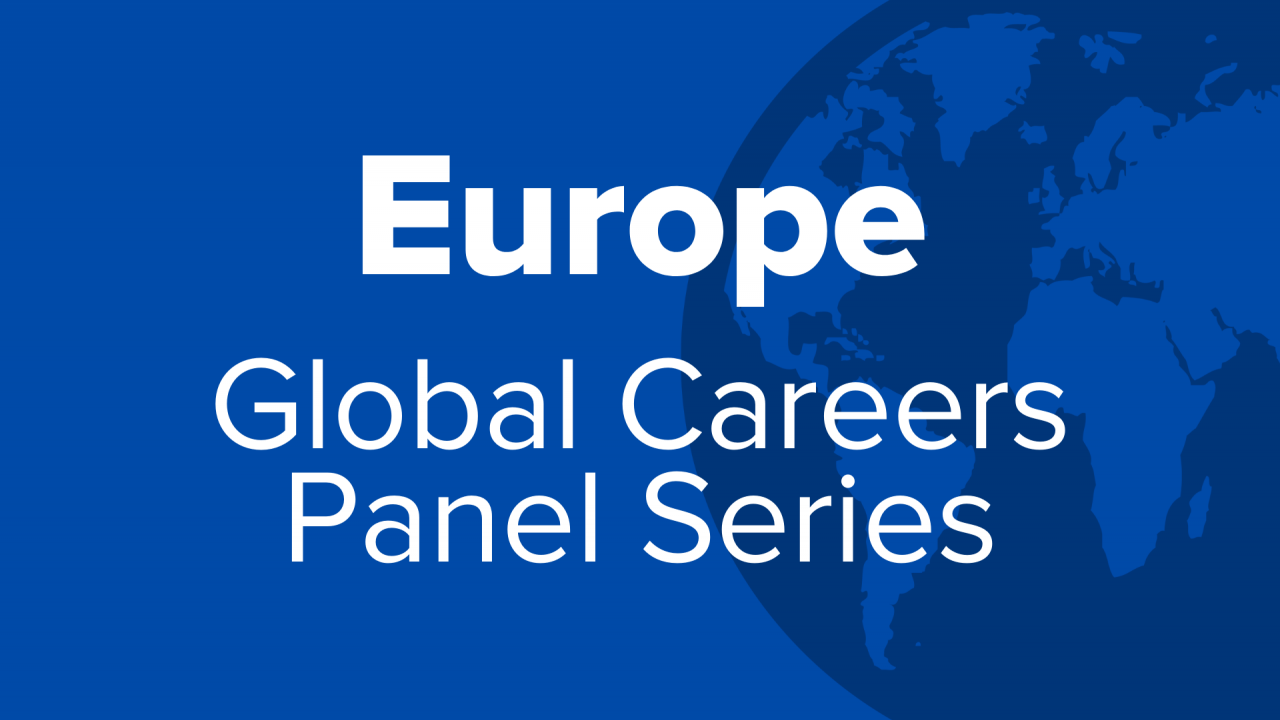 Join us for the Europe panel in our Global Careers Panel Series. At this panel, you will hear from leading professionals about their careers in Europe. If you are not able to join us for the live panel, be sure to register so you can have a recording of it sent directly to your inbox.
Date: Friday, November 20
Time: 9am-10am PST
Panelists
Valerie Marquet-Wessler
France
Valérie was raised in a bi-cultural family in her native California, and France has been her home for over half of her life. Most of her career has been in Human Resources, holding a variety of European positions in both specialist and generalist roles. She currently works at Waters Corporation, the world's leading specialty measurement company focused on improving human health through the application of analytical technologies such as chromatography, mass spectrometry and thermal analysis. This includes important research and innovation on Covid, and partnership with UC. She has responsibility for Global Talent Development in EMEA and India, partnering with business leaders throughout Europe and many parts of Asia. Prior to Waters, Valérie worked at the European Headquarters of international advertising firm BBDO (Omnicom Group/NYSE).
Her higher education started at University of California Davis where she earned a Bachelor of Arts degree with a French Major and Spanish Minor; very early in her career she studied Human Resources at the Chartered Institute of Personnel and Development (CIPD) in the UK. This implied part-time study and multiple trips to the UK during full-time employment in France at a time when her family was very young. She is married and the proud mother of three children who follow her footsteps of balancing study and work simultaneously.

Donna Egan
United Kingdom
An international marketer, Donna has made London her home for the past 20 years. After graduating from UC Davis in 1986 with majors in International Relations and French, Donna earned an MBA from New York University. She has built her global career having worked in the US, Mexico, France and UK across large organizations such as Colgate and American Express as well as start-ups, including founding and running her own UK retail food company. Donna currently serves UK-based scale-up companies on an interim or project basis.
In her spare time, Donna is President of the UC Davis UK Alumni Club as well as Chair of the University of California Mentorship Committee.
Moderator
Molly Fluet
United Kingdom
Molly Fluet is Executive Director, Advertising overseeing the European advertising and strategic partnerships team.
Molly formerly led the revenue teams in the London office of POLITICO. Previously she worked at The Washington Post on the leadership client solutions team with political and corporate partners to elevate their brand awareness, issue advocacy directives, and corporate social responsibility messaging to political and national influencers. Prior to that, Molly worked for POLITICO LLC in the U.S. She was a Senior Account Manager at POLITICO Pro, working with the top 100 corporate and association clients, as well as, launching ten new policy verticals with the product launch team. Transitioning to the Audience Solutions team, she then worked with various clients, both corporate and political to create custom digital, print, event, and brand content campaigns to ensure clients objectives were met.
She is originally from Chicago, IL and Los Angeles, CA. She received a Masters of Public Affairs, Political Communication from American University and has her BA from the University of California, Davis.
Tags