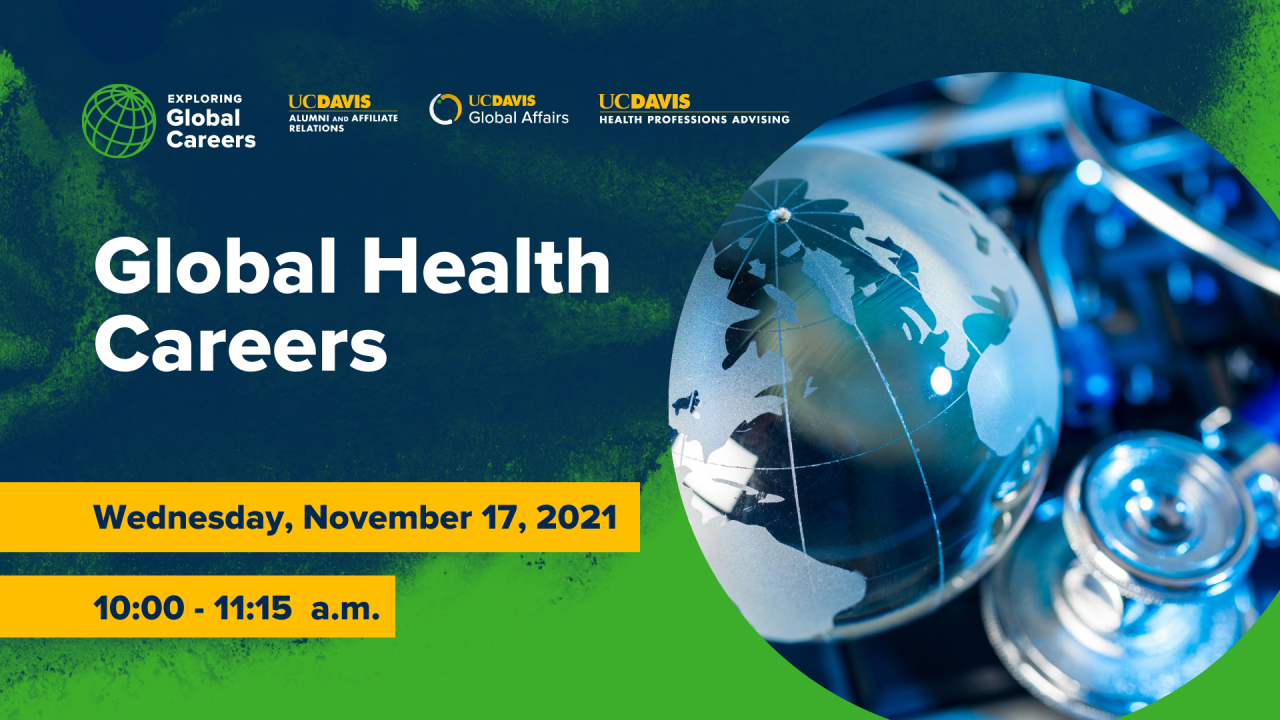 Location
Zoom link will be provided upon registration
The Cal Aggie Alumni Association (CAAA) is committed to supporting the professional development of Aggies no matter where in the world they are. CAAA has partnered with Global Affairs and Health Professions Advising to present Exploring Global Careers: Global Health. Join us for this interactive panel to ask questions and learn from leading professionals about what it takes to build a successful global health career in their region of the world. Register below to tune in for the live virtual event on November 17th, 10:00 a.m. (Pacific Time). 
Moderator
Paige Dougherty, MS | Client Services Manager, Novartis
Ireland 
Paige earned her bachelor's degree in Neurobiology, Physiology, and Behavior at UC Davis. After completing her undergraduate degree, she worked at the California National Primate Research Centre studying the impact of viral infection on neurodevelopment. Paige moved to Ireland in 2018 and pursed a variety of interests before completing a master's in immunology with a focus in immunotherapeutics at Trinity College. She currently works at Novartis in medical communications. 
Panelists
Jaden Bendabenda, MBBS, PhD | 

Technical Officer – Nutrition, 

World Health Organization
Switzerland
Dr. Jaden Bendabenda is an Epidemiologist with a background in Medicine. He has a PhD in International Health from Tampere University in Finland, postgraduate training in International Nutrition from the University of California, Davis, and a Degree in Medicine and Surgery (MBBS) from the University of Malawi. He has vast experience in child health with a focus on research and health systems strengthening. He currently works as a Technical Officer at World Health Organization Headquarters in Geneva. His current role focuses on child undernutrition – formulating global guidelines, policies, training tools and supporting Member States in the management of undernutrition and integration of nutrition in health systems.
Jim Creighton, MD, JD, MPH, MBA | Family Physician and Public Health Specialist
Puerto Rico
Dr. Creighton graduated from UC Davis School of Medicine in 1987. He received his MPH and MBA from University of Hawaii and his Law degree from UNC, Chapel Hill. He served as the Peace Corps Regional Medical Officer for both west and Southern Africa and as the CDC country director in Lesotho. Dr. Creighton founded Akagera Productions and created and produced the TV series "Mutoni" to promote health issues in Africa. 
Leah Zilversmit Pao, PhD | Emergency Public Health Epidemiologist, Division of Global Health Protection, Centers for Disease Control and Prevention
United States 
Leah Zilversmit Pao is a UC Davis alum and Epidemiologist. She works at the Centers for Disease Control and Prevention (CDC) where she provides epidemiologic support for international emergencies and pandemics. Dr. Pao has previously worked at the Department of State as the Deputy Refugee Coordinator in Nepal for the Bureau of Population, Refugees and Migration and served in the Peace Corps in Lesotho. She received her Master of Public Health from Emory University and a doctorate in Epidemiology from Tulane University.
Tags