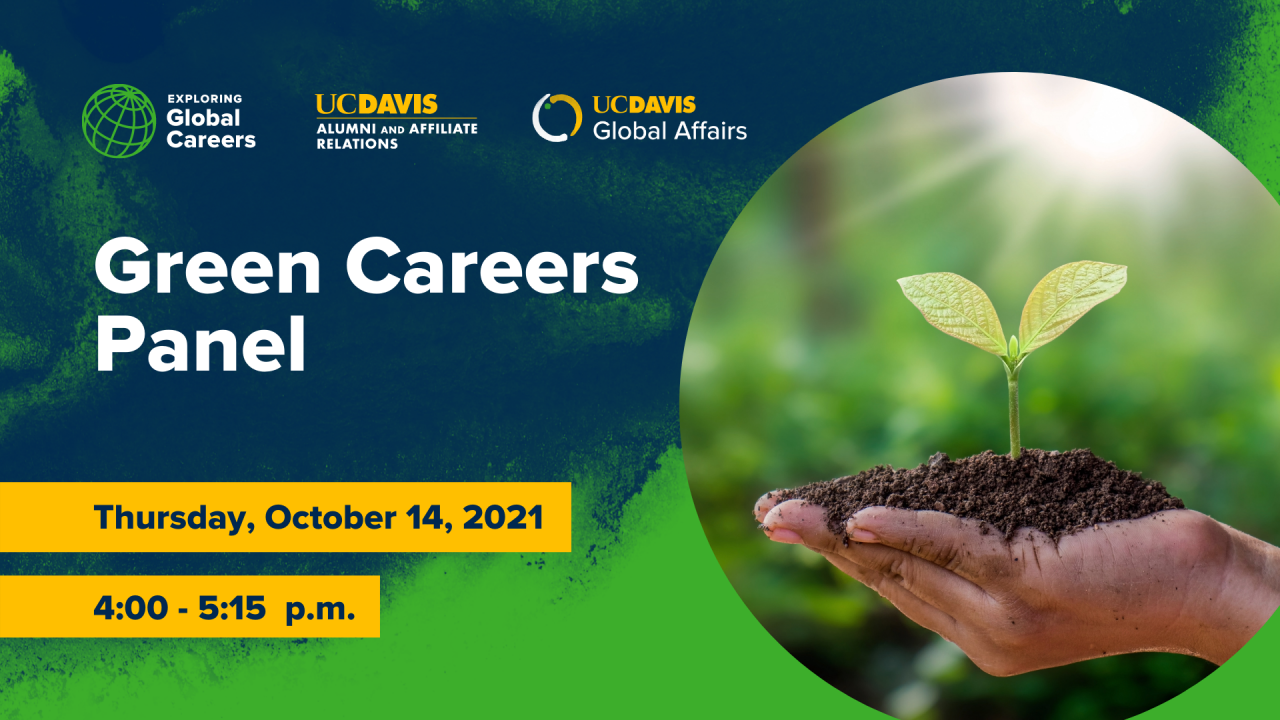 Location
Zoom link will be provided upon registration
The Cal Aggie Alumni Association (CAAA) is committed to supporting the professional development of Aggies no matter where in the world they are. CAAA has partnered with Global Affairs to present Exploring Global Careers. Join us for the first panel of this series to network with and learn from leading professionals about what it takes to build a successful green career in their region of the world. Register below to tune in for the live virtual event on October 14th, 4:00 p.m. (Pacific Time). 
Moderator 
Adam Gromis |

Global Lead on Sustainability Policy, Uber
United States
Sustainability and cross-disciplinary engagement are running themes throughout Adam's work experience in the nonprofit, government, and for-profit sectors. Prior to joining Uber, he worked for five years helping investors build impact investing portfolios with positions at Goldman Sachs Wealth Management, Imprint Capital, and the Global Impact Investing Network. Before impact investing, he spent seven years engaged in efforts to commercialize zero emission vehicle technologies with positions at the California Fuel Cell Partnership, the California Air Resources Board, and UTC Fuel Cells. He holds an MBA from NYU Stern, an MPA from NYU Wagner, and a bachelor's degree in mechanical engineering and materials science from UC Davis. Adam is proud to sit on the board of Veloz, a nonprofit dedicated to accelerating the shift to electric cars through public-private collaboration, public engagement and policy education innovation.
Panelists 
Ana Lepure | Energy Efficiency Policies Consultant
Mexico
Ana Lepure is a national councilor in Mexico for climate change appointed in 2017 representing the interests of civil society before the Interministerial Commission of Climate Change of the Mexican national government. She works as a consultant for the International Energy Agency (IEA) supporting the Energy Efficiency for Emerging Economies Programme (E4) in Mexico and the Latin American region. In the latest years, Ana has been involved in the design and implementation of energy efficiency policies across a range of sectors and themes, working very closely with government agencies, at national and subnational levels, and relevant stakeholders including research centers, industry associations, financial institutions, as well as international organizations in Mexico and other Latin American countries. 
Anna Warwick Sears, Ph.D. | Executive Director, 

Okanagan Basin Water Board
Canada
Dr. Anna Warwick Sears is the Executive Director of the Okanagan Basin Water Board, a collaborative local government agency focused on water science, management and sustainability of the Okanagan watershed in British Columbia. Raised in B.C., she received a PhD in population biology at the University of California, Davis. Before returning to Canada in 2006 to work for the Water Board, Dr. Sears was Research Director of a watershed NGO in California. Dr. Sears is passionate about using science to solve real-world problems and building bridges with community stakeholders.  She also currently serves as a member of the International Osoyoos Lake Board of Control, appointed by the International Joint Commission.
Kirin Tsuei |

Co-Founder and CTO, Sophie's BioNutrients
Singapore
Kirin is a UC Davis alum, with a Singapore-based alternative protein company that uses fermentation technology to transform microalgae into high-protein food. The process uses very little land, water or energy, making it a sustainable technology that can help address food insecurity from climate change and population growth. Kirin has worked with multinational companies in the US such as Mead Johnson and Novartis. He also has work experience in China, Taiwan and New Zealand.
Tags