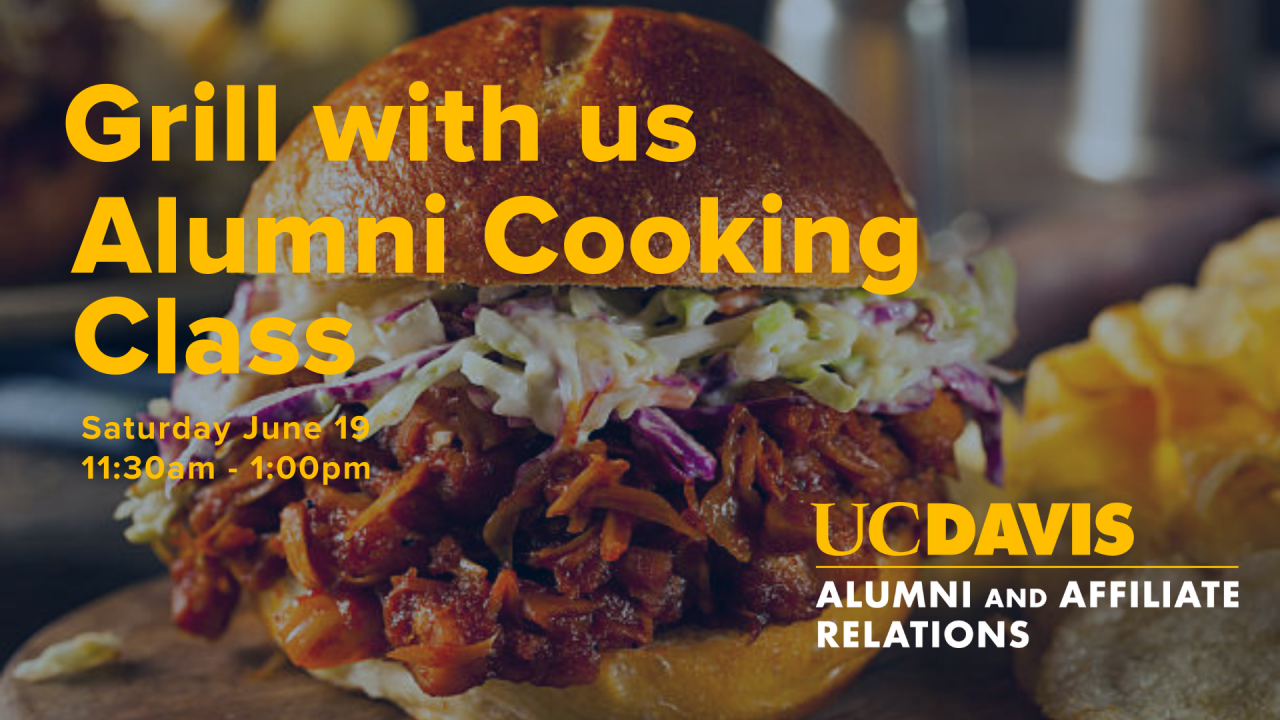 Location
Zoom: virtual event
Join us for a fun virtual cooking class from your own kitchen or backyard. For this virtual event, we will watch a live cooking demo and attempt to make our own Pulled Pork with Eastern Carolina barbecue sauce (suggestions for vegetarian substitutions will be available!) This cooking class will be built around recipes submitted by Kevin Locke '83. We will also be joined by an alum from the UC Davis Food Science and Technology Program to learn about the chemistry behind cooking.
Ingredients and Cooking Instructions
For the pulled pork:
5# pork shoulder, bone in 

Kosher salt 

Remove from fridge an hour before cooking 

Sprinkle generously with kosher salt 

Sear on gas grill or charcoal fire on all sides, then continue to cook for 30 minutes over cool side of the grill, then place in an enameled cast iron pot with lid.

Add 1/2 the bbq sauce.

Cook in 225 degree oven for 6-8 hours
BBQ sauce:
1 cup cider vinegar 

1/4 brown sugar 

1 TBSP dried chili pepper flakes 

1 TBSP Fish sauce 

Black pepper 

Kosher salt 
Mix all in a small sauce pot and heat until sugar dissolves, then cool.
Once the pork is cooked, remove the bone, then pull the pork apart with a fork. Taste and adjust salt. Add more sauce as desired.
Serve on toasted brioche buns or burger buns.
Serves 12 – 16
For the Coleslaw:
1 head cabbage – cut into quarters, then remove a wedge from the root end of each quarter, then slice very thin

2 apples – cored and cut into quarters, then slice thin (16")

2 carrots – peeled and grated or julienned

2/3 cup of dried currants (or raisins if you prefer)
If you want to have crunchier slaw, put the cabbage into a bowl once it's sliced and add about 2 tsp kosher salt and mix in very well, then refrigerate for up to an hour before wringing out the water (you can use a salad spinner or wrap in a kitchen towel and wring out the water).
Mix the four items above.
For the dressing:
Mix together

1 cup sour cream

1 cup Mayonnaise

¼ cup Dijon mustard

¼ cup honey

1/8 cup vinegar (I use champagne or white wine vinegar)
Dress the cabbage mixture with 2/3rds of the dressing first, then add more if desired.
Serves 12
For the Beans:
2 pounds dried black beans

1 medium white onion (diced)
In a large oven proof pot over medium heat add ¼ cup of olive oil, then ½ of the
onions.  When the onions begin to sizzle lower the temperature a little and let cook for a minute or to the point they begin to brown.  I use leftover bacon fat in lieu of olive oil – enough that the onions don't stick to the pot while browning.
Once the onions have cooked a little, add enough water to cover by an inch, then place in a 300 degree F oven for about an hour.  You can cook these on the stovetop at a low simmer as well, but you should stir the pot every 10-15 minutes to prevent the beans from burning on the bottom.
After an hour, bite into a cooled bean.  It should not be grainy or crunchy, but should be creamy. 
At this point I add salt to taste and a couple of TBSP of Epazote (or a couple bay leaves) and continue cooking for another 30 minutes if the beans need it.
Once the beans are cooked, drain off the cooking liquid but keep at least half of it to add back in to finish the dish.
1 medium white onion (diced)

4-6 cloves garlic (diced or minched)

2 red peppers seeded and diced (roasted and skins removed before seeding and dicing if desired)

2 Anaheim chile peppers seeded and diced (roasted and skins removed before seeding and dicing if desired)

Zest and juice of 1 lime

Zest and juice of 2 oranges

1 TBSP roasted and ground cumin seeds

1 TBSP red chile flakes
In a large saute pan, cook the second diced onion and garlic over medium heat, then add peppers, cumin, pepper flakes.
Put all ingredients together with beans, then add the zest of the lime and oranges.  Add the reserved cooking liquid and simmer all for 15-20 minutes.  Then add the juice from the citrus.
The beans should be slightly saucy but not watery – add a little water if too dry or simmer a little longer if needed.