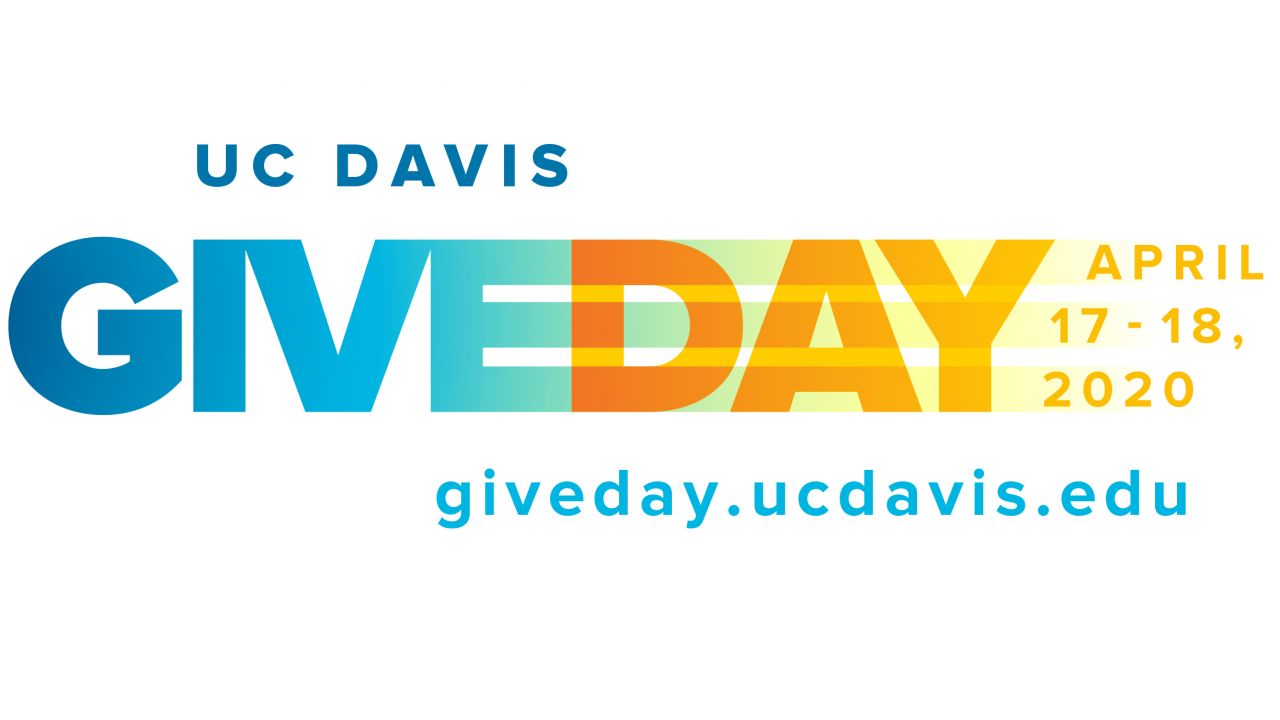 Sign up to be a virtual social media ambassador for Give Day here: https://giveday.ucdavis.edu/giving-day/12421/signup. Picnic Day and in person Give Day activities scheduled for April 18, 2020, are canceled. Amid the COVID-19 outbreak, we have been closely monitoring the guidance provided by local and state public health departments, which strongly recommend canceling large gatherings. 
UC Davis will be hosting a number of events and fun activities for alumni and their families on Vanderhoef Quad and near the Library on Picnic Day! We will also participate in the Picnic Day Parade to celebrate our fourth annual Give Day.
This year, Give Day's theme is "You Mean the World to Us". Whether you're an alum, a parent, a patient of UC Davis Health, a client of our veterinary hospitals, an employee, or a student at UC Davis, you too share that caring spirit. By participating in Give Day, you help us create an impressive legacy for UC Davis.
Join fellow Aggies online and in-person from noon on Friday, April 17, until 5 p.m on Picnic Day, Saturday, April 18th. This is the fourth year Picnic Day and Give Day will occur simultaneously, culminating in a parade where alumni, parents, students, faculty and staff will show their Aggie Pride and demonstrate philanthropy's impact on research and education at UC Davis.
Volunteer areas include:
Walk or ride our Aggie Tram in the Picnic Day Parade (Must sign up by 3/31)
Start off your morning by joining us for a cup of coffee and a light breakfast before walking in the parade. Show your Aggie Pride and hold up signage on how others can support UC Davis on Give Day. Invite your friends, family and donors to participate. All participants will receive exclusive Give Day swag! Register here to participate in the parade: Picnic Day Parade Sign Up. For questions about the parade, contact Jaime Allen jnallen@ucdavis.edu.

Give Day Information Booth Volunteer (2 hour blocks between 9:30 a.m. – 4 p.m. on 4/18)
Speak to guests attending Picnic Day on what Give Day is why they should give!  Assist guests with taking photos at our fun photo booth, and educate them about all of the ways philanthropy impacts our campus and the world. Register here: Give Day Booth Sign Up For questions about volunteering at a booth, contact Carly Gliva cgliva@ucdavis.edu or Chelsea Clouser cmclouser@ucdavis.edu.

All volunteers will receive a Give Day t-shirt and for those volunteering in an area that isn't the parade, a brief orientation will be scheduled. If you are an active UC Davis employee, please obtain supervisor approval for any volunteer work executed on Friday, April 17 or Saturday, April 18
Things to note about the parade:
-Please note all individuals participating in the parade will be asked to sign a waiver. 
- You must arrive by 8:30 a.m. as streets around the parade closed to the public. The most convenient area to park is the Quad Parking Structure near the Memorial Union or in Lot 25 by the Activities and Recreation Center. All participants must line up by 9:00 a.m. and opening ceremonies are scheduled to start at 9:30 a.m.
- If you have limited mobility, please note that when registering.
- This year we will be have a tram available to most participants. Space is limited on the tram, so individuals with limited mobility will have priority seating. If space remains, seats are given on a first come, first serve basis.
- Expect up to three miles of walking.


 
Tags