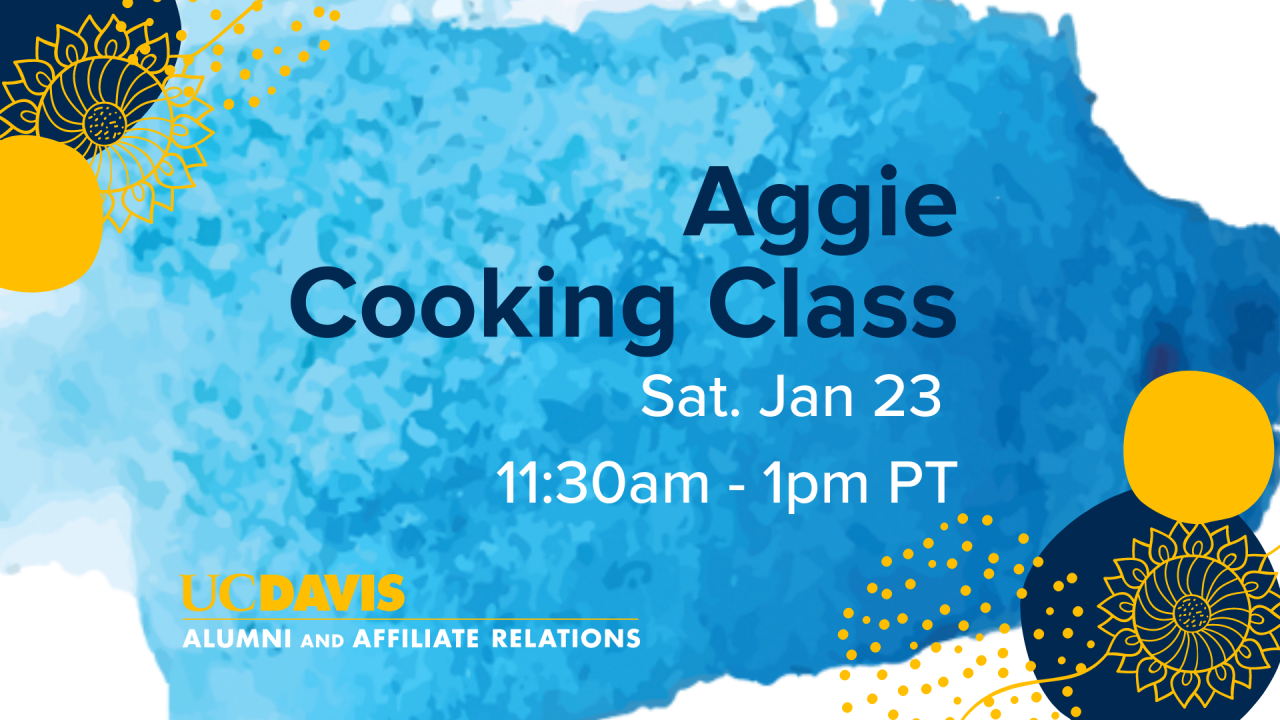 Location
Video link provided upon registration
Join us for a fun virtual cooking class from your own kitchen. For this virtual event, we will watch a live cooking demo and attempt to make our own Butter Chicken from home. This cooking class will be built around recipes submitted by India Network Leader, Shehzad Lokhandwalla (Class of 2015). We will also be joined by an alum from the UC Davis Food Science and Technology Program to learn about the chemistry behind cooking. 
View the shopping list and recipe below! 
Date: Saturday January 23
Time: 11:30am - 1:00pm (Pacific) 
Unable to attend live? Register to receive a copy of the recording.
Butter Chicken Recipe 
Submitted by 

Shehzad Lokhandwalla '15
Yield: 3 servings
Ingredients
2 medium-sized red onions

1 can of peeled or diced tomato (11 oz)

2 medium garlic clove

small piece of ginger (size of an adult thumb) or 3/4th teaspoon ginger powder

100ml or half a cup of sugarless fresh cream or whipping cream (30% cream milk)

1/2 table spoon of red chili powder (1/4th if you like it less spicy)

1 tablespoon of garam masala (1/2 if you like it less spicy)

Salt to taste - start with 1/2 table spoon 

400-500gm (1 pound) of boneless chicken thigh (you can debone yourself too)

20-100 gms of fresh coriander leaves (1-2 ounce as you like)

optional - 2 small pieces of fresh green chili (if you want it Indian spicy)

optional - 1 tablespoon of dried fenugreek leaves (hard to find)

3 tablespoon of oil (canola, grapeseed or sunflower) or ghee

6-10 Ice-cubes

Basmati rice or any rice you prefer (1-2 cups as much as you need) 

Optional Salad

200 gms Sprouted moong daal (green gram)

1 lime (½ lemon also works) 

½  fresh tomato

½ fresh onion
Equipment
2 Medium or large pot (one for the rice and one for the curry)

Blender or mixer

Spatula

Pasta strainer (optional if you want to make rice the Indian way)

Can opener for tomato can

Mixing bowl (optional for salad)
Instructions
Prepare before the event:
Finely chop onions (size doesn't matter as it will later be blended)

Marinate chicken with salt 3 hours before event

Dice your ginger and garlic as finely as possible

Open your tomato can

Wash your rice (optional)

Remove cream from the fridge (should be in room temperature)
Steps instructed at the event:
Check if all ingredients are present

Put the pot in medium-high heat and add your oil or ghee to it

Add your diced garlic and ginger to it and let it fry for 1 min

Add your onion to it and fry the mixture till golden brown. Make sure it doesn't burn, so keep stirring or add more oil if needed

When golden brown, add your tomato to it

Stir for another 5 mins and then add your salt, chili powder, garam masala, fresh chill, fenugreek leaves

Turn off the heat and add ice-cubes

Wait for the mixture to cool down a bit and then transfer the mix to a blender/mixer and blend till it becomes a smooth orange paste

Transfer the paste back to the pot on the medium head, cover the pot and let cook for 10 mins

Carefully open the lid after 10 mins and be careful as there might be a lot of bubbles. Add your chicken cubes in it and close the lid again.

Chop coriander and prepare rice in the meanwhile

Cook rice as you like or follow Shehzad's suggestion on how to cook rice the Indian way

Prepare optional salad

Add sprouted green gram in a mixing bowl 

Finely chop onion and tomato

Add lime

Add salt

Mix rigorously 

After 30 mins add fresh cream and half of the finely chopped coriander

Mix and taste for salt and check the doneness of the chicken (use fork on any piece)

Let it cook on low heat for another 10 mins with the lid off
Looking for a wine that holds up to spice? Élevée Wines has you covered. Purchase a UC Davis Alumni Gift Pack for a trio of wines which should pair perfectly with this dish!
Bottles Included -
1 bottle - 2017 Élevée Vineyard Pinot noir  (94pts pdwr, 93pts WE)
1 bottle - 2019 Élevée "Three Martins" Rosé
1 bottle - 2019 Élevée Dry Riesling - Ridgecrest Vineyard
Purchase by January 15th to ensure shipping in time for the cooking class.