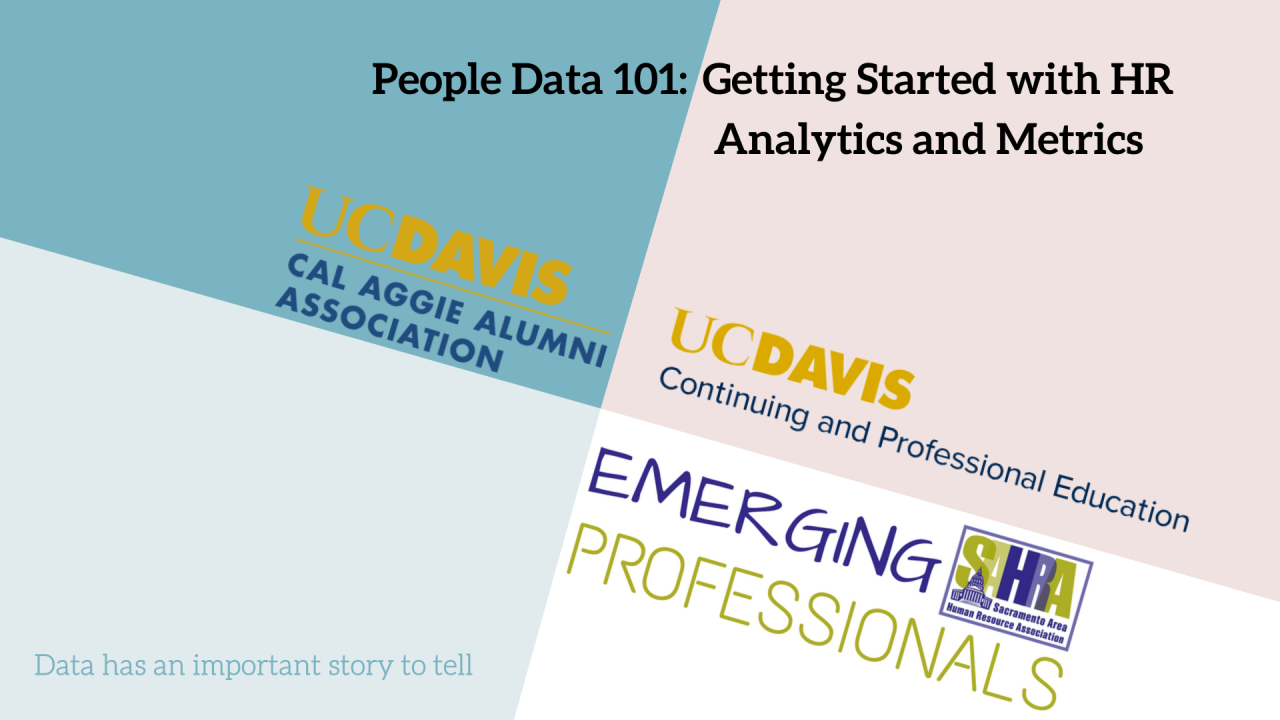 Location
One Capitol Mall, Sacramento, CA 95814
People Data 101: Getting Started with HR Analytics and Metrics
Date: March 9, 2020
Time: 5:30 PM – 7:30 PM
Location: UC Davis Continuing and Professional Education - One Capitol Mall, Sacramento
Parking: $4 with validation. Tower Bridge Garage - Located on the corner of Capitol Mall and Neasham.
Register: https://securelb.imodules.com/s/1768/rd18/index.aspx?sid=1768&gid=2&pgid=3711&cid=5693
Business leaders recognize the value of workforce metrics and analytics. Yet many professionals struggle with identifying where to start, what to measure, and how people data can support their department and organization's initiatives.
Join us for an evening workshop to learn how tracking and analyzing metrics and HR data can improve outcomes for your organization! You'll learn to identify data sources and use Excel as a data-management tool. This experience is designed as a foundation for managing HR data in practical ways that require minimal preparation. With the right data, you'll be able to report basic statistics, answer management questions, prove/disprove theories and create practical tools, such as monthly population reports.
The workshop is sponsored by UC Davis Continuing and Professional Education, the Sacramento Area Human Resource Association (SAHRA) Emerging Professionals group, and the UC Davis Cal Aggie Alumni Association. It will be held at One Capitol Mall in Sacramento, and will include training, small group activities and time for a Q&A. Food, beverages, and door prizes will be available!
Event qualifies for both SHRM and HRCI recertification credits
Event Agenda
5:30 – 6:00 pm Welcome
6:00 – 7:00 pm Presentation by Steve Haas
7:00 – 7:30 pm Networking & Giveaways
Tags