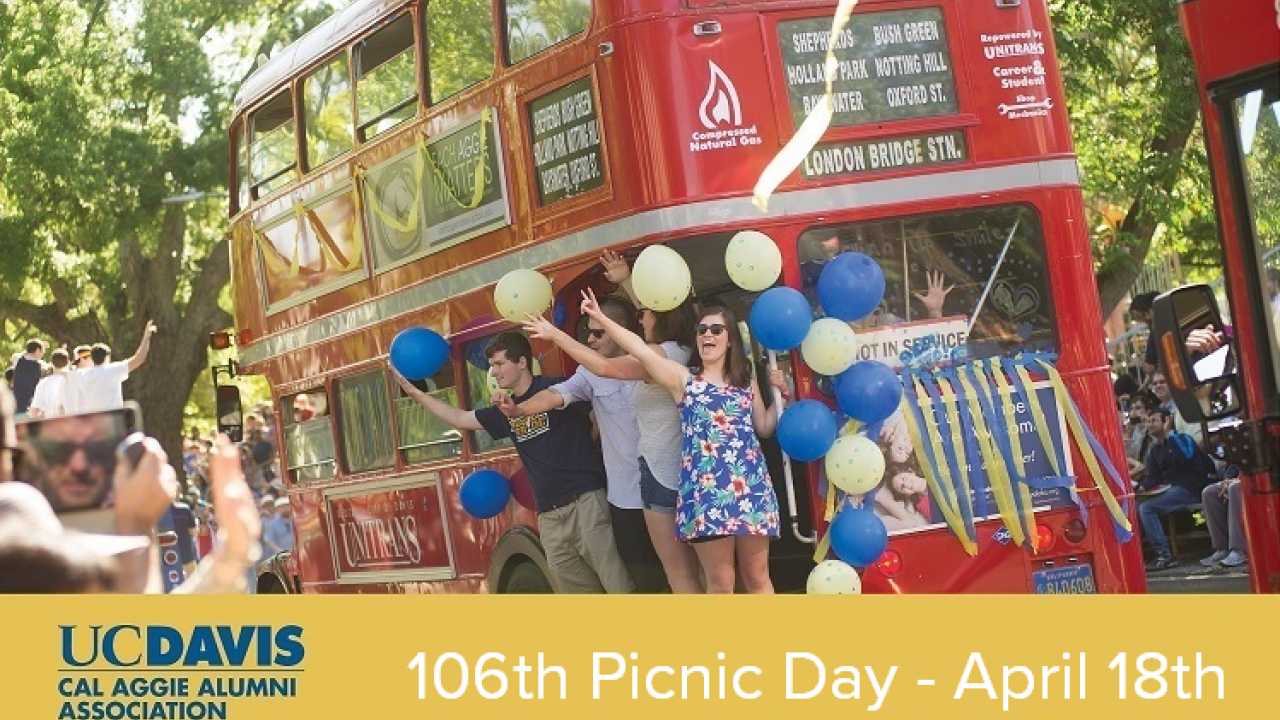 Amid the COVID-19 outbreak, we have been closely monitoring the guidance provided by local and state public health departments, which strongly recommend canceling large gatherings. It is with heavy hearts that we announce Picnic Day, scheduled for April 18, 2020, is canceled. We hope to see you at next year's 106th Picnic Day on April 17, 2021.
Picnic Day is one of UC Davis' most revered traditions for alumni, students, families, staff, faculty and the greater community. This family-friendly event is free for all.  With more than 200 events taking place throughout campus, Picnic Day is a great time for Aggie alumni and their friends and family to come back to campus.
The Cal Aggie Alumni Association is a proud sponsor of Picnic Day and hosts fun activities for alumni and their families in the Gateway District (map). Additionally, when Aggies everywhere are thinking of their alma mater, UC Davis will hold its fourth annual Give Day – a 29-hour fundraising drive.
A full schedule of events for Picnic Day can be downloaded from the main Picnic Day website and is typically available the week before the event. 
Don't miss these Picnic Day festivities hosted by your Cal Aggie Alumni Association (CAAA):
Aggie Spirits: Learn how to make craft cocktails with an Aggie connection!

Picnic Day Parade: Join Alumni and Affiliate Relations as we walk and take a tram ride along the parade route.

Authentic Aggie Zone and Traditions Tours: Come to Vanderhoef Quad (map) for our Aggie Traditions Tours, photo booth, and more! Stop by and show your Aggie Pride!

CAAA VIP Member Lounge: Visit your Alumni Center (map) for Member-only access to free Woodstock's Pizza, Davis Creamery ice cream, refreshments and a live stream of the Doxie Derby! 

Picnic Day Around the World: If you are unable to make it back to Davis, you can still celebrate with other Aggies!

Give Day: Any amount you can give will go a long way to support student scholarships and alumni network programming
Tags