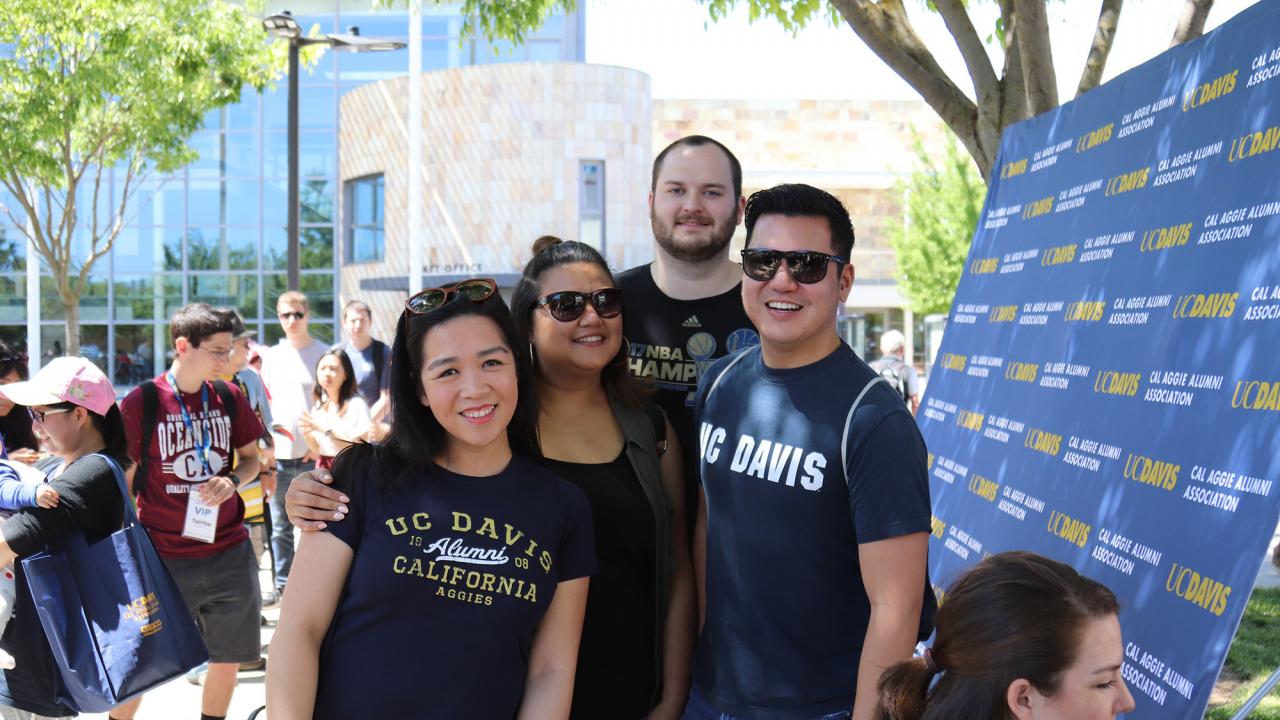 Picnic Day is one of UC Davis' most revered traditions for alumni, students, families, staff, faculty and the greater community. This family-friendly event is free for all.  With more than 200 events taking place throughout campus, Picnic Day is a great time for Aggie alumni and their friends and family to come back to campus.
The Cal Aggie Alumni Association is a proud sponsor of Picnic Day and hosts fun activities for alumni and their families in the Gateway District (map).
Additionally, when Aggies everywhere are thinking of their alma mater, UC Davis will hold its third annual Give Day – a 29-hour fundraising drive that celebrates the theme "Every Aggie Counts: Together, We Add Up!"
 

Friday, April 12, 2019
Class of '69 Celebration
Golden Graduates (alumni who graduated 50 or more years ago) are invited back to campus on Picnic Day weekend. Golden Society members receive special VIP perks on Picnic Day weekend, such as reserved seating at select Picnic Day events. Enjoy a variety of presentations, tours, lunch, a pinning induction ceremony and more! 
Aggie Spirits
Join us for the first Aggie Spirits Pre-Picnic Day event! Take a tour of the senses as you are guided through a tasting of a variety of 5 premium spirits. You will be guided through this unique experience by alumnus Henry "Hoby" Wedler Ph.D. '16. 
Saturday, April 13, 2019
Picnic Day Parade
Join fellow alumni at 8:30 a.m. for coffee, snacks and entertainment before the parade starts at 9:30 a.m. Participants can choose to walk in the parade or ride the tram. Friends and family welcome!  (Sign-ups close Sunday, April 7th)
Authentic Aggie Zone and Traditions Competition
Take advantage of the easy parking in the Gateway Parking Structure and stay for live music, food trucks and alumni fun from 10 a.m. - 3 p.m. Take home giveaways from GEICO, American Pacific Mortgage, The New Home Company, and commemorate your 2019 Picnic Day at the PetersenDean, Solar4America photo booth. Explore campus by completing 10 Authentic Aggie Traditions. This scavenger style activity is a race to the finish- receive a UC Davis Aggie Pride book (while supplies last).
CAAA VIP Member Lounge
Cal Aggie Alumni Association members can visit the Walter A. Buehler Alumni Center for free Woodstock's Pizza, Davis Creamery ice cream, a live stream of the Doxie Derby and more. Opens at 11 a.m.; food served 12 p.m. - 3 p.m. Members are allowed 4 guests per household.
Tags