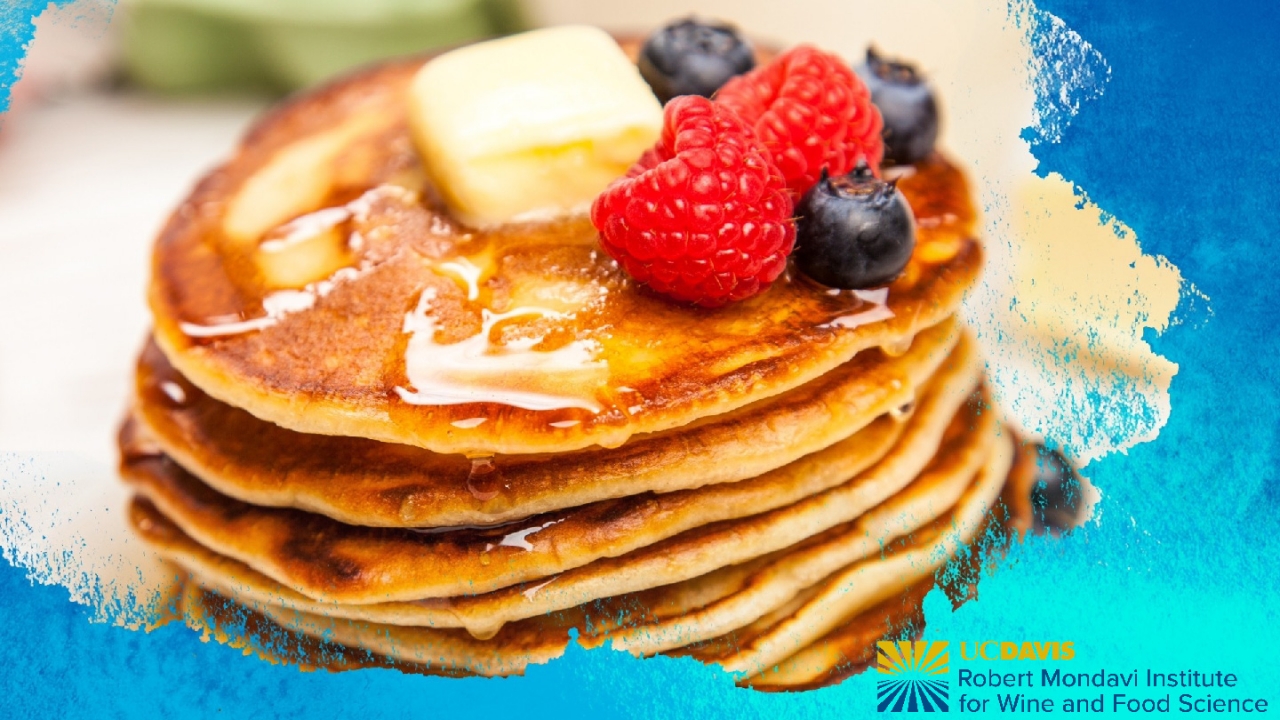 Location
Zoom link provided upon registration
Let's kick off Picnic Day together! 
Join the Cal Aggie Alumni Association in bringing back one of our favorite traditions—the Picnic Day pancake breakfast sponsored by the Robert Mondavi Institute for Wine and Food Science. This family friendly virtual event will feature live cooking demonstrations and tips on how to make the best pancakes from the comfort of your own home. Once breakfast is ready, we will virtually mix and mingle with fellow Aggies via Zoom. Pancake shopping list and more details will be sent to all registered participants before the event. All Aggies (alumni, parents, students, faculty, staff, retirees, and emeriti faculty) are welcome!
Zoom link will be sent via email upon registering! 
Registration is currently open for event access only. All gift packs are sold out! If you registered for a gift pack, we will let you know once yours has shipped. 
Event flow:
9:00 am - Welcome from Dana Allen, your event host and Executive Director of CAAA/Assistant Vice Chancellor of Alumni and Affiliate Relations 
A word from Dr. Andrew Waterhouse, Director of the Robert Mondavi Institute 
Coffee Brewing with Juliet Han, Head Roaster UC Davis Coffee Center
Vegan Pancake with Jadey Gonzalez '14
Traditional Buttermilk Pancake with Kevin Locke '83
Zoom breakout rooms with your fellow Aggies! (Breakout rooms will stay open until 10:30am to give you ample time to mix and mingle.) 
Make sure to gather the ingredients below prior to the event if you are cooking along at home!
---
Recipe for Vegan Buttermilk Pancakes adapted by Jadey Gonzalez (Class of 2014, Food Science & Technology) from Bobby Flay's Chocolate Chip Pistachio Pancake Recipe
Yield: Approximately nine to ten 4 ½-5" pancakes
Dry Ingredients
1 ¾ Cups All-Purpose ("AP") Flour

2 ¼ tsp. Baking Powder

¼ tsp. Salt
Wet Ingredients
For Egg Substitute (2 eggs-worth):
6 Tbsp. Water (ambient or cold)

2 Tbsp. Chia Seeds
For 1 ½ Cups of Vegan Buttermilk (recommended to be made the night before):
1 ½ Cups of Soy OR Oat Milk

1 ½ Tbsp. Balsamic Vinegar (recommended for ideal flavor). Alternative would be White Vinegar
For Flavor and Fat:
3 Tbsp. Vegetable Oil or Cooled,

Unsalted

Vegan

Butter
2 Tbsp.

Maple Syrup OR Simple Syrup (non-vegan alternative = Honey)

2 tsp. Vanilla Extract OR Vanilla Paste (either is delightful, but the paste adds a little extra sweetness)
Recommended Inclusions (modify based on preference)
¾ Cup Chopped Nuts

¾ Cup Chopped Dark Chocolate OR Chocolate Chips

1 Tbsp. Orange Zest
Oil for Cooking (choose based on preference)
1 Can of Cooking Spray OR 1 Tbsp. Of Coconut Oil OR 1 Tbsp. Unsalted Butter per pancake
Equipment / Tools
2 Medium Mixing Bowls

2 Small 2-Cup Bowls (for Egg Substitute and Vegan Buttermilk)

2 Mixing Spoons (for Dry and Wet ingredients)

1 Apron

1 Non-stick Small OR Medium Pan

1 Spatula

1 Whisk

Measuring Cups:

1 Cup

½ Cup

1

3

 Cup (for dispensing Pancake batter to the pan)

¼ Cup

Measuring Spoons:
Cooking Instructions:
Prepare Vegan Buttermilk and Egg Substitute. 

If prepared the day of, let the following sit at room temperature for at least 10-15 minutes until ready for use in the batter

Vegan Buttermilk: Plant-based milk + Balsamic Vinegar

Egg substitute: Chia Seeds + Water

If made the night before, store covered and in the fridge

Mix all three Dry Ingredients in one Medium-sized bowl

You don't need to sift them, but you can if preferred for consistent texture

Mix the Vegetable Oil / Melted Butter, Honey, and Vanilla Extract in a separate Medium-sized Bowl

After their "sit time", whisk in the Vegan Buttermilk and Egg Substitute into the "Wet Ingredients Bowl"

Add the mixture of Wet Ingredients into the "Dry Ingredients Bowl" and gently mix just until the flour is hydrated to avoid overmixing and getting a tough pancake later on

Let the batter sit at room temperature for 15-30 minutes (the longer you let it sit, the more rise/leaven that you'll get in the finished pancake)

Prepare your 2-3 inclusions (chop into bite-size pieces, zest an orange, etc.)

Heat your pan between low and medium heat to prevent burning

Spray the pan with Cooking Spray or add Cooking Oil enough to fully coat the pan and avoid pancakes sticking

Scoop 1/3 Cup of batter into the pan

Cook for 2 ½ - 3 ½ minutes on each side

1st Side: look for air bubbles (water escaping) and firm edges before flipping

2nd Side: watch closely to prevent the pancakes from burning especially after the pan remains hot after the cooking the first batch of pancakes

Cool pancakes or keep warm until ready to serve

 Store any extra pancakes in an airtight container in the refrigerator for up to 7 days
---
Recipe for Buttermilk Pancakes adapted by Kevin Locke (Class of 1983, Biochemistry) from Bette's Diner Recipe
Yield: Approximately 2 servings
Ingredients
12g (1 Tbsp) sugar

4g (1 tsp) baking powder

2g (1/2 tsp) baking soda

2g (1/2 tsp kosher) salt

30g (2 Tbsp) butter ( + a little extra to coat your pan)

1 egg

250ml (1 cup) buttermilk

60ml (1/4 cup) milk
Equipment / Tools
2 small heat proof bowls

Whisk

Measuring cups/spoons or kitchen scale to weigh ingredients:

1 cup

1/4 cup

1 tbsp

1 tsp

½ tsp

Cast iron grill or your favorite pan

Spatula
Cooking Instructions:
In a small bowl, mix together:

130g (1 cup) flour

12g (1 Tbsp) sugar

4g (1 tsp) baking powder

2g (1/2 tsp) baking soda

2g (1/2 tsp kosher) salt

In another small heat proof bowl, melt 30g (2 Tbsp) butter then let cool.  Once cool, and still liquid, whisk in 1 egg and combined until smooth.  Add 250ml (1 cup) buttermilk.

Thin to desired consistency with up to 60ml (1/4 cup) milk

Pour wet ingredients into dry and incorporate lightly.  A few small lumps are fine.

Grill on a cast iron grill, lightly buttered (clarified butter is perfect for this!)  or use a pan you're familiar with.

If lighter pancakes or waffles are desired, separate the eggs and beat the whites separately to medium stiff peaks, then incorporate into mix after combining wet and dry.  Do this in three equal additions (roughly).
---
 Aggie Foodies, be sure to check out the Robert Mondavi Institute for Wine and Food Science for more food events and research.

Tags