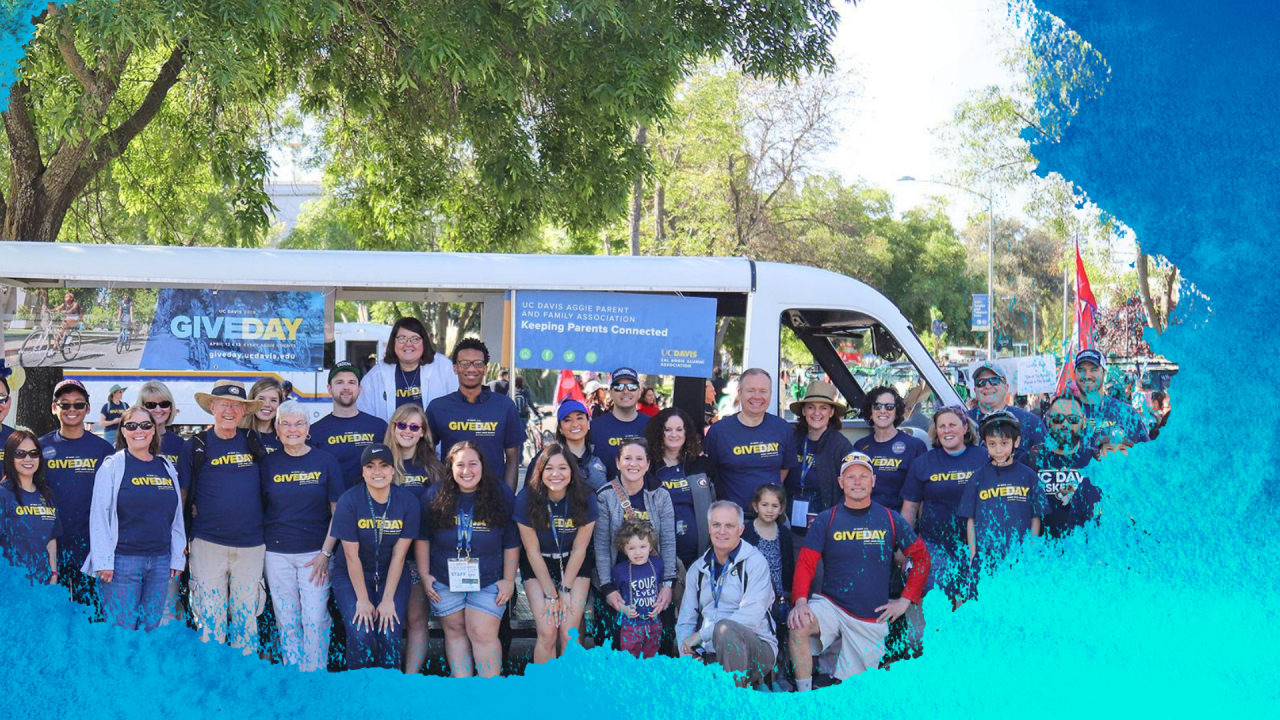 Join us in the parade!
Start your Picnic Day by joining fellow Aggies for a cup of coffee, breakfast pastries and walk or ride in the Picnic Day Parade!  Arrive early and help decorate the Alumni & Affiliate Relations/Give Day Tram, then show your Aggie Pride by walking in the parade with signs and fun giveaway items! Friends, family and the community are welcome and encouraged to participate.
All parade volunteers will receive a Give Day t-shirt.

Things to note about the parade:
All individuals participating in the parade must submit a waiver by Friday, April 15 by 5 p.m. no exceptions (will send email link once registered).
You must arrive by 8 a.m. before the streets close to the public. We will line up by 8:40 a.m. for opening ceremonies which start at 9:30 a.m.
If you have accessibility issues, please note that when registering.
This year we will be have a tram available to most participants. Space is limited on the tram to those with mobility issues, then first come first served.
Please remember, the parade route is up to three miles of walking.
Be a Give Day Volunteer!

While Aggies everywhere are thinking of their alma mater on April 23rd, UC Davis will be holding its sixth annual Give Day – a 29-hour fundraising drive that illustrates philanthropy's impact on research and education at UC Davis!  
Volunteer opportunities include:
Give Day Information Booth Volunteer (2 hour blocks between 9:30 a.m. – 3:30 p.m.)  Spread the word about the power of philanthropy by volunteering at one of our Give Day booths! Volunteers will be asked to engage passers-by and educate them about Give Day and how it benefits not just UC Davis and UC Davis Health, but the world! We will also have a variety of Give Day promo items to hand out. After signing up, volunteers will receive further outreach and instruction via email. All volunteers will also receive their own Give Day t-shirt!

Give Day Booth Locations:  - Vanderhoef Quad (near Walter Buehler Alumni Center) and lawn across from Shields Library, in front of Walker Hall.  
Note: a brief orientation will be scheduled approximately one week before Give Day for all who have registered.
Event Category
Tags