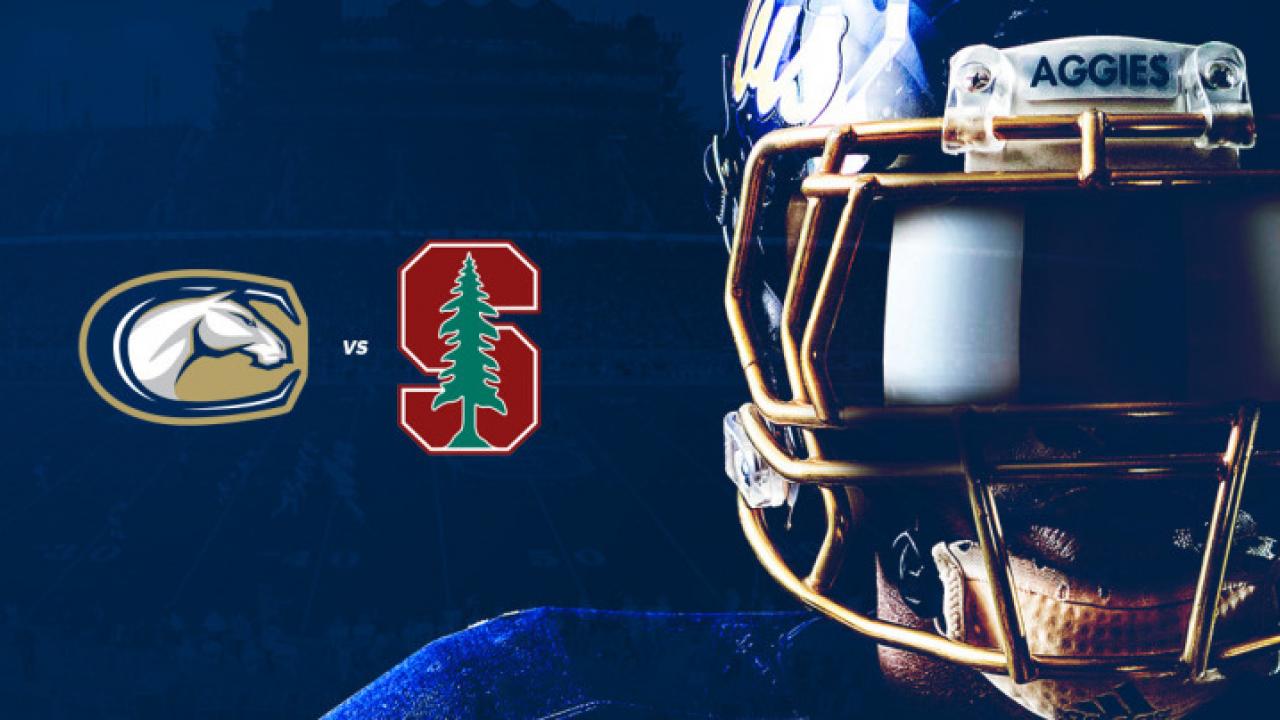 Location
Stanford University - Koret Plaza
Join us this September as the Aggies battle Stanford! Make it an exciting weekend by starting with our pregame reception on Friday night, followed by our awesome tailgate experience Saturday morning then the game which kickoffs at 11 a.m.  Special packages have been setup for all our event and we look forward to seeing you there!

**Registration closes at noon on Thursday, September 13. After this time, tailgate tickets will be available at the door, pending space availability **

Register Here
Pregame Reception
Friday, September 14
6 - 7:30 p.m.
Dan Gordon's
640 Emerson Street
Palo Alto, CA 94301 (map)
No host - simply show up and join in on the Aggie fun

Tailgate Experience*
Saturday, September 15
Tailgate: 8:30 - 10:30 a.m.
Koret Plaza, Stanford (map)
Kickoff: 11 a.m.
Stanford Stadium (map)

Pricing:
Tailgate Only*
$30 for CAAA/Parent/Team Aggie Members/Season Ticket Holders
$10 for children 12 and under
$50 for Nonmembers

Tailgate and Game Ticket*
$65 for CAAA/Parent/Team Aggie Members
$46 for children 12 and under
$85 for Nonmembers
Tailgate packages include pancake breakfast with mimosas, coffee, tea and soft drinks and special UC Davis branded items. A special UC Davis themed raffle will also take place.
*Please note all sales are final and tickets will not be mailed. Tickets will be available at the Friday night reception and at the tailgate. They will be saved under the name of the person who registered and paid for the tickets.
Bus
Interested in taking the bus down to Stanford? UC Davis Athletics is hosting a bus and tickets for the bus can be purchased through their website. Tickets are $40/person and be sure to reference promo code STANFORDCAAA.  The bus will depart from the West Side of the ARC Pavilion at 7:30 a.m.

Parking
Purchase your parking pass in advance and save $5 by purchasing it directly from Stanford ($25 pre-purchase or $30 on gameday). Please note you must purchase your parking pass directly from the Stanford Athletic ticket office. Passes cannot be provided by UC Davis.

Hotel
A hotel block has been secured at the following hotel at the rate of $199/night. Reserve your hotel room online or when calling mention the "UC Davis Alumni" block.
Marriott Courtyard (map)
4320 El Camino Real
Los Altos, CA 94022
Can't make it to the game? Watch it on the Pac 12 Networks (you must be a subscriber)
Tags