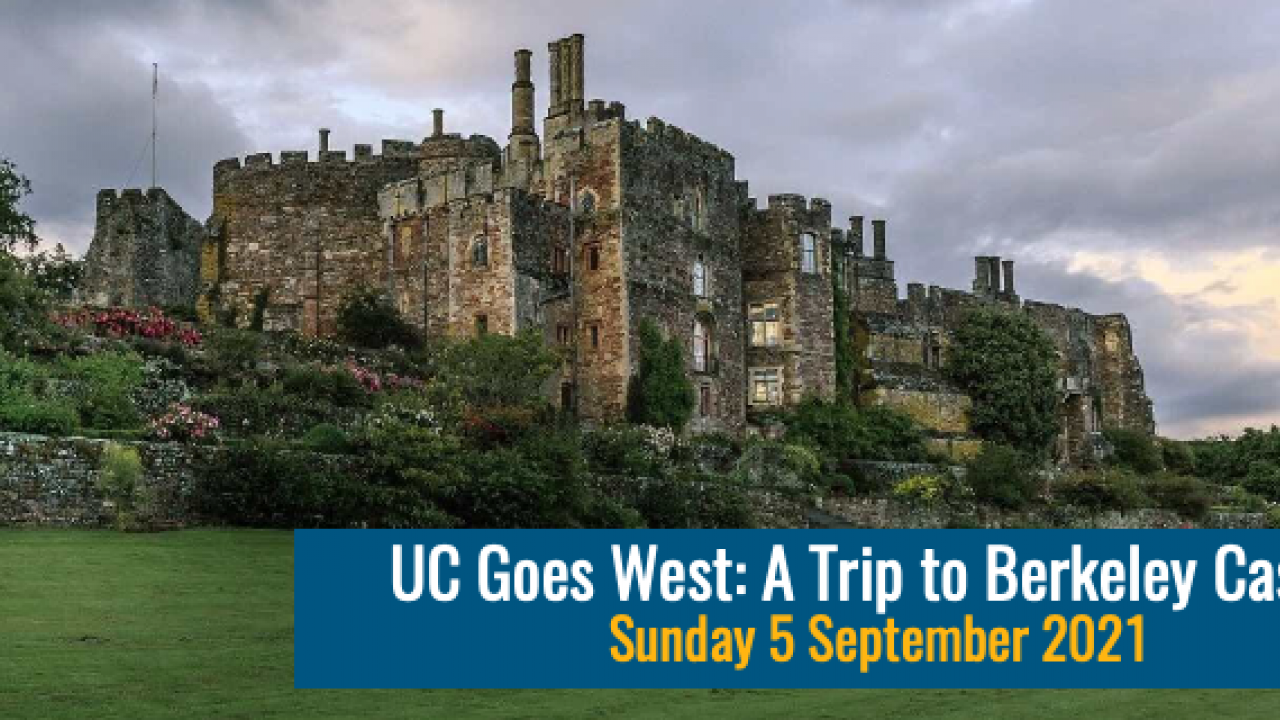 Location
Bristol Parkway Station, Bristol, BS34 8PU
University of California Trust (UK) and the Berkeley Club of London present...
UC Goes West: A Trip to Berkeley Castle
University of California alumni, parents, students and friends:
Join us for our second University of California visit to the West Country.
Come with us as we day-trip around Bristol with stops at Dr. Jenner's House Museum & Garden and Berkeley Castle! Guests are welcome to join for the whole day's itinerary, with transportation included; entry to the sites and lunch, for those who will find their own transportation; or for those who are simply looking to meet local alumni at the Beaufort Arms Pub in the afternoon.
Check out all the events below and choose your package on the tickets page.
Itinerary - Sunday 5 September 2021
The bus will pick up from Bristol Parkway Station at 10:30am and return to the station at 4:00pm.
First Stop – Guided Tour of Berkeley Castle (11:00 AM – 1:15 PM)
Berkeley Castle's origins date back to the 11th century, and is traditionally believed to have been the scene of the murder of King Edward II in 1327 that inspired Christopher Marlowe's tragedy Edward II published in 1594. The cell where Edward is supposed to have been imprisoned and murdered can still be seen. The castle is the third-oldest continuously occupied castle in England, after the royal fortresses of the Tower of London and Windsor Castle, and the oldest to be continuously owned and occupied by the same family.
Before touring the Castle at 11:45am, attendees will have the chance to explore the gardens and the Butterfly House on the grounds. The gardens specialise in scent and boast beautiful roses, rare plants, shrubs, and trees, and the Butterfly House features hundreds of butterflies flying freely in a tranquil indoor garden.
Second Stop – Lunch at Berkeley Castle's Walled Garden Café (1:15 PM – 2:15 PM)
Third Stop – Visit to Dr Jenner's House Museum (2:15 PM – 3:30 PM)
Born in 1749, Edward Jenner spent his childhood in this house in the Gloucestershire town of Berkeley. After training in London to become a surgeon he returned to the house, conducting experiments which included medicine, horticulture and the natural world. Then, in 1796, he carried out the world's first controlled vaccination against smallpox. Soon after he established a free vaccination clinic in the Temple of Vaccinia, a rustic hut in his peaceful garden.
Fourth (and final) Stop - Drinks & Networking at the Beaufort Arms (4:00 PM - 6:00 PM)
Enjoy the end of the day's itinerary with drinks and networking at the Beaufort Arms in celebration of the vitality of the University of California alumni community in the Bath and Bristol area. Open to all UC alumni, parents, and students.

Please note: The order in which you visit Berkeley Castle and Dr. Jenner's House may vary, depending on the number of guests.
Organisers: Alexandra Brodmann (UC Berkeley), William Shier (UC Los Angeles), Matthew Daines (UC Davis), Todd Shelley (UC Santa Barbara), Zara Zimbrich (UC Trust UK)
Tags