Northern Italy's fabled Lake District beckons with its sublime landscapes of shimmering glacial waters, soaring Alpine peaks and bijou towns.
Immerse yourself in the distinct bella figura Italian style that has inspired poets, composers, artists and philosophers for centuries. Stay for one full week in the heart of the quintessentially Italian città di Como, at the lakeside, belle-époque Palace Hotel, just steps from the local market. Cruise by private boat on Lake Como, Lake Maggiore and Lake Orta.
During expert-guided excursions, explore authentic villages and cultural treasures. Visit Bellagio, Villa del Balbianello, Stresa, Isola Bella, San Giulio and Sacro Monte di Orta, a UNESCO World Heritage site. In Milan, visit the Duomo and Teatro alla Scala, and enjoy a specially arranged viewing of Leonardo da Vinci's The Last Supper.
Enriching lectures and the exclusive Village Life® Forum with local Lombardy residents provide personal perspectives of daily life and cultural heritage. This intimate and comprehensive soggiorno, at just the right pace, includes exceptional accommodations, specially arranged meals and all excursions. Verona and Venice Post-Program Option available.
Price:
From approximately $3995 plus air.
For more information or to reserve your place on tour, please call the tour operator GOHAGAN & COMPANY toll-free at 800-922-3088.
Map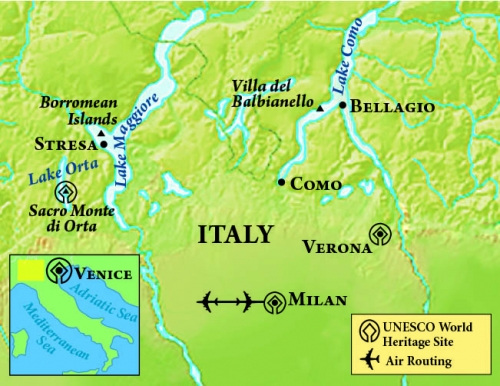 Event Category
Tags