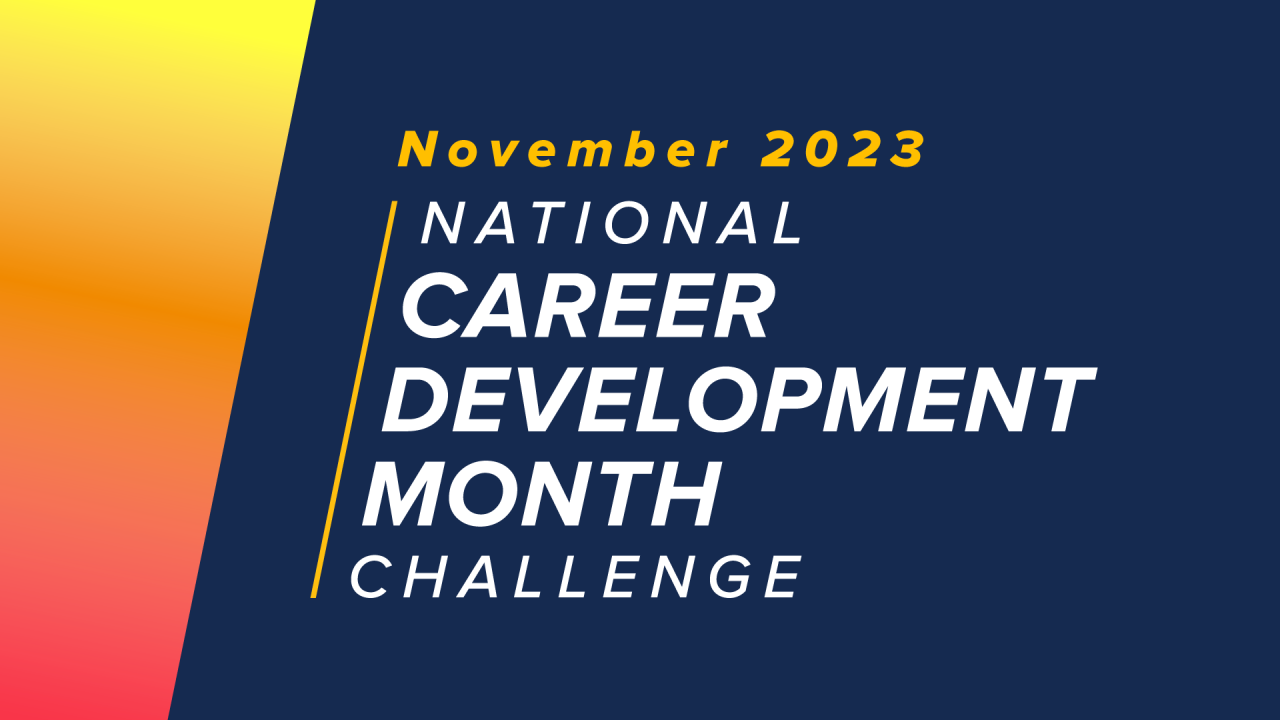 November is National Career Development Month! Join fellow Aggie alumni in celebrating through a series of career-focused events and activities. Complete as many career challenges as you can for a chance to win an Aggie prize pack. Just take note of activities you completed throughout the month, then submit our form by November 27, 2023 by 5 p.m. (Pacific Time)! View the sweepstakes rules here.
Right click on the image below to save or bookmark this page to keep track of upcoming events and challenges.
Submit your entry on or before November 27!
Click here for a downloadable PDF version of the calendar below.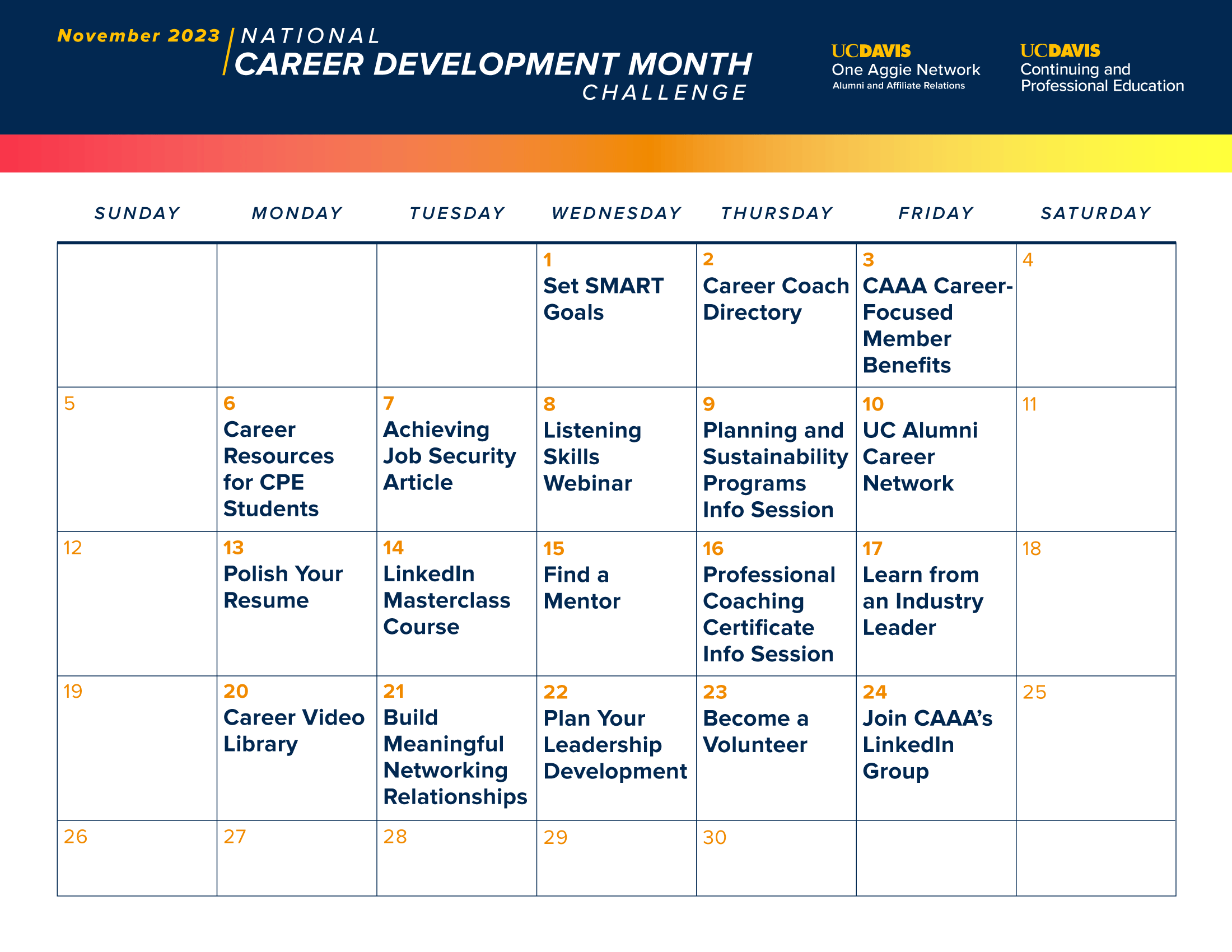 ---
Wednesday, November 1
Set SMART goals
Kick off National Career Development month by establishing concrete career development goals for yourself!
---
Thursday, November 2
Career Coach Directory
A professional career coach can help you create a personalized plan designed to meet your goals.
Visit the UC Davis Alumni and Affiliate Relations Career Coach Directory and consider connecting with a career coach today!
---
Friday, November 3
CAAA Career-Focused Member Benefits
Learn about the breadth of career-related services and resources available to Cal Aggie Alumni Association members. Not a member? Explore why membership in CAAA matters.
---
Monday, November 6
Career Resources for CPE Students
UC Davis Continuing and Professional Education (CPE) students have access to a wealth of career development resources including our free, personalized portal, designed to support your professional growth. This platform helps you:
Explore career paths and view thousands of job openings

Create or update your resume using an interactive resume builder

Practice and hone your interview skills using an interactive tool

Develop or refine your professional goals
Build a career plan and create your professional brand
Boost your communication and leadership skills
And much more!

If you are a current CPE student or considering a course or program, check out these resources that could help shape your career.
---
Tuesday, November 7
Read up on achieving job security in a time of economic uncertainty
Is a recession coming? The verdict is still out. While some experts say yes, others say it's not inevitable. Either way, this kind of conjecture leaves many feeling unsure about the future of their job. While recession-proof jobs may be hard to come by, there are some things you can do to help increase your job security and take control of your career development.
---
Wednesday, November 8
Listening Skills Webinar
Join this webinar from 12:00-1:30 p.m. (Pacific Time) to learn how to improve listening skills during times of transition.
---
Thursday, November 9
Planning and Sustainability Programs Information Session
Learn more about UC Davis Continuing and Professional Education's Planning and Sustainability program – the largest of its kind in the western United States, and meeting the continuing education needs of planners, attorneys, resource managers, government officials, developers and others involved in the planning process and the management of environmental resources. CPE offers courses and programs in the following areas: Land Use and Environmental Planning, the California Environmental Quality Act, Water Resources, Geographic Information Systems and Conflict Resolution.
Join the info session from 12:00-1:00 p.m. (Pacific Time) to meet instructors and staff, get your questions answered and learn about how CPE programs can help you advance your career.
---
Friday, November 10
Subscribe to the UC Alumni Career Network
Co-created with alumni across the 10 campuses, this high-impact, digital series is designed to equip and empower alumni in their professional journey.
---
Monday, November 13
Polish Your Resume
Even if you aren't in the job search, keeping your resume updated is a best practice. Not convinced? Read up on 6 good reasons to keep your resume up to date. 
Get started refining your resume by referring to related resources below:
---
Tuesday, November 14
LinkedIn Masterclass Course
Master LinkedIn with the only self-paced, online course built by former LinkedIn employees. 
---
Wednesday, November 15
Find a Mentor
One of the many ways you can develop in your career is to have a mentor to ask questions of and navigate career decisions with. 
Get started developing and growing a mentoring relationship, with a focus on career mentorship, with this Mentor/Mentee Guide. 
---
Thursday, November 16
Professional Coaching Certificate Free Information Session
Learn more about the unique features and benefits of UC Davis Continuing and Professional Education's Professional Coaching for Work and Life Program during this session at 12:00 p.m. (Pacific Time).
After attending, you'll receive a promotional code for $100 off your first enrollment.
---
Friday, November 17
Learn from an Industry Leader
Read a book or listen to a podcast by a leader in your field of interest.
---
Monday, November 20
Career Video Library
Check out the UC Davis Alumni and Affiliate Relations Career Video Library for recorded versions of virtual career panels and webinars you may have missed!
---
Tuesday, November 21
Build meaningful networking relationships
There are several ways to transform networking contacts into meaningful relationships. Implement one or two tips in McPherson's article for yourself.
---
Wednesday, November 22
Plan for Your Leadership Development
Take the time today to learn about leadership development opportunities that fit your professional goals. UC Davis Continuing and Professional Education offers a suite of leadership courses and programs designed for all levels of leadership, including Emerging Leader, Management Development, Executive Leadership and DEI Training in the Workplace. These courses will be offered again this spring – make an appointment today with our enrollment coach to find the right program for you. Convince your boss and enroll!
Learn more about CPE's Leadership Programs
---
Thursday, November 23
Volunteer Interest Form
Volunteering is a great way to build skills and expand your network. Complete the Alumni and Affiliate Relations Volunteer Interest Form today.
---
Friday, November 24
Join the UC Davis CAAA LinkedIn Group
Join the UC Davis Cal Aggie Alumni Association LinkedIn group to stay up to date on Aggie alumni career events, job opportunities and more!
---
Event Category
Tags