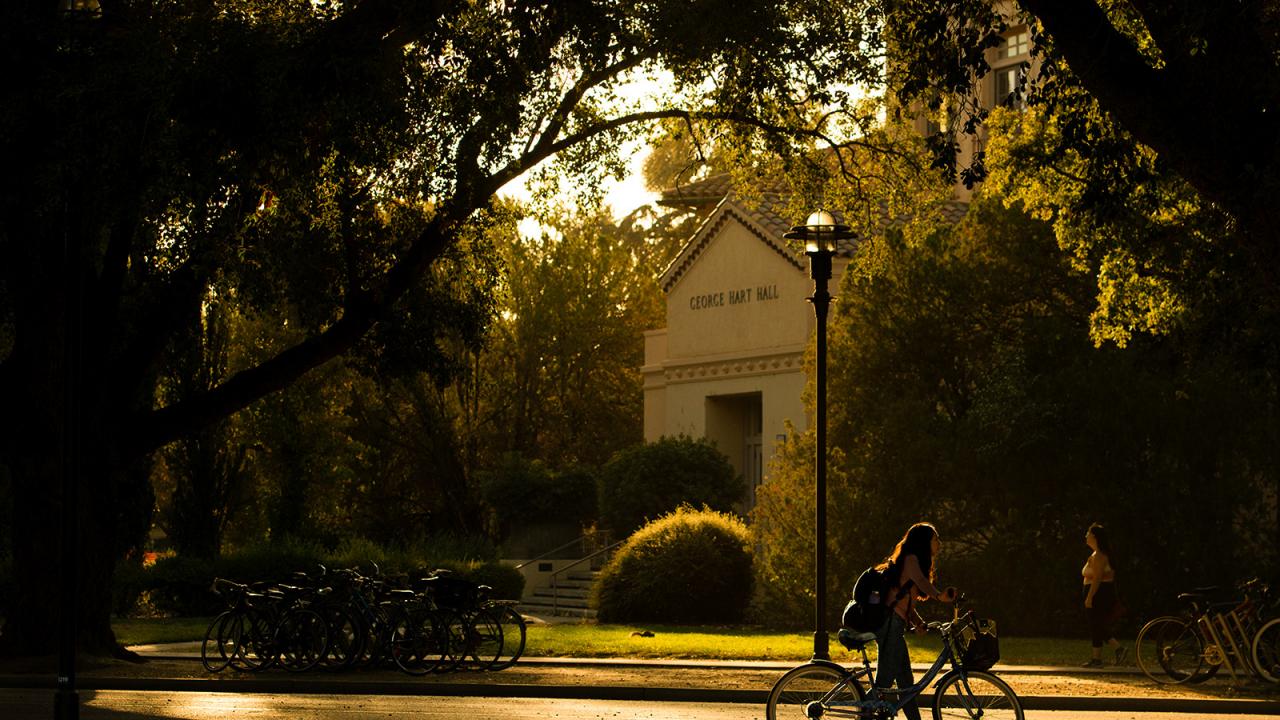 Can you feel it? The excitement is real, a palpable giddiness about your student becoming an Aggie. Or is it happy-sadness that they are leaving home, starting something new for themselves? These are strange times. But, rest assured, your student is not alone. They are about to become part of something great at UC Davis and we're here to help with one of the most important aspects of becoming an Aggie -- becoming an Aggie cyclist!
As we're certain you know, Davis is distinguished for our incredible bicycling infrastructure--and that bicycling is a timeless transportation choice among the Aggie Community. We really want to set your student up as a savvy cyclist, and usher them in the right direction. Below are some tips for their biking success.
HAVING A BIKE IN DAVIS
Choosing a bike right for Davis shouldn't be a challenging process. Many students find their bike after they land in Davis. Many bring them from home. Regardless of where you get a bike (if you get one at all, campus and Davis is very walkable and transit-rich), your student should know how to maintain  a care for their bike.
Get a bike in good condition and keep it in good repair (

As easy as ABC

). 

Check out what the

ASUCD Bike Barn

has for new and used bikes. The Bike Barn is a great resource for Aggie cyclists, offering fair prices and bike maintenance packages while your student is on campus. 

When parking, always lock it well. (more on that below)

Be certain the bike suits your student's needs. It's better to get a bike which will fit their daily needs rather than get a bicycle which will be neglected. 
REGISTER YOUR BIKE
Any bicycle used on campus must be registered with Transportation Services. Bicycle licenses will be available during move in, and are always available by appointment with the Bicycle Program (bikeprogram@ucdavis.edu or 530-752-BIKE). Bike registration helps manage the campus bicycle facilities, and helps protect your student's bicycle from theft. A measly $12 goes a long way to keeping bicycling accessible for your student. 
WHEN NOT IN USE, KEEP IT LOCKED UP
Bike theft is an unfortunate issue that all too many students bemoan. If properly prepared, bike theft can be an issue your student won't be subjected to. The following tips are invaluable advice for keeping a bike: 
Get a good, quality lock

. Use at least one lock, better to use two, or a combo of locks that secures the frame, both wheels, and maybe the seat too if it can be quickly detached. Don't trust a cable lock on its own as they can be readily cut. U-locks or heavy chains are preferable to cables as they are challenging to defeat. 

Consider locking hardware that replaces quick releases

, specifically handy for wheels and seatposts.  Quick-release levers are what they sound like and are commonly found on wheels and seats (for quick-release). Often what is stolen are the parts of the bike, anything that is easy to remove and not locked. If your student's bike has quick-release levers, either make sure they are locking all the easy-to-remove parts on their bike, or have those quick-release leavers replaced with bolts. (Or do both!)
RIDE SMART
There is a high volume of bicyclists, pedestrians, and the occasional car/truck/bus as official university vehicles have access to the central core of campus. Regardless of who is around it's important to pay attention. A few tips for riding on and off campus: 
Signal your intentions

Know and use hand signals for turning and slowing down

Stop for stop signs

Obey red lights

Follow bicycle signals when present

Use roundabouts correctly (take it slow, signal, and always ride in the counterclockwise direction)
RIDE SAFE
There are several easy ways to be a safe rider. 
Wear a helmet.

Wearing a helmet is the easiest way to protect the investment of a college education, or rather, your student's head. 

Stay visible at night.

Have front and rear lights ready for when it gets dark. The law says to have a front white light and some reflectors (red on the rear, white or yellow on pedals and wheels), but having lights front and rear in addition to the requisite reflectors make you stand out at night. Davis has had a "Dark Sky Ordinance" in place since 1998, so your student may notice that night seems especially dark, having good lights and all reflectors helps keep one safe.

Pay attention.

One of the easiest ways to ride safe is to keep alert. Stay off your phone. Don't listen to music. Any time you take attention away from riding your bike, your ability to react and ride defensively becomes difficult. 
ABOVE ALL, BE WELL
All of the above tips are intended to help your student become a successful Aggie Cyclist, as we really want to see them enjoying the rich bike life that thrives in Davis. If they ever need help -- being more comfortable, more confident, or just looking for basic biking advice, don't hesitate to reach out to the Bicycle Program. Reach us at bikeprogram@ucdavis.edu or call us at 530-752-BIKE (2453).
Peace, Love, and Bicycles. 
UCD Bike Team
Category
Tags