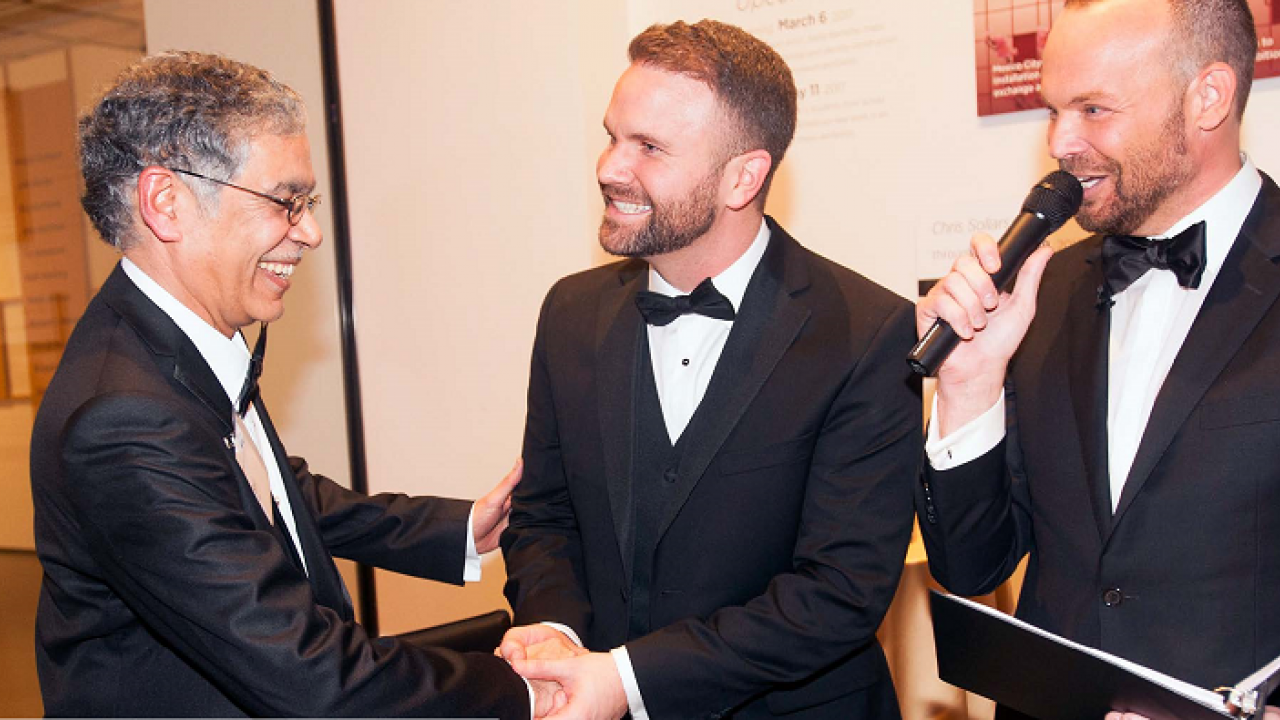 By Benjamin Ginsburg
Young philanthropist and entrepreneur Mac Clemmens credits UC Davis for a boost to his career.
It's not every day that a side-project evolves into a multi-million dollar company. Michael "Mac" Clemmens MBA '07 certainly didn't expect it when he founded Digital Deployment in graduate school to help pay his MBA tuition. Now, the web development company in his hometown of Sacramento handles contracts for Google, the California Bankers' Association, CalSTRS, United Way and UC Davis' Graduate School of Management (GSM)—the latter of which is where Clemmens says he got his leg up in business.
"Getting an MBA moved me out of the cubicle and provided a foundation that helped me beyond what I'd learned from my computer science degree," said Clemmens, who was named one of the Sacramento Business Journal's "40 Under 40" in 2013 and this year's Cal Aggie Alumni Association Young Alumnus Award  recipient.
"As the business has grown and I'm evaluating financial decisions and financing options, leveraging my network, and especially when pitching to business executives, I have a huge advantage over the pre-MBA Mac."
At UC Davis' Graduate School of Management, Clemmens was part of a class of 60 students with opportunities to work and consult with faculty—an experience he said was exactly what he was looking for in an MBA program.
"UC Davis is incredible in the scope of research—one of the best in the world," he said. "I was so humbled and amazed to be among so many thought leaders that were involved in the students' success."
Clemmens is proud of the ways his UC Davis education helped him apply deep business knowledge and build a collaborative culture at his company. He places great value on employee happiness and well-being and believes that employees must have extraordinary lives in order to build an extraordinary company. Clemmens' lessons at the GSM taught him that Digital Deployment's ability to offer quality service and be successful depends more on the caliber of his leadership than his technological expertise.
"I tell my employees who have kids, 'Being a parent is your number one priority. Period. Your second priority, hopefully, is working here,'" he said. "If they're at work but worrying about their families, they won't be at their best anyway. I encourage creating space in your work life for spouses/significant others, international travel and pursuing passions."
An Enduring Connection to UC Davis
Since earning his MBA, Clemmens continues to support UC Davis and the Graduate School of Management with giving, volunteer activities and as a business partner. He considers himself to be an informal recruiter for the MBA program and loves talking to prospective students about its benefits— an effort he hopes will help UC Davis as well as his business.
"I plan to continue tapping UC Davis for its talent," Clemmens said, who already employs three UC Davis alumni at his nine-person company. "In addition to GSM grads, I hope to hire computer science and engineering alumni from UC Davis as well. Aggies are smart, hardworking and collaborative, and I love having them on my team."
Category
Tags