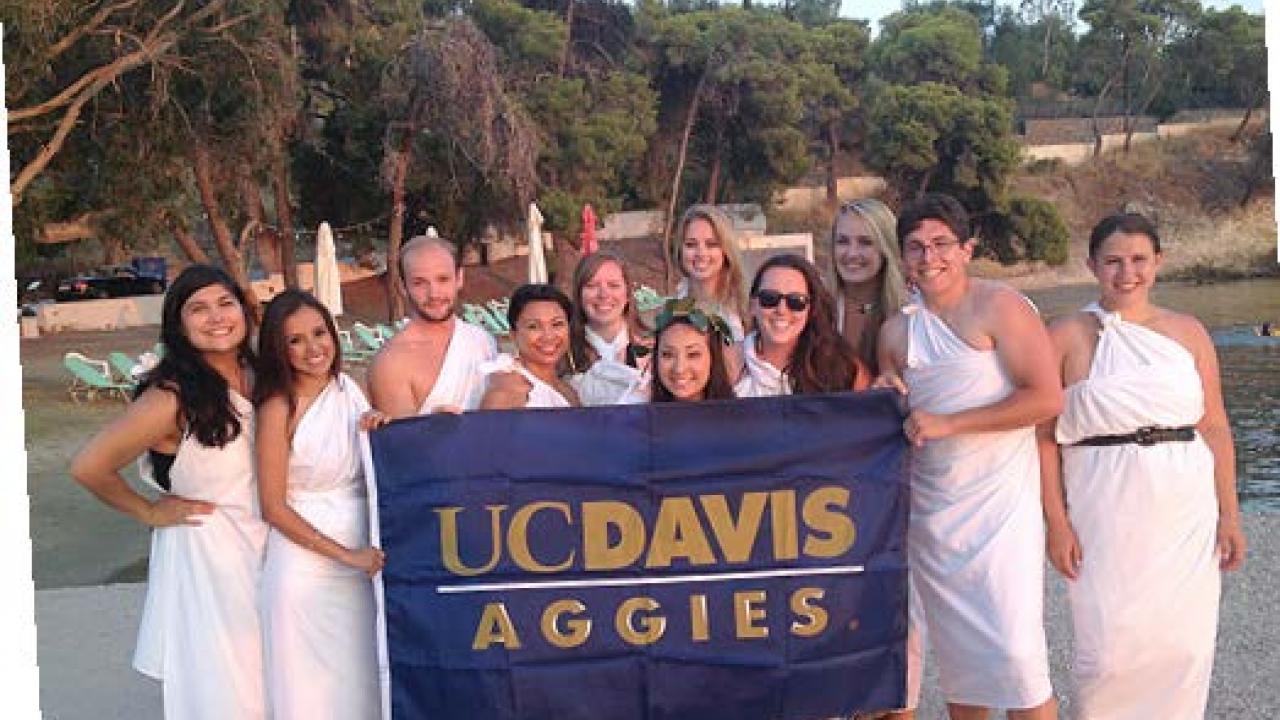 By Erin Agricola 
After commencement, most graduating students will start looking for a job or begin graduate school in the fall. However, for 20 UC Davis seniors, the next chapter of their lives began with a three-week trip to Europe. Aggie Adventure's annual graduation trip spanned nine countries in 24 days and featured some of Europe's most famous attractions. I had the opportunity to join these new alums, along with 20 UCLA alumni, and an alumna from UCSB, Cal Poly and Notre Dame de Namur, on their journey across Europe. 
We began our journey in London, where we received a walking tour by a local guide. Our tour highlighted Big Ben and Parliament, Westminster Abbey, the Tower of London, the changing of the guard at Buckingham Palace and an unexpected encounter with the mayor of London. In addition to these sites, in my free time, I was able to explore St. Paul's Cathedral, view art at the National Gallery and British Museum, and take a ride on the London Eye. From London, we traveled across the English Channel to France and, after a short drive, arrived at our next destination, Paris. 
Our two days in Paris included a 600-stair climb to the top of the Eiffel Tour, a stroll through the Louvre and D'Orsay Museums, a peek in the Notre Dame Cathedral and a quick jaunt to the Palace of Versailles. One of the highlights of the trip was picnicking on the Seine, near the Notre Dame Cathedral, and watching the small boats navigate the river. It was a serene experience, being in the middle of a large, bustling city and feeling at peace.
Next, we headed to Amsterdam with a quick stop in Brussels for some Belgian waffles. During our two days in Amsterdam, we visited the Anne Frank House and took a short bike ride through the countryside. As UC Davis graduates, we felt a sense of pride in our expertise in biking and we laughed as we watched our UCLA counterparts attempt to master their technique. 
Our next destination was Germany, where we made stops in the Cologne, Rothenberg, Heidelberg, and Munich. Through our German travels, we saw everything from one of Germany's oldest gothic cathedrals to the Heidelberg Castle to the small villages along the Rhine River. In Munich, we had the opportunity to meet with two UC Davis alumni, Don McClellan and Phillip Leipold, and hear about their college experiences and beyond. The recent graduates enjoyed listening to Don and Phillip talk about their journey after college. 
After saying goodbye to our new friends, we traveled to Austria. We made a stop in Salzburg to see Mozart's birthplace and to visit some of the sets for "The Sound of Music." After a few hours of exploring Salzburg, we continued on to the alpine village of Annaberg and nestled into our hotel in the Austrian Alps. During our three days in Annaberg, we had the opportunity to hike, whitewater raft, and mountain bike. We celebrated the Fourth of July by singing the Star Spangled Banner and spending time together as a group. 
After a few days of relaxation in Austria, the whirlwind continued as we headed to Venice, Italy. Although we only stayed in the city for a few hours, we enjoyed delicious gelato, walked through San Marco's square, and took a gondola ride through the city's maze of canals. After our quick stay in Venice, we continued on to Florence, where we once again received a guided city tour. We saw the Ponte Vecchio — one of Florence's most famous bridges, the Duomo — an all-marble church, a recreation of the statue of David and the Uffizi Gallery. On our second day in Florence, a small group of us took an excursion out of the city to Tuscany. While there, we visited the winery where Leonardo Da Vinci painted the Mona Lisa and saw the original backdrop for the portrait. After seeing the Mona Lisa while in Paris, we appreciated visiting the place where Da Vinci painted the masterpiece. 
After returning to Florence and spending one more night in the city, we traveled to Rome. As with most of the cities we went to, our first night in Rome flew by. Within a matter of hours we saw the Pantheon, Spanish Steps, a Roman aqueduct, and the Trevi Fountain. We woke up bright and early the next morning for another guided city tour, which featured stops at the Forum and Saint Paul's Cathedral in Vatican City. After the tour, we explored the Vatican Museum, Sistine Chapel and the Coliseum. On our final night in Rome, we had our last meal as a whole group and said goodbye to some amazing new friends. 
Twenty of us stayed and traveled to Greece, where we relaxed for three days on the island of Poros and experienced a day of exploring Athens. We enjoyed water sports and bike riding on the island and toured the Acropolis and the Olympic Stadium in Athens. After all the traveling and constant activity, our journey had come to an end. 
I'm glad that I was able to visit, experience, and learn so many different things in Europe. Not only did I get to visit and experience new cultures and cities, I also met a diverse, won-derful group of people. Although we traveled with students from many different backgrounds, we all shared an incredible journey. This trip positively impacted my personal growth and enriched my life significantly. I know I speak for my fellow travelers when I say this was the trip of a lifetime. 
Category