Artist alum returns to campus for book launch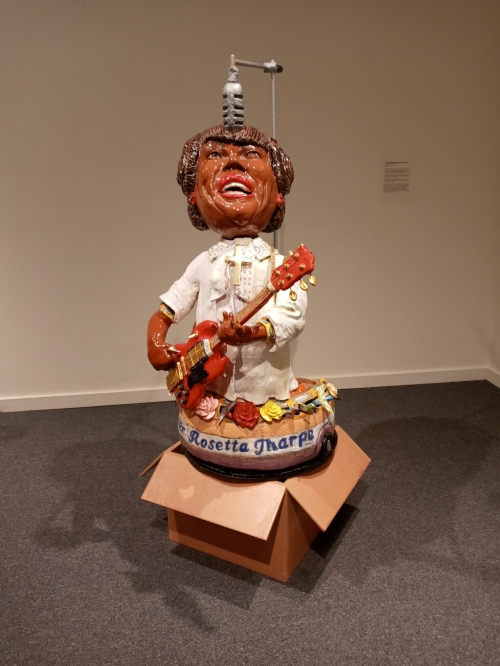 From studying under famous UC Davis art faculty like Robert Arneson, Wayne Thiebaud and Roy De Forest, to exhibiting works in museums around the world, Tony Natsoulas '82, M.F.A. '85 has become one of the region's most distinguished artists over his 40-year career.
Natsoulas is known for stunning and humorous large-scale ceramic sculptures—most weighing over 100 pounds — that portray anyone from beloved tv and movie characters to pop icons or historical figures.
"When selecting a person I want to sculpt, I look for underrepresented, dynamic, and socially relevant people who inspire me," said Natsoulas.
He was named one of the Top 100 Craft Artists Living in the USA Today by the Smithsonian in 2004, and in July 2023 the San Francisco Museum of Modern Art acquired one of his works: a sculpture of Sister Rosetta Tharpe, a gospel singer of the 1930s-60s who inspired many rock 'n' roll artists.
Honing his style with esteemed mentors
As a student at UC Davis, Natsoulas was taught by Arneson, legendary funk artist and creator of the iconic Egghead sculptures, whose daring style inspired Natsoulas' own.
"His artwork was astounding to me. I learned so much from it alone," said Natsoulas. "As a teacher, he allowed me to keep my work loose and develop my style freely."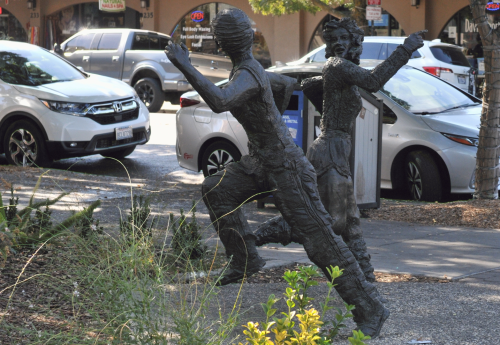 He first met Arneson in an art class he took as a high school student at Temporary Building 9 (TB 9), UC Davis' ceramic studio, and later became his student in college. At the time, Arneson was the only ceramics professor at UC Davis and would invite visiting artists to teach to show students different perspectives. Natsoulas remembers Arneson as reserved yet brilliant.
"Even though his art is so loud and bold, Arneson was a really quiet person," said Natsoulas. "He was also complex, well-read and really smart."
While Arneson could be a tough critic, his guidance helped Natsoulas become a better artist and helped him get into art shows and apply for grants. Natsoulas also took painting and drawing classes from famous artists and UC Davis professors Wayne Thiebaud and Roy De Forest, both of whom inspired his style and love of bright colors.
"It was a great time to be an art student," said Natsoulas. "Thiebaud's classes also really inspired me. I remember him telling us, 'even if you're painting a white object, use every single color you have and it will make it look whiter.'"
Meet Tony Natsoulas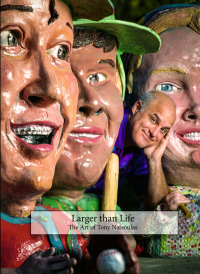 Book launch and signing event Larger Than Life: The Art of Tony Natsoulas
When: October 7, 1-2:30pm
Where: Manetti Shrem Museum of Art
After earning his undergraduate degree, Natsoulas spent a year at the Maryland Institute in Baltimore and the Skowhegan School of Painting and Sculpture in Maine before ultimately coming back to UC Davis to pursue an M.F.A. There he taught a ceramic sculptures class in his former student haunt, TB 9.
"I loved teaching as a graduate student at UC Davis," said Natsoulas. "The students in my classes were really good and passionate about it."
He began his career making full-figure sculptures before moving on to larger-than-life exaggerated busts, capturing a subject's appearance and personality with vibrant colors and shapes.
Working in his garage-turned-studio at home in Sacramento, Natsoulas experiments with the limits of clay.
A few of his pieces include musicians Carlos Santana, Annie Lennox, and the Beatles; art heroes Pablo Picasso, Arneson and Clayton Bailey; and fictional characters like Alice from The Honeymooners, Uncle Fester, the Duchess from Alice and Wonderland and more.
When selecting a person I want to sculpt, I look for underrepresented, dynamic, and socially relevant people who inspire me," said Natsoulas.
Deep roots in Davis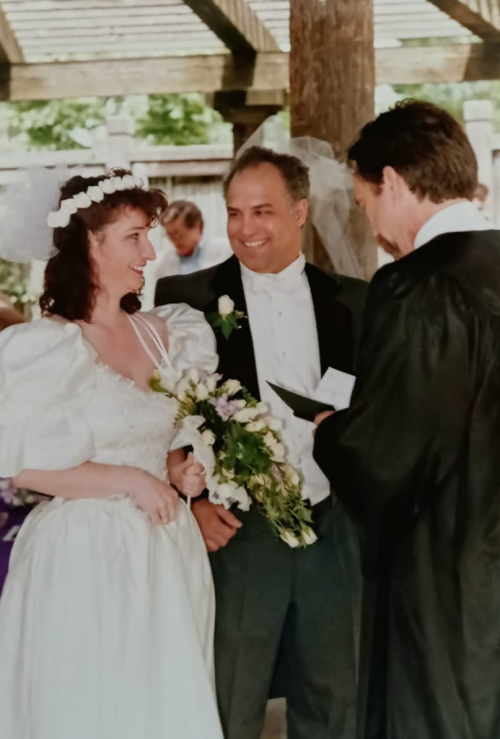 Natsoulas' family moved to Davis when his father, a professor of psychology, began working at UC Davis. Raised in town, Natsoulas' first clay sculpture was a small blue dragon he made in a friend's garage in fourth grade.
The summer after earning his M.F.A., Natsoulas completed his first public art commission for the City of Davis, a familiar site to many: "The Joggers", a bronze statue on the corner of 3rd and F streets of two joggers with one pointing the way for the other.
Davis is also where he met Donna, his wife of 30 years. Celebrating Natsoulas' connection to campus, the couple chose to get married at UC Davis, at the Carolee Shields White Flower Garden and Gazebo in the Arboretum, and held the reception in a friend's backyard in town.
"Donna has always been supportive of everything I've done," said Natsoulas. "Having her as a partner has allowed me to keep working on my art all these years."
For future artists, whether at UC Davis or elsewhere, Natsoulas says: "I always say be humble. And also, don't be afraid to throw something away. A lot of people get attached to their work, but if you keep the attitude of knowing that what you make next will be even better, you'll become a great artist."
 
Primary Category
Secondary Categories