Building a well in Africa propels alumnus' path of kindness and generosity
Chidubem Nnaji's undergraduate project to install a solar-powered well in his village in Nigeria was just the beginning of his life's calling to serve the public. 
The 2022 civil and environmental engineering grad is now at UC Berkeley earning his master's degree in engineering and project management. After completing the program he will work with Chevron Corporation as a construction engineer in the capital projects department.  
Nnaji chose to focus on design and construction management because it's rewarding to see something built from concept to reality. "I've known I wanted to be an engineer since I was six," he said. 
Nnaji had a chance to put that drive into action as an undergraduate. In 2021, he was named a Donald A. Strauss Foundation Scholar to fund his project, "Using Solar Power to Empower," to bring clean, accessible water to his family's village, Amurri, and educate that community on sustainable water practices. 
"Amurri is home to our kindred. My dad grew up there and that's where our family is so we visit every so often," Nnaji said. 
Nnaji was involved with the construction and commissioning of the water borehole project, and worked with leaders in Amurri to ensure equitable access to all residents. Since the public commissioning in December 2021, the community has been maintaining the well independently. With the remaining funds, Nnaji partnered with community leaders to give the young people in the community scholarships to finance their education.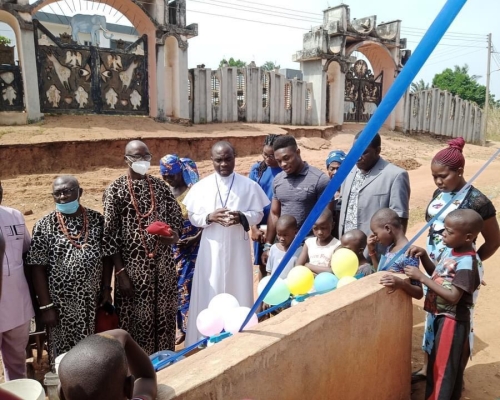 "In Nigeria, the cost of education is beyond the reach of many families in Amurri. Hence, the scholarship money has helped the beneficiaries continue their education without constraints," Nnaji said.
Nnaji credits Scott Palmer, prestigious scholarship advisor at UC Davis, for the success of his project.
"I really want to thank Scott for his words of encouragement and consistent support throughout the entire process," Nnaji added. "By diligently keeping up with me, he touched the lives of thousands and certainly deserves credit for bringing this project to light."
Palmer was pleased to have an engineering student pursue the Strauss scholarship.
"Engineers have a unique potential to change the world for the better. I'd like to encourage more engineers to pursue prestigious scholarships like the Strauss," Palmer said.
Philanthropy leads to public service
Nnaji said he feels lucky that his family is even in the U.S. today because they were recipients of the visa lottery in 2008. The additional support he received in his undergrad and graduate school has allowed him to find his purpose.
"Philanthropy is important because regardless of your background, it empowers you to reach your full potential," Nnaji said. "The things I've been able to do are not by my power or by my might, but rather it's other people looking out for students like me and wanting my welfare taken care of." Both the Strauss fellowship and his funded summer internship with Chevron were key. 
In the summer of 2022, Nnaji interned in project management at Chevron, learning from experts in the field and helping build new facilities. His internship also helped him learn how to achieve greater impact in his own humanitarian work.
"Being able to manage projects at any scale is something that will be very valuable in continuing projects in Nigeria," Nnaji said. "My family and I are establishing a nonprofit, James Nnaji Foundation, named after my grandfather who was known for his abundant kindness in the community. Our intent is to raise money from grants, pitch ideas to private companies and overall, gain experience in the developmental space."
Staying connected
Not only has Nnaji impacted the lives of Amurri, he has made lifelong connections with Aggies during his three years as a resident advisor (RA) in Tercero. 
"One of my favorite memories at UC Davis is spending time in the dining commons interacting with my residents," Nnaji said. "I'm a very slow eater, so if I go for lunch with a group of people, I rarely finish with the same group as the one I started with."
When Nnaji visits the campus, he enjoys catching up with friends and playing volleyball.
"Being a former RA, I'm still very connected to the friends I once called resident," Nnaji said. "It's pretty neat being able to help with classes I've taken before."
Repaying in kindness
Nnaji is motivated by his Christian faith expressed in the idea of loving your neighbor as yourself. Having benefited from others' generosity and investments in him, he is eager to do the same for others. 
"As we blossom into who we're going to be, it's essential to invest in the new generation because giving back brings the same level of joy as the person receiving it," Nnaji said.
Now that he's is in a position to assist others, Nnaji said "bringing that level of peace, that level of joy to someone's life is like paying it forward" for himself. Although Nnaji's career is just beginning, serving others will and always be a part of his life. 
"This quote has always stood out to me, 'we overestimate what we can do in a year and we underestimate what we can do in a decade,'" Nnaji said. "There's still so much more that's unknown to me but, I will continue giving back because otherwise, students like me wouldn't be able to succeed."
Primary Category
Secondary Categories