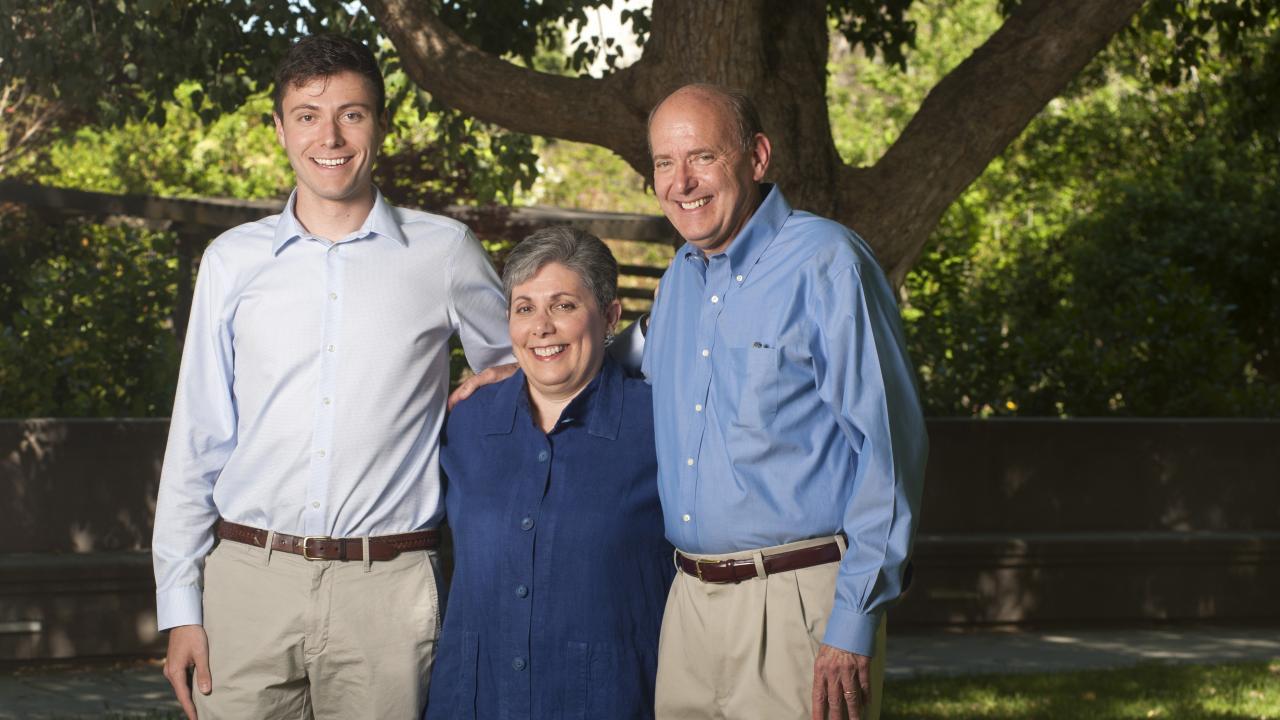 By Ben Ginsburg '17
It would be difficult to find a family more involved in the UC Davis community than the Wares. Hailing from San Mateo, Calif., parents Steve and Carol were Aggie Ambassadors and among the inaugural members of the Parent and Family Council, respectively, when their son Jeff '15 was a sophomore. Since then, they have become two of UC Davis' proudest and most vocal ambassadors, hosting Coffee Talks for parents, attending Aggie Welcome events for new students and visiting campus many times throughout the year, sometimes without seeing their son Jeff. They say that the inclusiveness they've experienced on the Parent and Family Council makes them feel closer to UC Davis than they do to their own alma maters.
"I love going to Aggie Welcome events," said Steve. "I almost have to put a cork in my mouth: it's so easy to talk about all the great things UC Davis has to offer – the product sells itself. When you look at all that's available to students who actively manage their schedules, we easily compete with the Ivy League."
Jeff has certainly taken advantage of UC Davis' many offerings. He has worked with Student Judicial Affairs and the Campus Judicial Board since his sophomore year, part of the body that oversees cases of student misconduct and academic integrity. He praises the active role that students take in upholding that integrity by participating in SJA, valuing cooperation and group triumph in academics over competition and individual success.   
As a mechanical engineer, Jeff is grateful to have had so many opportunities at UC Davis to exercise his classroom learning in hands-on contexts. From helping build a formula hybrid electric racecar in his freshman year to working in the Bioinstrumentation and BioMEMS Laboratory to designing and building an agricultural sensing robot as a senior team project, Jeff accumulated both concrete engineering skills and interpersonal teamwork skills that he knows will be invaluable when he enters the job market.
"Employers and graduate schools respect what you know, and UC Davis gives you that knowledge and experience," Jeff said.
Carol Ware has learned a lot about UC Davis over the past four years, and she has taken an active role in passing that knowledge along. Her advice column, "Parent to Parent," appears in almost every monthly issue of In the Know and has earned her the nickname "Dear Aggie."  In the column, she offers answers to the countless questions and concerns that parents have about their students' college experience and journey to adulthood. She encourages all parents to take the opportunity to volunteer their time at UC Davis, and to get involved in the college experience from a very different standpoint.
"There are a lot of opportunities for parents to volunteer without interfering with their students' lives," says Carol. "It's important for students to find their own way, and my agreement with Jeff has always been to respect his world when I get involved. Mostly. "
Carol's advice is frank, honest and straightforward, and her humor, warmth and engaging manner endear her to all members of the Aggie family. She firmly believes that her time spent in the UC Davis community has enriched her life, and has helped her family grow closer despite distance.
"The part people don't warn you about is that you have to say goodbye over and over and over. It's important that you stay in touch with your student and keep contact," she said. "Be a parent, not a friend. It's a very tough transition to have an adult relationship with your child. It's an education."
Category
Tags