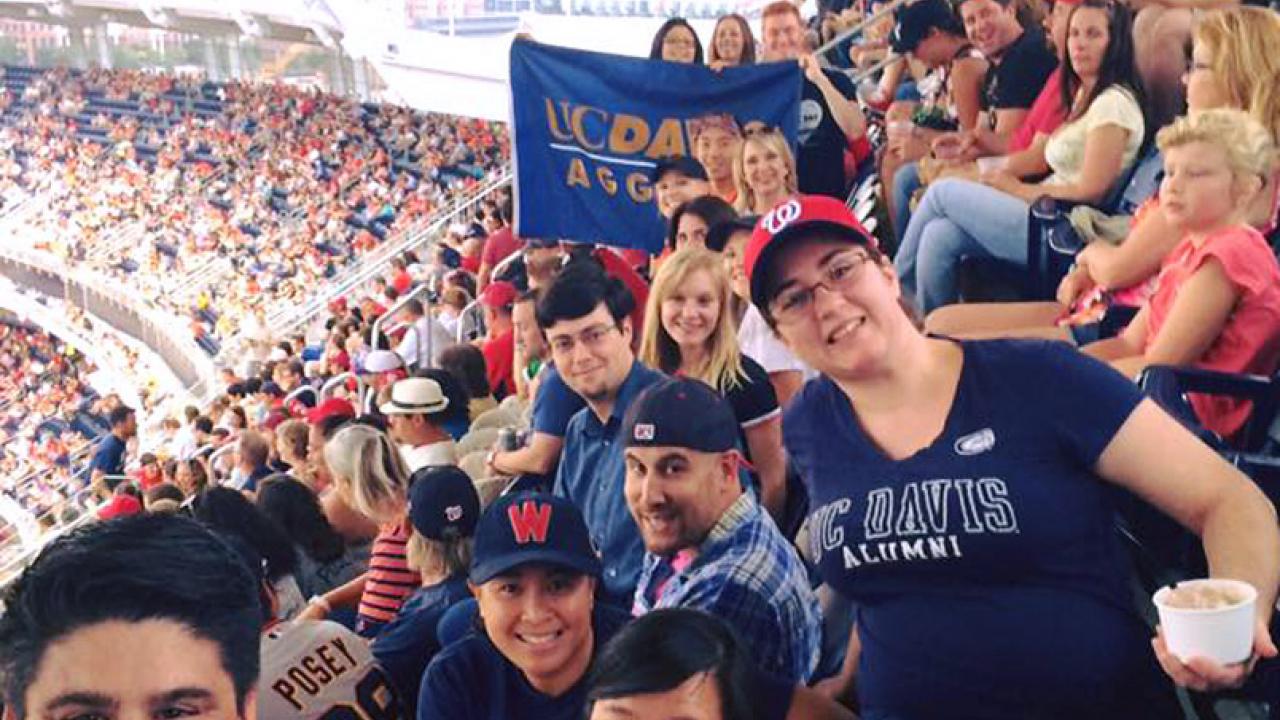 The Cal Aggie Alumni Association (CAAA)'s District of Columbia Chapter consists of about 100 active Aggies who participate in service events, cultural gatherings, professional development and networking opportunities. 
New D.C. chapter leader Michael Matosich '14 notes that one of his favorite things about the chapter is that it gives him the opportunity to connect with many generations of Aggies, including hearing stories of people who are further along in their careers and attribute their success to UC Davis, or relating to younger alumni who are just starting out. 
"As a student at UC Davis, I met some of my closest friends and was very involved," said Matosich, who studied abroad in Ecuador and was
active in Greek life. He also participated in the chancellor's undergraduate advisory board and UCDC, a program that offers an opportunity for students to participate in course work, field research and internships during a quarter's residence in our nation's capital. 
He added, "Because I had such a wonderful experience, I wanted to give back as an alumnus. At this time in my career it makes the most sense to give the gift of time and to help other alumni stay connected to UC Davis even from as far away as D.C."
Matosich now works as a grant administrator for the National Fish and Wildlife Foundation. Prior to that, he served on a traveling Ameri-Corps team that conducted community service in several East Coast cities and towns. 
"Tracing back, I live in D.C. now because I enjoyed the city so much as an undergraduate in the UCDC program," he said. "During the program, I interned for Congressman John Garamendi, which is how I discovered the AmeriCorps program. After I graduated, AmeriCorps brought me back to the East Coast, which subsequently led to my current role. So UC Davis is tangentially connected to where I am now, and that's part of why I want to be involved in CAAA."
Helping Aggies find success in a new community 
D.C. alumni also find other ways to connect. Major General Bradley Becker '86, who commands the U.S. Army Military District of Washington at Fort McNair in Washington, D.C., recently volunteered to host an upcoming alumni event at the historical site because, after moving 19 times in 30 years and most recently to D.C. in 2015, he understands how valuable it can be to have a built-in network.
"Whether you graduated last month or 10 years ago, you should know that because you're a UC Davis alumnus, there will be a network of fellow Aggies that can help bring you into a new community as you move around the country for work or family reasons, introducing you to 
people and helping you get established," he said. "So I thought hosting this tour was a great opportunity to help develop that culture."
Becker participated in Desert Shield/Desert Storm, served as battalion commander during the Iraq war and has led several high-profile  ceremonies. In fact, since the Military District of Washington is the lead Department of Defense agency for presidential inaugurations, he will soon lead the inauguration in January 2017. He is also highly decorated, with awards including the Defense Superior Service Medal, the Legion of Merit, the Bronze Star Medal with Oak Leaf Cluster, the Defense Meritorious Service Medal and many more.
"Using the military as an example, a young second lieutenant in the Army may end up in Washington D.C. and begin thinking about finding a mentor," Becker explained. "Well, most lieutenants are not going to reach out to a two-star general; but, as part of a UC Davis alumni network, they might actually reach out to me, and then I have the opportunity to mentor a young officer. This applies to any career field, and it's one of the reasons why a strong alumni network is important."
To get involved with CAAA's D.C. chapter or others, visit our network pages. 
Category
Tags