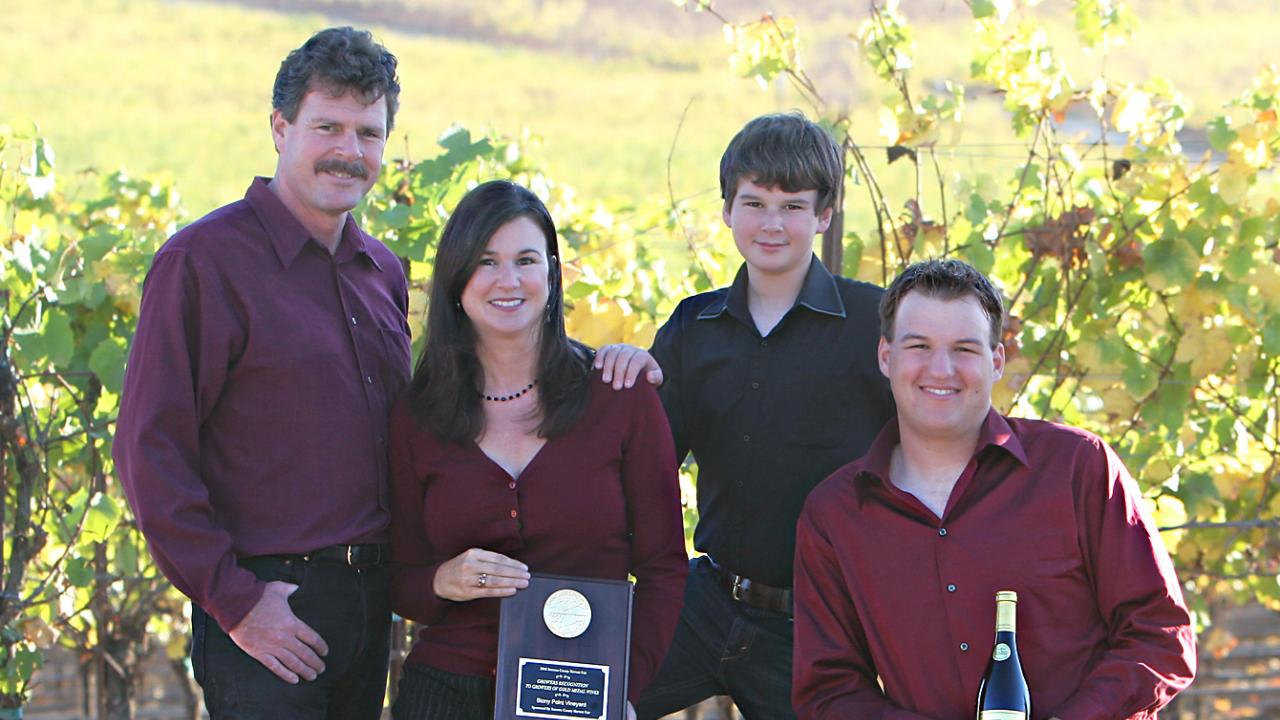 By Corinna Fish
Jeff James '85 pursued a career in investing as a means to achieve wealth—but not the kind typically associated with Certified Financial Planners. For Jeff and his wife Judy, true abundance means sharing the bounty of James Family Cellars with friends and family. 
"After graduating, I spent about 10 years of working in agriculture for other people," said James. "I decided to pursue my interest in investing so that I could afford a farm of my own. I had to leave agriculture in order to get back into it on my own terms. And every gathering around the table with our family, friends, food and our wine makes it all worthwhile. To share a bottle of wine that you've made from grapes that you've grown is a uniquely rewarding experience." 
Working on ranches during his high school years sparked James' passion for working with the land and fueled his determination to enter the industry. He chose UC Davis for its agricultural science and management major, attracted to the balance of science and business it offered. After transferring, his Aggie experiences honed his "work hard, play hard" ethos. 
"As a student who put myself through school, I learned that I could reach my goals through hard work and perseverance," said James. "Through that hard work, I also learned some other important things such as how to clean monkey cages, how to make, bake and deliver pizzas, how to drive a truck, how to castrate calves and how to get by on very little sleep!" 
Joining the Alpha Gamma Rho agricultural fraternity balanced his hard work with play. "My most memorable Aggie moments were tied to my involvement with AGR," recalled James. "Arranging 'The Rocks' on the bypass at midnight, helping out at Ag Science Field Day, building floats for Picnic Day, and roasting pigs, luau-style in the ground, are just a few that come to mind." 
While AGR gave him some of his favorite Aggie memories, his favorite class was Viti-culture 3. Despite this, James didn't consider winemaking until long after graduation. It was only when he and Judy began growing grapes on their farm and his brother-in-law shared his passion for hobby winemaking that James began dabbling with "mostly mad scientist stuff in the garage." The evolution into a gold-medal-winning professional winery was driven by their commitment to low-impact farming. 
"Our philosophy has always been to tread lightly with the winemaking process so that we never overshadow our grapes," said James. "We grow and source such aromatic and flavorfully complex grapes that everything we do in the winery is geared toward enhancing the natural expression of that fruit." 
For the James family, fellowship is the true fruit of their labor. 
"As Chancellor Emeritus Emil Mrak once told me, 'It's not what you know that's important, it's who you know that really matters.' Joining the Alumni Wine Program was a natural continuation of the wonderful network of friends I made during my undergraduate years. And as a small winery without a big market-ing budget, the exposure to Aggies is priceless," explained James. "Most importantly, the Alumni Wine Program aligns with one of our core tenets: all the hard work that's involved wouldn't be worthwhile if we couldn't share our wine with friends. That's what we're hoping to have through involvement with the program—to share food, wine and fellowship with even more friends." 
Category
Tags