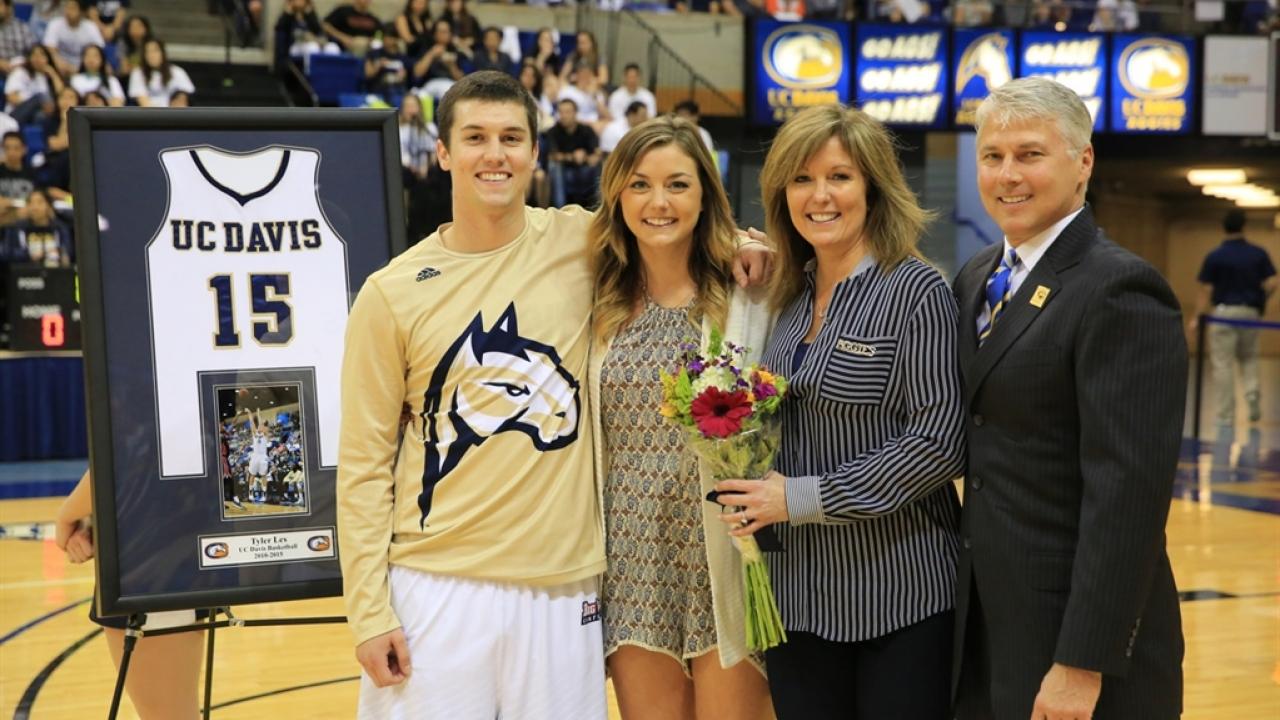 Having both played and coached basketball professionally for most of his career, Jim Les knows sports excellence when he sees it. When his son, Tyler '15 was deciding on where to attend college, Les was coaching the Braves at his alma mater, Bradley University in Illinois. Les' research on the academic and athletic programs at UC Davis left him supremely confident in his son's decision to become an Aggie. After Tyler spent a year at UC Davis, his parents followed, and Les became head coach for the UC Davis men's basketball team.
"We had lived out here before, and we had visited Tyler a number of times," Les said. Les spent four years playing with the Sacramento Kings and another three as assistant to the Sacramento Monarchs. "Going through the interview process at UC Davis, I was impressed with the people that make up the university. They have a passion for this place, a desire to bring excellence to the basketball program, just like the excellence we have in the School of Veterinary Medicine and the College of Engineering."
Les often calls his students "ambassadors" for UC Davis as a college and as a community, and encourages them to attend other home sports games and support the other Cal Aggie teams. He sees athletics as a great way to unify the campus – students, faculty, staff, alumni and friends.
"The young men I coach have great balance in their lives," Les said. "UC Davis holds a higher standard than the NCAA, and that's how it should be. They have talent in their sport and their studies. They're challenged on the floor and in the classroom, and they compete and excel in both."
This past summer, Tyler interned at Life Technologies in San Diego, working with students from all over the country, including Ivy League schools. Les recounted how UC Davis gave Tyler the preparation and confidence to hold his own among his peers and excel in the program. Les has seen similar maturations in the students and players he has taught and coached over the past four years.
"It's not just a four-year decision for students; it's a lifetime decision," said Les. "We're committed to make you an excellent player, student, and person. And our students understand that their success is the result of a lot of people's sacrifices and contributions, just like it was for me. We want to continue that wave of excellence."
Category
Tags