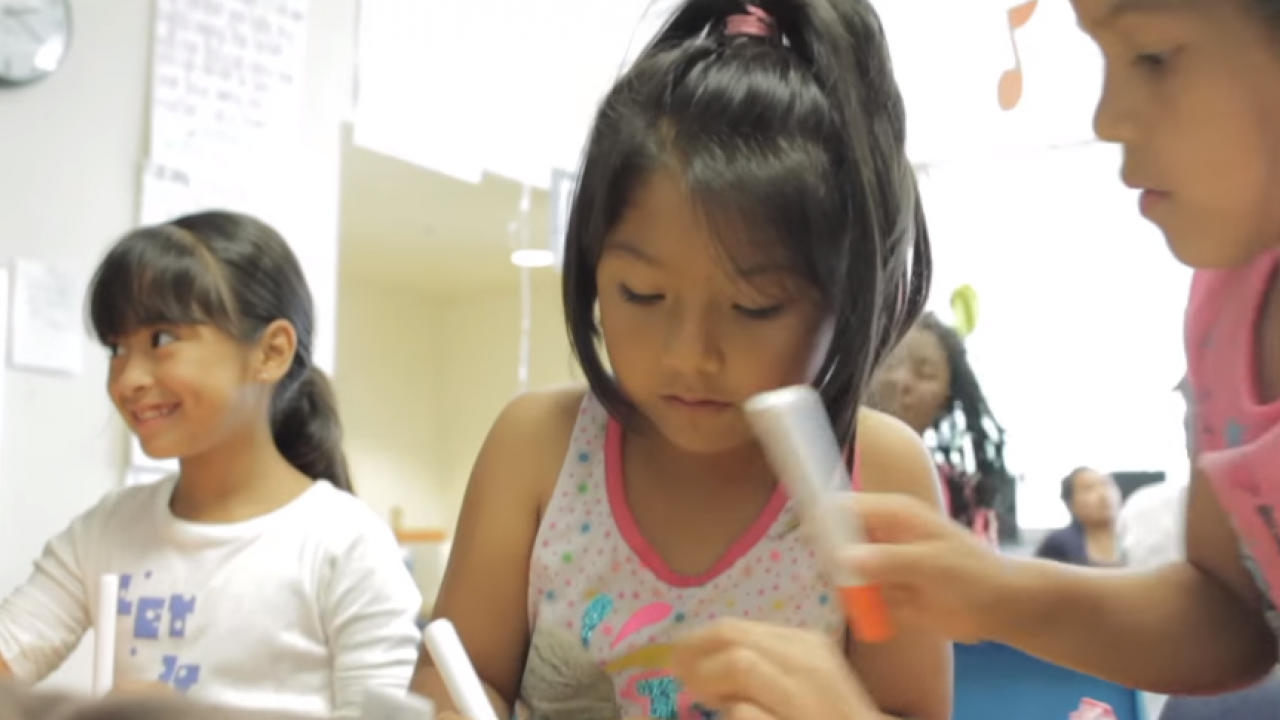 The Cal Aggie Alumni Association recently partnered with Sacramento's Phoenix Park Freedom School to host a tour of the UC Davis campus. This visit was a key part of the Freedom School's multicultural six-week summer enrichment program, which aims to help youth fall in love with reading, boost their self-esteem and generate more positive attitudes toward learning. UC Davis students, university leadership and UC Davis alumni guest speakers participated.
The goal of the event was to help educate 90 kindergarten-through-sixth-grade students about what university life is like, why UC Davis may be a great option for their futures, and to inspire them to think about college and career goals.
"Underserved communities are the communities where, as a society, we need to be offering the most attention and support," said Jackie Rose, director of Phoenix Park Freedom School in Sacramento, California. "And in line with that, our work at the Freedom Schools and at UC Davis today is about arming this community with the educational resources and information these students need to be successful."
Phoenix Park Freedom School is one of 132 Freedom Schools around the country. It uses an activity-oriented curriculum to encourage students, staff and parents to reflect on weekly themes. This model is rooted in the Civil Rights Movement, the Mississippi Freedom Summer of 1964 and the courageous efforts of college-age youth to make a difference.
Each year, the school visits one community college and one university to help educate their students and parents about transfer procedures, financial aid, academic resources and university life. At UC Davis, the students met with university students, faculty and staff and toured the Welcome Center, the Center for African Diaspora Student Success, Peter J. Shields Library and the arboretum.
"Many of these students have not even been here before," said CAAA board member Sandra Frye-Lucas PhD '03 and Phoenix Park Freedom School volunteer, who worked in the student affairs department at UC Davis until retiring in 2003. "So this visit allows the children to understand that this is not another planet. This is a public institution. And if they want UC Davis as an option, it can be. Additionally, they need to see that there are people here of different colors wanting to help them because they come from a one-sided community, and that can be very debilitating."
Fourth-grader Monse Manriquez wants to study math, science and social studies in college so she can pursue a career as a teacher and scientist. This trip was her first to UC Davis.
"I liked coming to UC Davis," said Manriquez, who is enjoying her second summer at Phoenix Park Freedom School. "The campus is pretty and big, and I really liked going to the library because there were lots of books and it was a quiet place to study."
CAAA was grateful to have the opportunity to host this event.
"Although CAAA's mission is to connect and serve more than 240,000 UC Davis alumni around the world, it is also exciting for us to gain a sneak peak at our future alumni and make a positive difference in the lives of local youth," said Carrie Wright '99, associate executive director and chief programs officer for CAAA. "On a personal note, it was an event much like this one that inspired me to dream big and consider college, so I found it very fulfilling to help CAAA and the Freedom School give these students a similar experience."
Cutline: Phoenix Park Freedom School students gather after lunch outside UC Davis' Walter A. Buehler Alumni Center.
Category