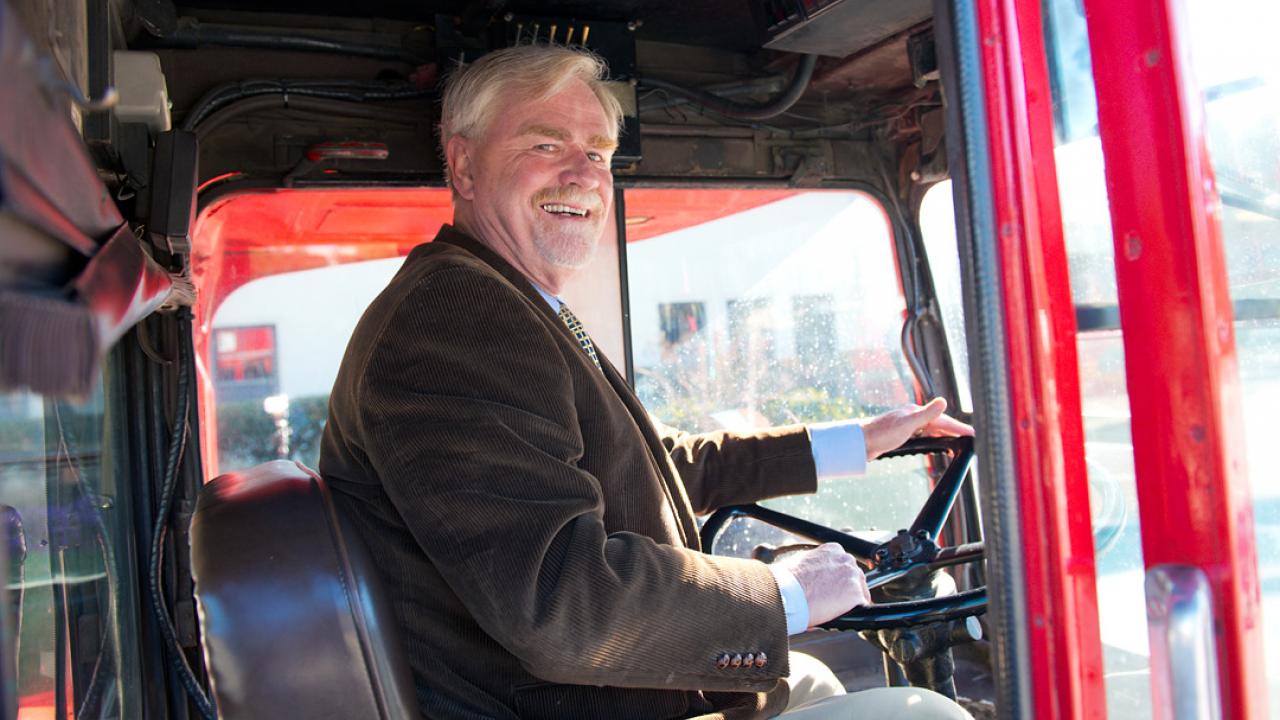 Former Davis mayor Bob Black got his political start as ASUCD president
By Laura Pizzo
For a man who has achieved a lot in life, it may be surprising that Bob Black '73, J.D. '76 doesn't think success is just about winning.
"I believed that government could make a difference in people's lives, even student government," Black said. "And in pushing for change, one of the insights I gained was that you really learn by doing. In terms of politics especially, you learn by engagement. Winning isn't everything; learning is everything."
The former Davis mayor and city council member began his political career as president of ASUCD 50 years ago. During his tenure, 1966 to 1967, he transformed ASUCD from being an organization focused on spirit events to one that delivered impactful student-run services. Many of these services still exist today and are unique in the nation for their size and scope, including Unitrans, ASUCD Experimental College, and the Coffee House.
Black pitched the idea of a student-run bus system to the UC Davis administration and earned approval for a one-month trial with two buses. After it proved a success, Black—under the advisement of a fellow student—helped coordinate the shipment of the first two double-decker London buses to campus. To today's audience, ASUCD got them for a steal.
"If I recall correctly, the London buses were around $2,000 each, delivered to the Port of Oakland and driven to Davis," he said. "After that, Unitrans was up and running."
After his term as president, Black took academic leave to serve as an activist against the war in Vietnam among other causes. In 1972, 18-year-olds received the right to vote. This inspired Black to run as a student for a seat on the Davis city council.
"Even though I didn't technically have a student body card, I was still kind of selfidentifying as a student," Black said. "And I was known for some of the things that ASUCD had accomplished during my tenure, which effectively put me on the city council."
After being elected, Black returned to UC Davis, earning a bachelor's degree in political science and then a law degree.
After his term as city council member, he was re-elected and became mayor of Davis, making him the youngest person to hold this position in the city's history. Despite being very junior when compared to his peers and predecessors, Black said he could hold his own because of the skills he learned as ASUCD president and from university leaders, including the late Chancellor Emil Mrak.
"When students were demonstrating during the first months of my tenure as ASUCD president, Chancellor Mrak came to Freeborn Hall, which was packed with a couple thousand students who were angry about something," Black said. "And instead of taking the stage, he took one single chair, and he put it down on the floor and answered their questions and dealt with their issues, eye to eye. We didn't always agree, but his openness and engagement made a huge impression on me."
Although Black now lives on the Northern California coast, where his law firm emphasizes municipal law, he has continued to be actively involved in UC Davis and the surrounding community. He served as legal counsel for ASUCD until 1998, previously participated in a program where attorneys gave pro-bono legal advice to students. He also was the Picnic Day marshal in 2009.
"I'm amazed by how the campus has evolved," Black said. "I get nostalgic for the days when the Coffee House was in East Hall— those buildings and institutions that don't exist anymore or that have morphed into something new were fun while they lasted; but I know they were replaced by institutions that are meaningful to the students that are here today, and that's what counts."
Category