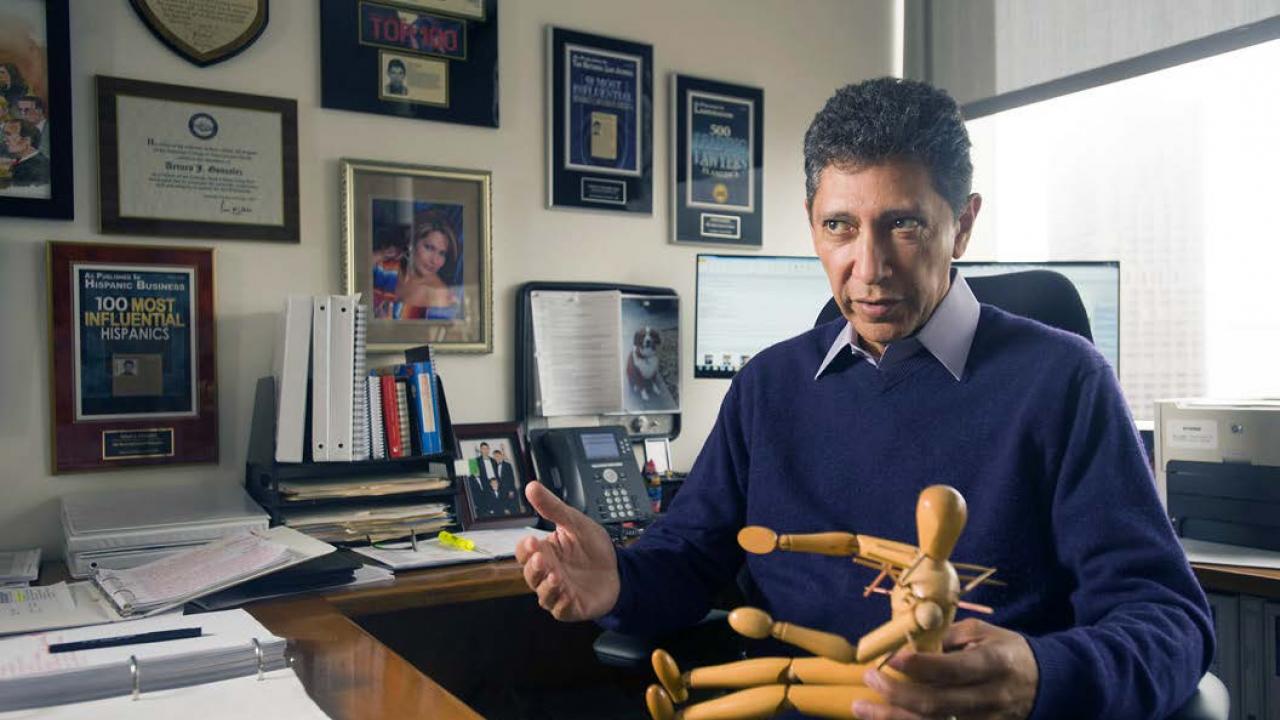 The dirt trembles. The windows of a small home rattle, and trees shake. It is a familiar feeling for 6-year old Arturo González '82 who watches from his front yard as the train screams over the tracks near his Roseville, California home.
It is 1966 and Roseville is the largest switching yard west of the Mississippi. Because of that, transients are common. They jump off the trains and wander, hungry, looking for work and food. 
González is kicking a ball around his front yard. A man with a backpack and rolled up blanket asks if he can spare any food.
From inside the family home, González's mother overhears the conversation, but does not understand. She does not speak English.
"What does that man want?" she asks her son in Spanish.
"He wants food," González replies.
"Tell him to come in," his mother says, despite the fact that the González family has very little money or groceries to spare.

González's father, who worked for the Southern Pacific Railroad, came to the United States as part of the Bracero program during WWII, which brought farm workers from Mexico to the United States to fill manual labor jobs while American men fought overseas. Since then, he'd worked his way from the fields to the railroad, eventually bringing his family to live with him in America in 1959. Arturo González was born the following year. Out of necessity, the family also supplemented their income by picking peaches for much of González's childhood.
González's mother invites the man to sit in her husband's chair and prepares him a meal.
"I've never seen anybody eat so fast," recalled González, now one of the top lawyers in the United States, a partner at Morrison & Foerster (MoFo) in San Francisco and a CAAA Life Member. "And that kind of thing sticks with a kid. That's the way my parents were, and it was a big lesson my mother taught me: Be giving."
Career advice from Cesar Chavez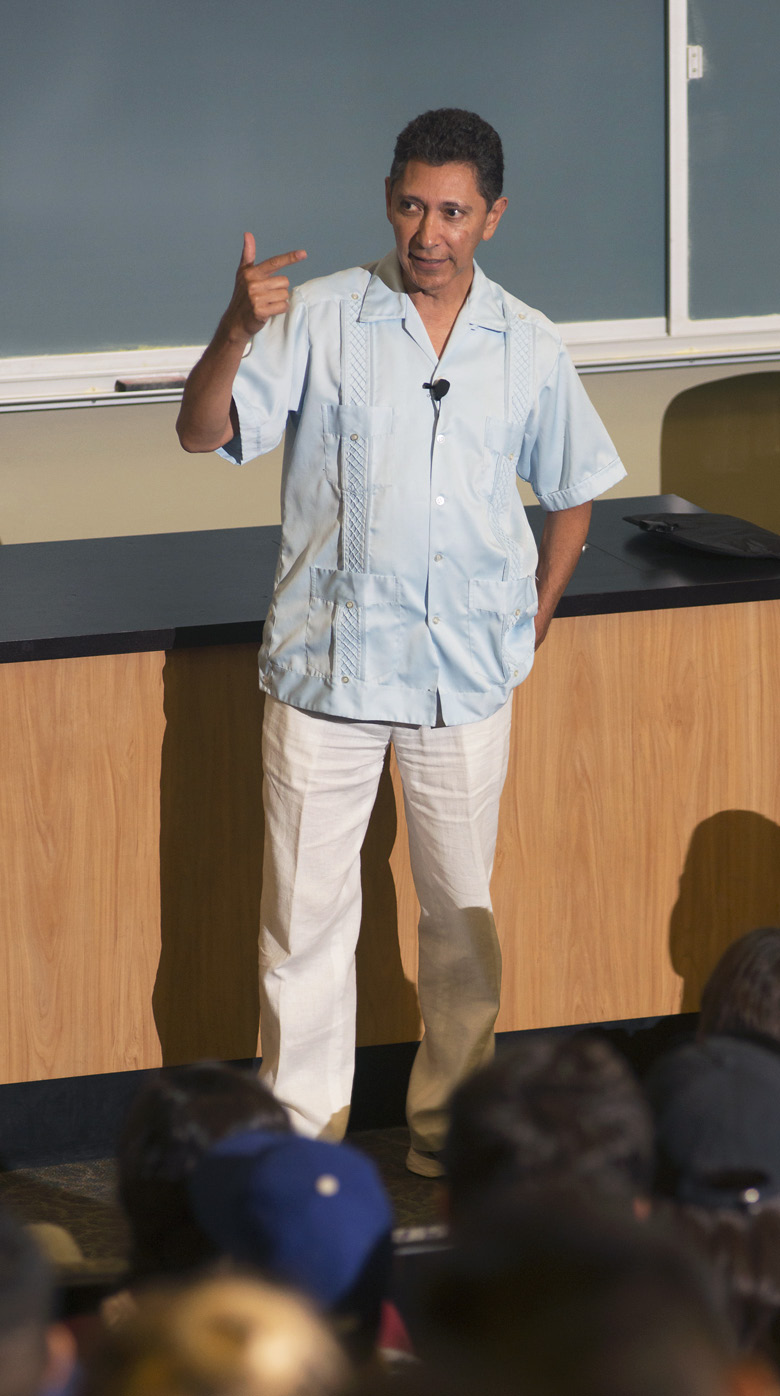 Some years later, when González was a student at Harvard Law School, finishing up his third year, he attended a lecture with civil rights activist Cesar Chavez that would change his life. During a post-lecture conversation with Chavez, González asked the civil rights leader for advice about whether he should go into public service or work at a large firm.
At the time, there were very few Latino lawyers at large firms and González was worried that a career at a large firm would not make as significant a difference in the lives of poor people as a career in public service. Chavez told him, "Arturo, if you can, you should go work at one of those big firms where there are no Latino lawyers, and you should be the best lawyer at that firm."
González followed his advice. He joined MoFo straight out of Harvard Law School in 1985 and never left. He sought out the firm because they allowed him to do pro-bono work. González now represents corporate giants such as Apple, Monster and VMware and also takes on pro-bono cases involving police excessive force.
In one of his pro-bono cases, a SWAT team killed a farmworker in his Fresno, California home while the man's wife watched. González won the family $12.5 million—the largest amount awarded for a police shooting in California.
"Those pro-bono cases are why I'm still here," González said. "I'm here because I want to help people, and at MoFo we can do things that couldn't be done at other places because we have the resources. Also, MoFo treats every hour that I devote to these pro-bono cases the same as every hour that I devote to our other clients. They value the work."
González also has helped strengthen MoFo's diversity recruitment efforts, helping to change the face of the law firm over the years. When González joined MoFo 31 years ago, there were 220 lawyers at the firm and more than 210 were white. Since then, Minority Law Journal has consistently ranked the firm one of the top ten law firms in the country for diversity. As early as 2002, the journal featured González and other MoFo leadership in an article titled "Remaking MoFo" about how the firm went from one attorney of color to 221 in two decades.
"That's the way my parents were, and it was a big lesson my mother taught me: Be giving."
— Arturo González
A STEP in the right direction
When looking back on his time at UC Davis, González said he was "probably one of the best investments the State of California ever made." Admitted through the Affirmative Action plan and Special Transitional Enrichment Program (STEP), González earned about $8,000 in grants to go to UC Davis, plus room and board.
"One of my early memories of STEP is walking into the cafeteria," he said. "I saw all this food, but there weren't prices anywhere. So I asked the lunch lady, 'How much does this cost?' And she said I could eat whatever I want, that it wouldn't cost anything. And they had desserts! I never ate desserts, okay? Never. So for me, that was amazing because not only was I getting this great education, but they were housing me and feeding me like a king. And I never paid anything because I didn't have any money to pay; I couldn't afford it."
González has remained active in the UC Davis community, returning to campus each year to speak with incoming STEP students. He also has made visits as a UC Davis parent. His son ANDRES GONZÁLEZ '14 earned a degree in religious studies from UC Davis and is now the music and youth director for St. Clement Catholic Church in Hayward, California. His son EDUARDO GONZÁLEZ '16, who graduated in March with a degree in environmental science and management, currently works as a junior research specialist in the College of Biological Sciences and plans to apply to UC Davis for graduate school in neurotoxicology. His youngest,  ARMANDO GONZÁLEZ '20, is a first-year student this fall.
"You've got to understand something. Understand how enormously fortunate each one of you is. You are incredibly lucky. Number one, do you know how many people apply to UC Davis and don't get in? It's an amazing number! And of the people that get into the freshman class, only 225 are here for STEP. There are easily 50 students out there for every one of you who would love to be here, sitting in your seat. Why do I tell you that? I tell you that because, you know what, don't blow it!"

— Arturo González to the incoming class of STEP students in fall 2016
"I describe UC Davis as a Goldilocks school, meaning it is just right in a lot of ways, including rigorous academics, the accessibility of great mentors and close proximity to my family," said Eduardo González.
Even Arturo González' parents have become an important part of the UC Davis community. After they passed away, González created the Santiago and Gregoria González Memorial Award in their honor, giving more than $100,000 in support of STEP students in need. In addition, he has given to other STEP student awards, the La Raza Law Student Association and the Robert and Margrit Mondavi Center for the Performing Arts, among others.
"I appreciate very much the sacrifices my parents made to get me to where I am," González said. "In his lifetime, my father went to school only one day, and my mother never went to school at all. So combined, they had one day of education, and here I am now with all these accolades: 100 Most Influential Hispanics, Top 100 Lawyers, etc. They raised me right, making this all possible, so I thought it was  appropriate to set up a scholarship in their names."
Category