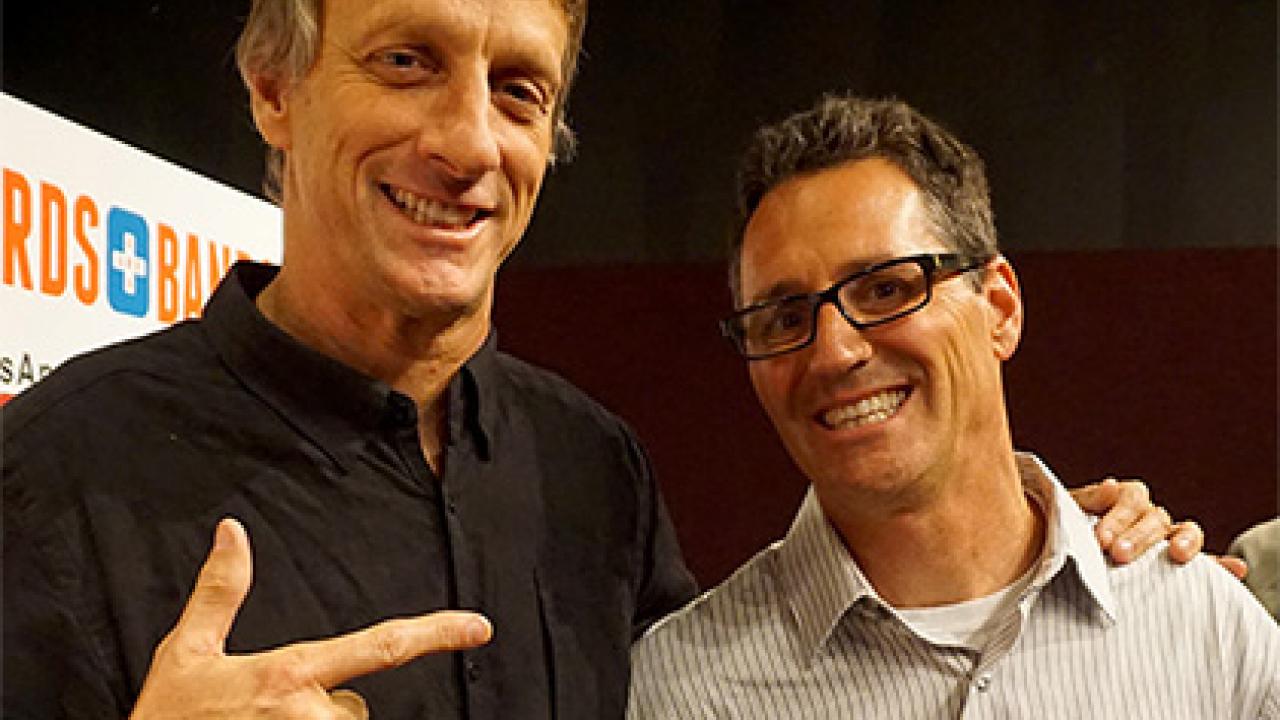 by Bobbi Maiers
As skateboarding icon Tony Hawk's go-to guy, Steven Perelman '99 gets paid to fly around the world, orchestrate events for thousands of people, and connect with big-time sponsors and corporate partners in the action sports world. He'll tell you he "fell into" his role as Vice President of Business Development for Tony Hawk, Inc. — but really, his success is the result of a lot of hard work and motivation, along with one big life decision: to return to college as a thirty-something and earn a degree from UC Davis.

"I didn't run in circles where people were talking about SAT scores and where they were applying to go to college," Perelman said of his high school years. He was interested mainly in music and he was surrounded by people who saw blue-collar jobs in their future. "It took some really hard life lessons to go work my way up the ladder in an industry I wanted to work in, until I hit that ceiling, where someone said 'this is as far as you can go without a college degree.'"
"We like you, but..."
That ceiling became apparent during a final interview for a marketing manager position with Sony Music. The process had gone well and Perelman, with relevant experience he'd garnered by climbing the Hollywood entertainment industry ladder throughout his 20s, thought he was being called in to receive a job offer.
"They told me 'we really liked you, but we're not going to hire you," Perelman said. They'd chosen the other final candidate, who had a four-year degree. "I told them, 'this is rock and roll, I didn't think a degree was top priority.'" And then the executives around the table held up their hands and began listing off their alma maters.
Using life experience in the classroom
Perelman's choice became clear: he became a non-traditional college student at American River College and then transferred to UC Davis, majoring in managerial economics.  He found that, despite being the "old guy" (he was only in his mid-30s) his life and work experience assisted him in the classroom. "We would be talking about a marketing program for a certain company and I'd be familiar with it from having been out in the working world, as opposed to reading it in a book," Perelman said. "I loved the campus, I loved my professors, and I loved that I got an A in econometrics — the holy grail of our major."
In his senior year a friend working in action sports marketing approached him. "She said, 'I know you were a skateboard enthusiast as a kid, and I know you've worked with bands — could you help us?'" Perelman recalled.
He began booking bands for action sport events, and his final year at UC Davis became very full: classes and studying during the week, flying out to different event locations every weekend. Shortly after graduation, Perelman moved to L.A. to work for ASA Entertainment—a perfect fit given his interests.
"We were the X Games on the road, working with the same athletes and traveling all over the world," he said. It was through this role that he met Tony Hawk, in 2005. "We became friends, and now he's my boss," Perelman said. "We spend an incredible amount of time together on the road, and we have a great relationship that works well for making business decisions."
The assets of a Davis degree
There's no average day when managing events, endorsements and corporate partnerships for a skateboarding pro—especially one considered to be one of the most successful and influential pioneers of modern skateboarding in the world. There's plenty of whirlwind travel, which Perelman loves, and countless responsibilities regarding event planning, logistics and upholding sponsors' partnership agreements. One big job perk: he gets a chance, now and then, to skate for fun alongside Hawk.
Although attending UC Davis was initially a means to an end for Perelman, when he reflects on his education now he notes the lasting assets.
"The ability to tell colleagues and my peers in the corporate world that I went to school at UC Davis has given me a tremendous amount of confidence," he said. "It brings credibility to my abilities. I didn't take the standard route most people do with their educations, but I did it the way I needed to do it for me. UC Davis opened a lot of doors for me."
Category
Tags