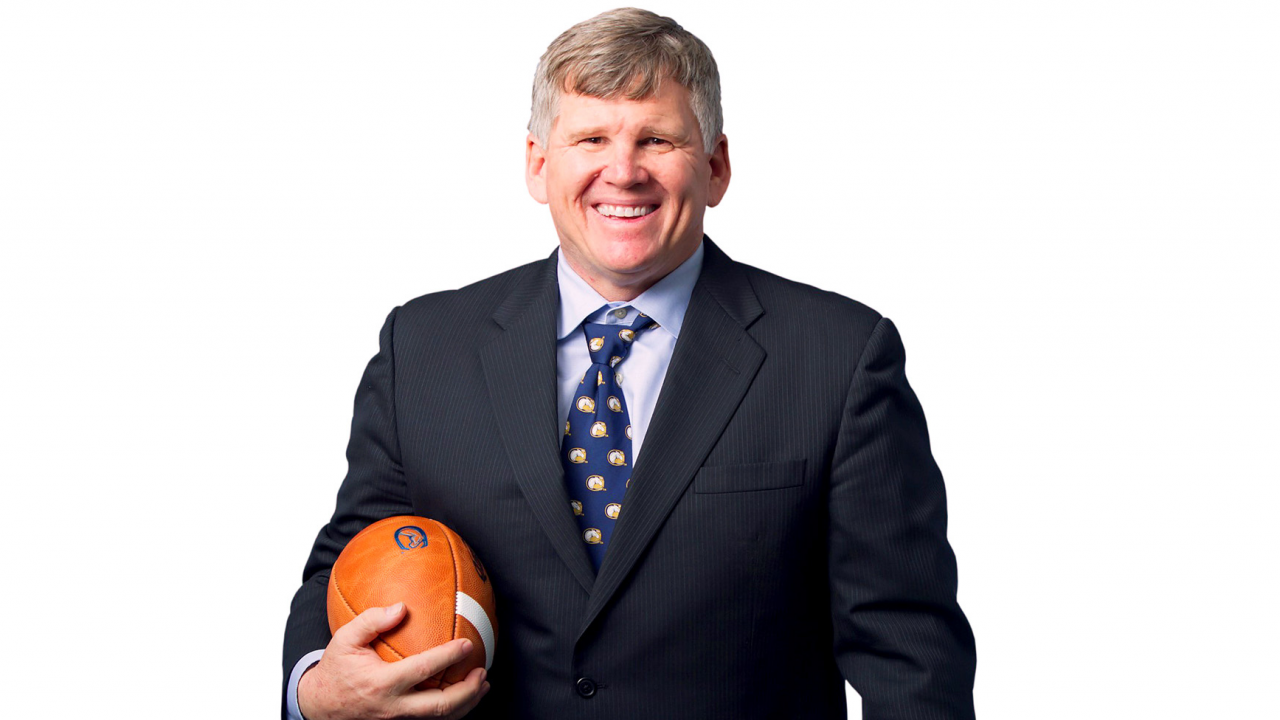 By Laura Pizzo
Aggie alumnus Dan Hawkins '84 returns to his alma mater to lead the UC Davis football program. As a student at UC Davis, Hawkins played fullback (1981-82) for legendary head coach Jim Sochor as a first-generation college student. Hawkins went on to earn national notoriety as a coach leading Boise State to elite status and coaching at the University of Colorado.
What does it mean to you to come back to coach football at your alma mater?
I don't want to just say, "excited." It's a feeling of fulfillment.
My goal in life as a coach was always to make a difference. I coached my grandson's team of five-year-olds. I've coached in Austria, Sweden and Australia. In all of those places, I was trying to make a positive difference. And I am blessed to be able to take that goal back to UC Davis now. I truly believe this is the right place and time for me to return to UC Davis. I have the experience I need to help raise the bar here. And it's not just "Hey, let's make
our football program better." It's "Let's make UC Davis better." And even if it wasn't me, UC Davis needed somebody in this position to build that kind of connection between athletics and the entire university.
How would you like to see alumni involved?
I'd like to see them involved globally in a wide range of ways—whether that's wearing an Aggie shirt, buying season tickets, supporting our program financially or volunteering in our football office. Let's get people to our home football games!
We also have a lot of professional and knowledgeable people that donate their time. That could mean sharing their expertise in physical therapy, strength and conditioning—or by helping us find jobs and internships for our players. We need to continue to maximize those connections because that can differentiate us when we are recruiting.
What draws you to football?
I love that I can make a difference in my players' lives and also in the lives of the people they know.
Also, if you study success, like I have, the number one determinate about people's success in life is their ability to thrive in adversity. And when somebody goes over there in a face mask, trying to shove you into the ground, and you're hurt, and you're down by two touchdowns, and you're tired, you better keep fighting. Because that guy is going to pound you into the next area code, so you better play. That's life. This is it. You better get up and play. And our players learn that lesson and carry it with them throughout their lives and careers.
How did Coach Sochor influence your coaching style and philosophy?
He was an amazing person and coach and was also lucky enough to be surrounded by a great group of people, including Bob Foster, Sam Young and Bob Biggs. And as most fans know, he was very into Eastern philosophy— a tradition I have continued. But it's also important to note—always, but particularly in this case when we're talking about athletes and coaches and sports—that no one is any one thing, and we can't put people in boxes.
Coach Sochor was an outstanding teacher. He was not a yeller or a screamer. When you look at a lot of the coaches now that are prominent, they have his style. He understood that whether you win or lose is not really about whom you're playing. You're always playing yourself; you're your own competition.
When I left here to become the head coach at Christian Brothers High School, the first thing I asked myself was, "What was it about UC Davis? Why did we win all those championships, and why were we so good?"
The answer is we had tremendous players. But there was also this unexplainable good feeling. And then I asked myself, "What does that mean, 'a good feeling'?" That's something fostered by the coaching staff and the team. The players were respected. They were coached and taught. They were valued. They were taught that life was just as important as football, and school was just as important as football, and not one more than the other—it was all important. Make no mistake: We were extremely serious about football, but one of my best friends from the team also graduated No. 1 in nuclear physics. So like I said, let's not put people in boxes.
How do you keep your players motivated when they're balancing so many important priorities?
I tell my guys, "Be a little different than the average cat walking on the sidewalk." That's how they play the game and train, but it's not just about football. That's also how they go to school, how they study and how they interact with people. If you took our players' manual and playbook and you took football out of it, you could give it to anybody in your family, and they'd say, "That's cool. I can learn from this." It just so happens that football is our medium, but it could be music, theater or biology.
What I've found is that in coaching and recruiting, you get what you emphasize. So we emphasize being outstanding. I'm not afraid to say I want to win the national championship in football at UC Davis. And more importantly, I want to do things in a national championship fashion.
What will it take for us to win a national championship?
It starts with the players. So how do we get those top student-athletes here? People are already very attracted by the academic quality at UC Davis—that sells itself. But we also have to have the facilities these guys need. We need to build a state-of-the-art Student Athlete Performance Center that will include a new weight room, sports medicine center and academic support space for our players. Most high school weight rooms are in better shape than ours, and our prospects and players know that. We need to send a signal to our recruits and the Big Sky that we are committed to providing the best student-athlete experience in FCS football.
Category