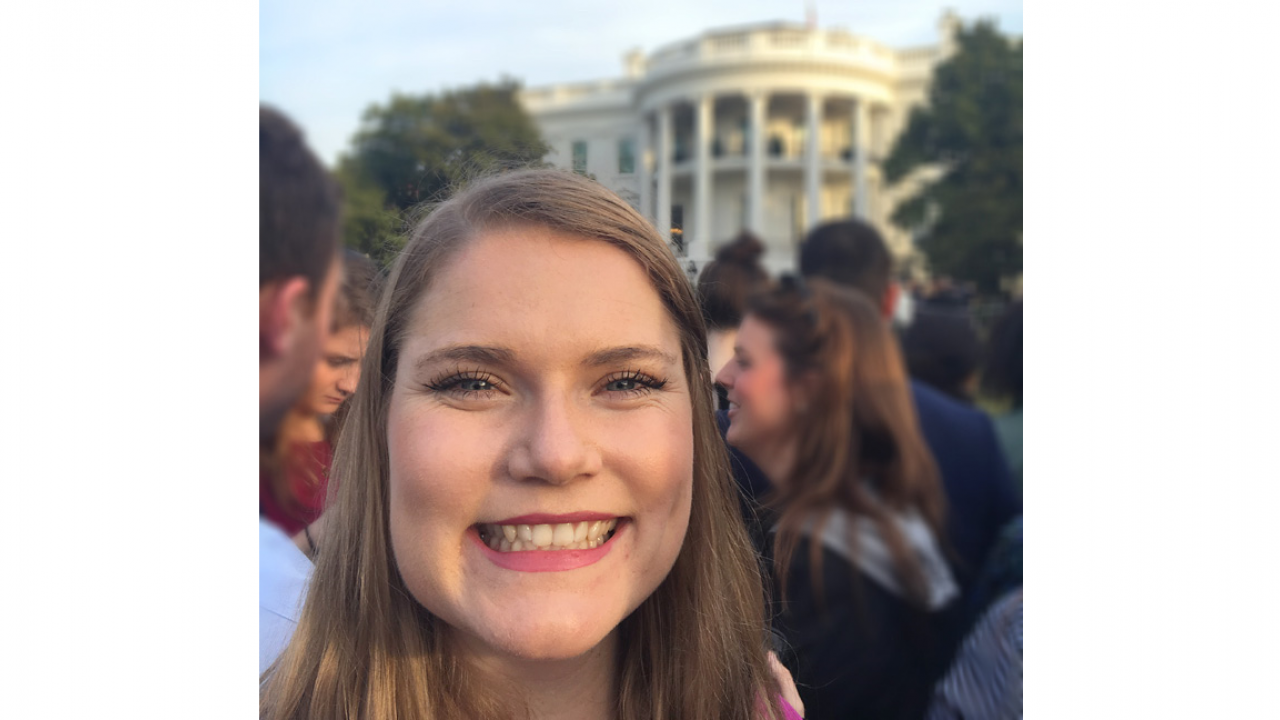 You can't spell ASUCD without DC
By Laura Pizzo 
Former ASUCD President Carly Sandstrom '14, who now lives a mileand- a-half from the White House, might have some advice for her neighbor about terming out and making the most out of the post-presidency life. While representing 30,000 students at the world's top veterinary school isn't the same as being President of the United States, Sandstrom knows what it's like to spend her time and energy serving the public.
"When I set foot on campus freshman year, I wouldn't have imagined that I'd eventually be president of ASUCD," Sandstrom said. "But I learned early on to take whatever opportunity opens up to me, do my best, and see where it takes me. That's basically my path to becoming president of the UC Davis student body."
ASUCD has two main functions: a legislative function and a business function. The latter, which Sandstrom credits for teaching her about business management, involved developing, passing and managing a $12 million budget during her term. This massive budget went toward 24 student government units and services in total, which together employed upwards of 1,200 students. Sandstrom found this practical, hands-on business experience an irreplaceable, uniquely valuable element of being involved with ASUCD.
"It's so rare for college students to be given something and to be told that it's theirs to own. We're often interns for some larger organization," she said. "But at ASUCD, student-run means student-run. As a student, I got to manage budgets, manage people and manage projects. I learned by doing."
This experience taught Sandstrom that she excelled at managing projects from start to finish. She enjoyed working with different units, meeting deadlines, empowering other students, and strategizing for the future.
So while planning out her next step as a senior, Sandstrom connected with a former ASUCD Vice President, Molly Fluet '09, who works at Politico—the political media organization based in Arlington, Virginia. Politico Pro, the premium subscription service designed for policy professionals, had an opening for the role of business development associate.
Sandstrom landed the job, realizing that she could build upon all that she loved about ASUCD in this new role. Upon graduation, she moved to Washington, D.C., where she now manages operational projects for the business team, coordinates teamwide activities and trainings and improves processes.
"Serving as president of ASUCD made me realize how much I love working on and managing teams that do interesting and important things," said Sandstrom, who helps lead the Cal Aggie Alumni Association network in Washington, D.C. "I'm getting this itch scratched at Politico right now, and I'm excited to see where my journey takes me!"
Category