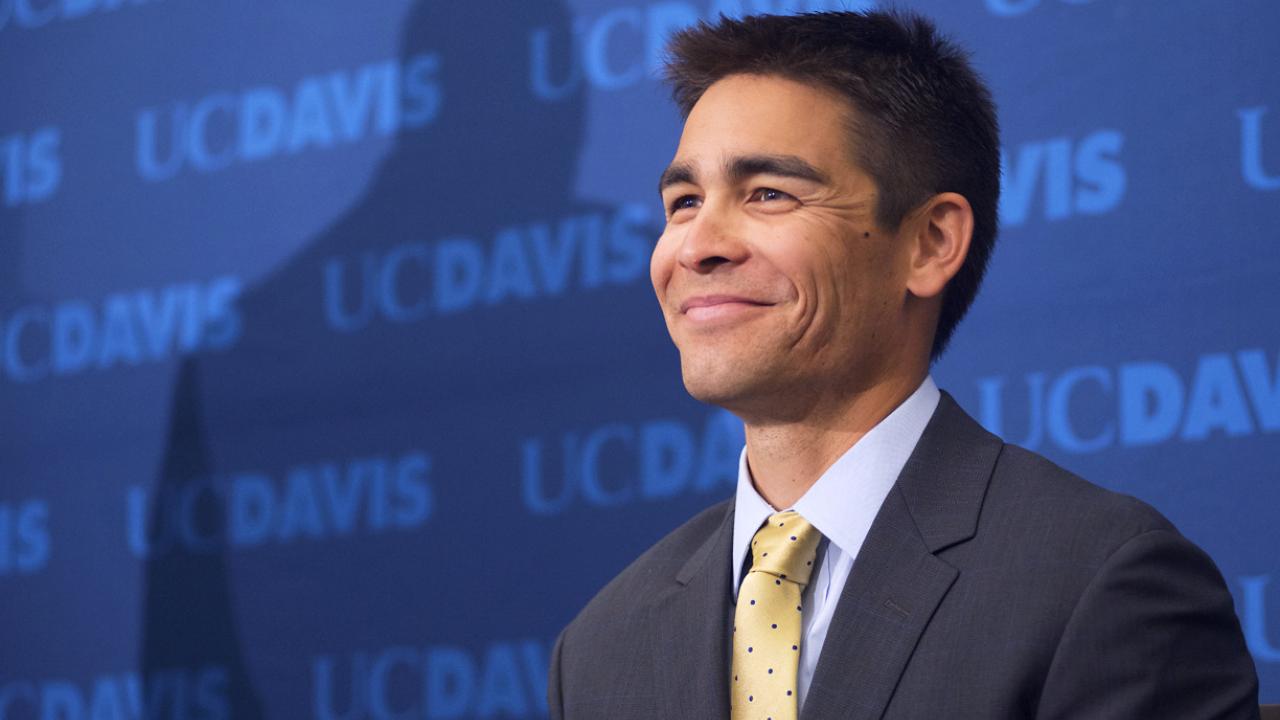 Meet the new UC Davis athletic director
By Laura Pizzo
Recently, UC Davis named Kevin Blue, Ph.D., the new athletic director. He joins UC Davis after a seven-year tenure at Stanford where he provided executive oversight of the external business units in athletics, including sales, sponsorships, marketing, communications, business strategy, ticket operations, fan experience and video.
Can you speak about your passion for student athletes, touching on why participating in athletics is beneficial to students?
Athletics is a significant part of the culture of education in this country. In fact, around 8 million high school students in the United States also play varsity sports, and a good portion of those students care so deeply about their sport that they aspire to compete at the college level.
When done correctly, sports present educational opportunities to young people that are complementary to the lessons that students  encounter in the classroom. The requirements of preparing for competition and the process of dealing with success and failure are aspects of sports that support personal growth and development. We've seen lots of evidence that the values instilled through participation in competitive athletics—when they are instilled by great coaches and mentors who care about comprehensively developing the student—are associated with success in future careers and life after college. Student-athletes are frequently exposed to opportunities that develop skills in leadership, communication, emotional intelligence, and the ability to stick with commitments for long periods of time.
How does your personal experience as a student athlete lend itself to your new role as athletic director? 
My background as a student athlete enables a degree of first-person understanding of the opportunities and daily challenges that our student athletes and coaches go through. In addition, it lends a helpful perspective in terms of understanding how our student athletes are effectively integrated and fully aligned with our overall campus culture and academic mission. 
So it gives me a certain perspective, having lived through the student-athlete experience at Stanford, where the value system regarding the integration of athletics into the academic mission of the university was very aligned with what we envision here at UC Davis. The  scholar-athlete philosophy is a core value of mine as well, so ultimately, that philosophical alignment is what drew me here and why I knew UC Davis would be a great fit. We care deeply about both winning and academic performance at UC Davis and will not make compromises in either pursuit.
Could you share some of your priorities for your first year? 
As I've gotten started, I've tried to learn as much as I can about our wonderful community. I am thrilled to be part of the Aggie family, and I  feel very welcomed. So I am making it a priority to be a visible presence in Davis. I'm attending as many university and community events as possible. 
UC Davis' history is also extremely important to me and helps frame my thoughts as I consider our vision for the future. I have thus extensively studied UC Davis' athletics history, including reading and watching every piece of media that I've found about Jim Sochor. I've also reached out to a number of people in the community who are affiliated with our athletics program in search of details about our history  and the core values from which we are built. 
Moving forward, the most effective way for us to honor and act in service of our core values is to adapt and modernize our way of doing business. So we will be thinking and acting in a forward-thinking manner that is commensurate with this university's tendency to take leadership positions on issues.
It's also important that we do a very good job of communicating and engaging broadly, including reaching out to alumni and anyone else who cares about UC Davis athletics. We want alumni and other supporters to understand that this is their athletic department as much as it is the current students' athletic department. 
It also is important for us to articulate the way that athletics can make a significant contribution both on the campus and in the community on behalf of UC Davis.
What are your long-term priorities?
When you compare us to other athletic programs around the country, we are performing strongly with respect to our student-athlete graduation success rate. We are far above average for all of Division I, the Football Championship Subdivision (FCS) and the Big West conference. 
As we move forward, I intend to help us strive for elevated levels of competitive success at the Division I level while also maintaining our 
traditionally strong academic outcomes.
In order to strengthen our competitive standing, there are enhancements that we will need to make in some of our facilities to bring them in line with Division I expectations. We don't aspire to build ostentatious facilities—our ambition is simply to ensure our facilities are modern and functional, and create an appropriate environment for competition, training, sports medicine activities, and academic support services. These facility projects  will require philanthropic participation from our community, so generating support will be a central priority of ours.
How are you planning to tell student athletes' stories beyond game day highlights, so that the UC Davis community can get to know them better as individuals? 
It is important to communicate with our alumni, community and media about the amazing, comprehensive things our student-athletes do. Of course, it's sometimes more intuitive for followers to expect stories about athletic achievements, but it's really important for people to understand student-athletes as holistic citizens—in terms of academics, community involvement, and sports. So we plan to be aggressive about telling these comprehensive stories.
Category