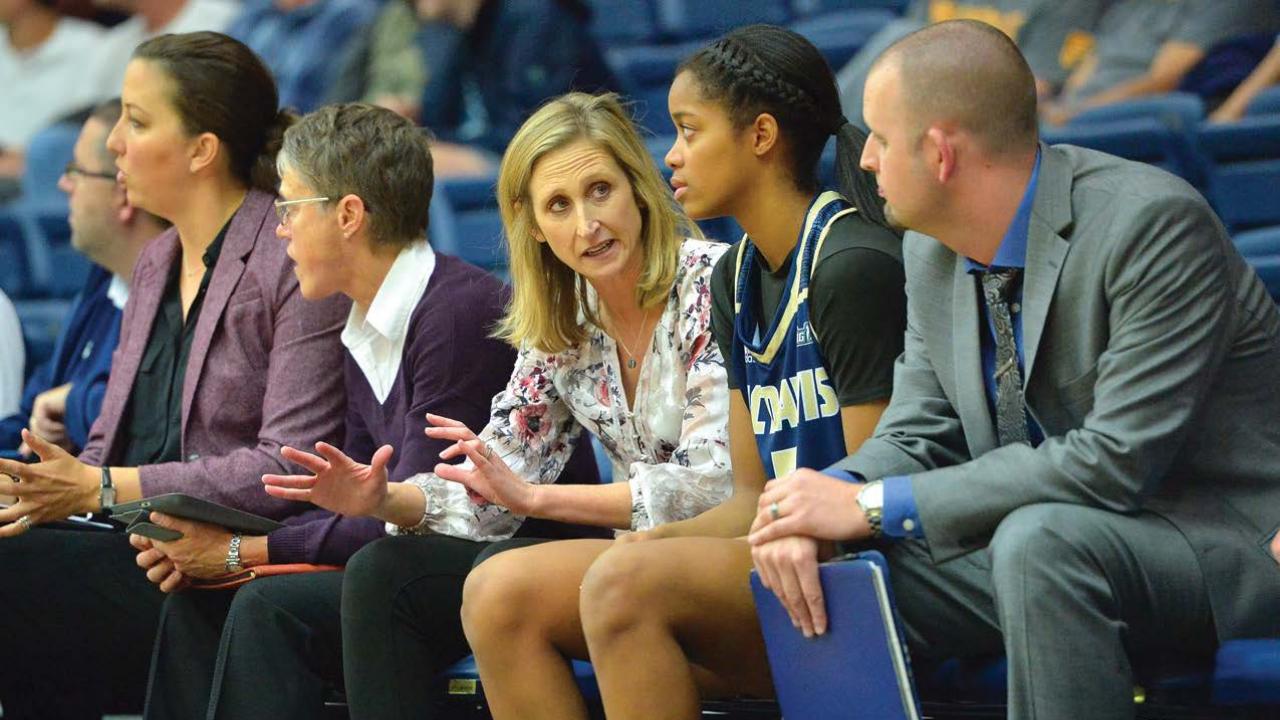 Women's basketball team caps off successful season with
an Elite 8 WNIT appearance
By Trevor Stewart
Q: What is it like to be back coaching at your alma mater?
A: It's amazing! Honestly, I had the best experience playing here and was fortunate to play for great coaches, including Jorja Hoehn and Sandy Simpson '81, and I also got to know Jim Sochor very well. I also got to be part of a winning program for my entire playing career. Now, I get to be part of providing a similar positive experience to our student athletes.
Our coaching staff is really big on positive coaching. We realize there have been successful coaches who scream and yell and have constant consequences, but we feel like there is another way. We prefer to build a rapport with our players where there's trust and respect. They know we're all in this together.
Q: What are some of the biggest challenges of being a basketball coach?
A: You can't hide anything anymore, and there are no surprises because everything is on film and easily accessible. The opposing players and coaches know what you want to do, so it really comes
down to who can make the best in-game adjustments and who can execute their game plan. That's the fun and the challenging part for me.
Q: What makes UC Davis' student athletes unique?
A: Our student-athletes have to be serious about academics to get into UC Davis. They are self-motivated and strive for greatness on and off the court. They have a full-time job playing basketball, going to weights, going to film, practicing, going to class and then doing the homework for those courses.
It's a lot to balance, but they emerge as strong, amazing women who have competed at a high level for basketball and excelled in a tough academic environment while learning about leadership, cooperation and teamwork. Our hope is that it makes them awesome candidates for any job they apply for post-graduation. UC Davis prides itself on positioning our student-athletes for very successful careers. We teach them to use athletic mastery to highlight skills that translate to their career goals. We also help by opening as many doors as we can for our athletes, so they get the best chance at success in life, beyond the court or the field.
Q: If someone is gearing up to attend their first UC Davis women's basketball game, what should they expect?
A: The fans are going to see an exciting group of young women who play their hearts out, above all. I hear a lot from people who say, "Wow, you guys share the ball like crazy. You move the ball and make the extra pass. Your players are very selfless." That is something our program is really big on. We are searching for a great shot, not just a good shot.
Our players are also extremely skilled. From point guards to our posts, we look for players who can do a little bit of everything. By doing this, we give ourselves mismatches against teams with players who may not be as versatile.
Q: What do you hope to build on from this season for next season?
A: Our hope for next season is to be able to maintain the same high level of performance at both ends of the floor. I feel we have displayed this effort consistently over the last two seasons. Our former and current players have built a winning culture with their continual effort, selflessness and commitment to excellence. I am confident that next year's group will continue to embrace the team style of play that has become our identity on the court. In addition to our basketball goals, we want to continue excelling in the classroom and contribute in a positive way within the Davis community.
Category