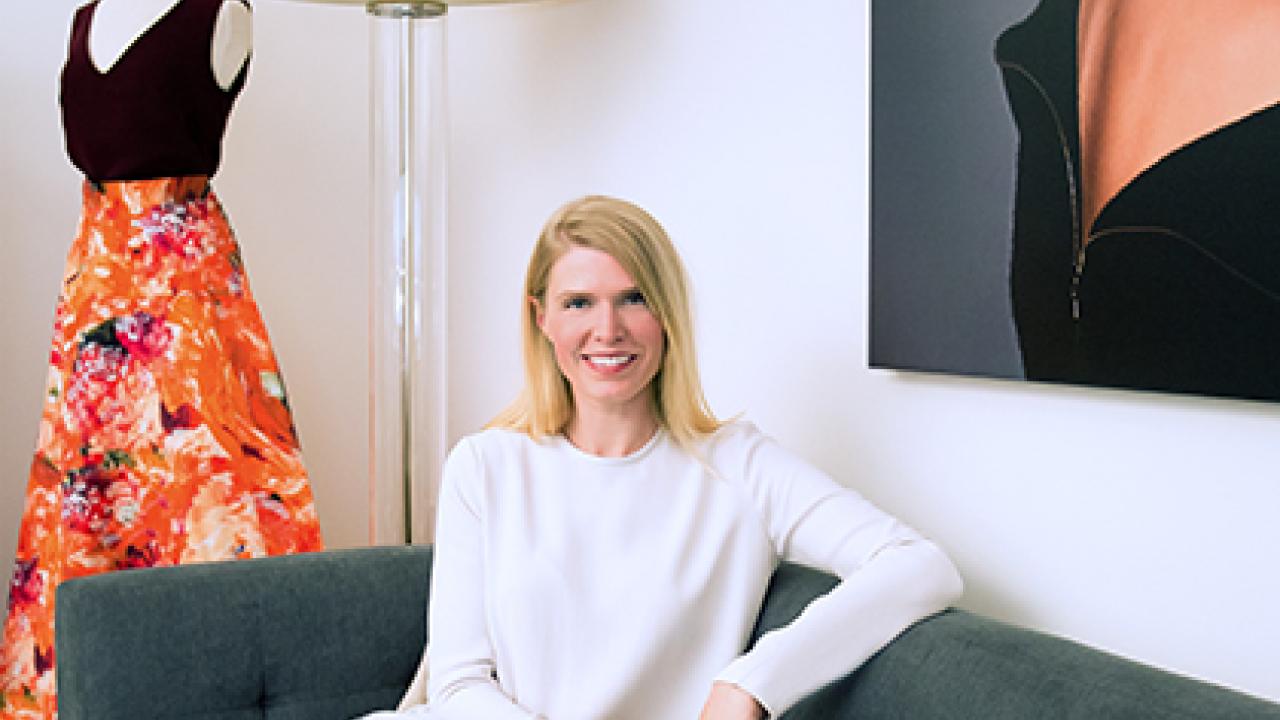 By Yinon Raviv
Kaersten Cooper '00 (nee Hill) came to UC Davis for volleyball; pursued the study of design, marketing and business; and, after graduation, set out on a distinctive path to build a one-a-kind fashion brand that, in less than two years, has already gained international acclaim.
Kaersten, a CAAA member, is the founder and chief designer of MARGE (MARGE Clothing) —the first and only upscale womenswear brand designing luxurious collections exclusively for tall women. The San Francisco-based company, which launched its first collection in 2015, has received rave reviews from respected media including New York Magazine's The Cut, GLAMOUR, Huffington Post Style, San Francisco Chronicle, UK's ELLE, VOGUE and Harper's Bazaar as well as global online news and lifestyle platforms like BUSTLE, Refinery 29 and Fashion Times.
"MARGE encourages tall women to embrace and enjoy their naturally elevated perspectives—and to expect more from their shopping experience," said Kaersten who is 6'1" and knows firsthand how high fashion often falls short in accommodating tall women. "MARGE has broadened, and put a positive spin on the conversation about height. The brand believes that fashion should venture beyond this attribute. Real-life luxury should coax tall women to bring their inner beauty out, front and center."
Kaersten came to UC Davis with a passion for learning design and fashion—the latter of which was inspired by her grandmother, Marjorie, the namesake of her brand. She chose UC Davis for its approachable and intellectual atmosphere, where small-town intimacy was met with worldwide opportunity. She chose to customize her degree, balancing creative courses like fashion design and visual communications with foundational marketing, business and economics classes.
In addition to being a disciplined student athlete, Kaersten worked two part-time jobs during her tenure at UC Davis—one job most memorably, as a caregiver for an elderly woman who assisted in her travel to Los Angeles to begin a career in fashion.
"My education and my overall life experience at UC Davis not only prepared me to dream big, but set goals, relentlessly pursue my passions and work hard," Kaersten said.
During the decade after graduation, Kaersten had a successful career helping build and strengthen the brands of companies ranging from start-ups to Fortune 500 companies in a variety of industries, in both private and public sectors.
The impetus for MARGE was the passing of Kaersten's elderly grandmother, Marjorie, in late 2013. Since its official launch in 2015, her clothing line and Life Up Here brand has engaged tall women on a global scale to expect more from their wardrobes—and their lifestyles.
"My creativity and curiosity was something that was absolutely nurtured at UC Davis," said Kaersten, who recently launched the Summer/Resort 2016 collection. "The diversity of classes, caliber of instructors and opportunity to customize my education, has no doubt, better prepared me for the working world."
For a limited time, UC Davis alumni are eligible for a substantial discount using code: AGGIEMC50 for 50% off any purchase with MARGE.
To learn more about MARGE, visit margeclothing.com or sign up for their e-newsletter Elevated Perspectives.
Category
Tags