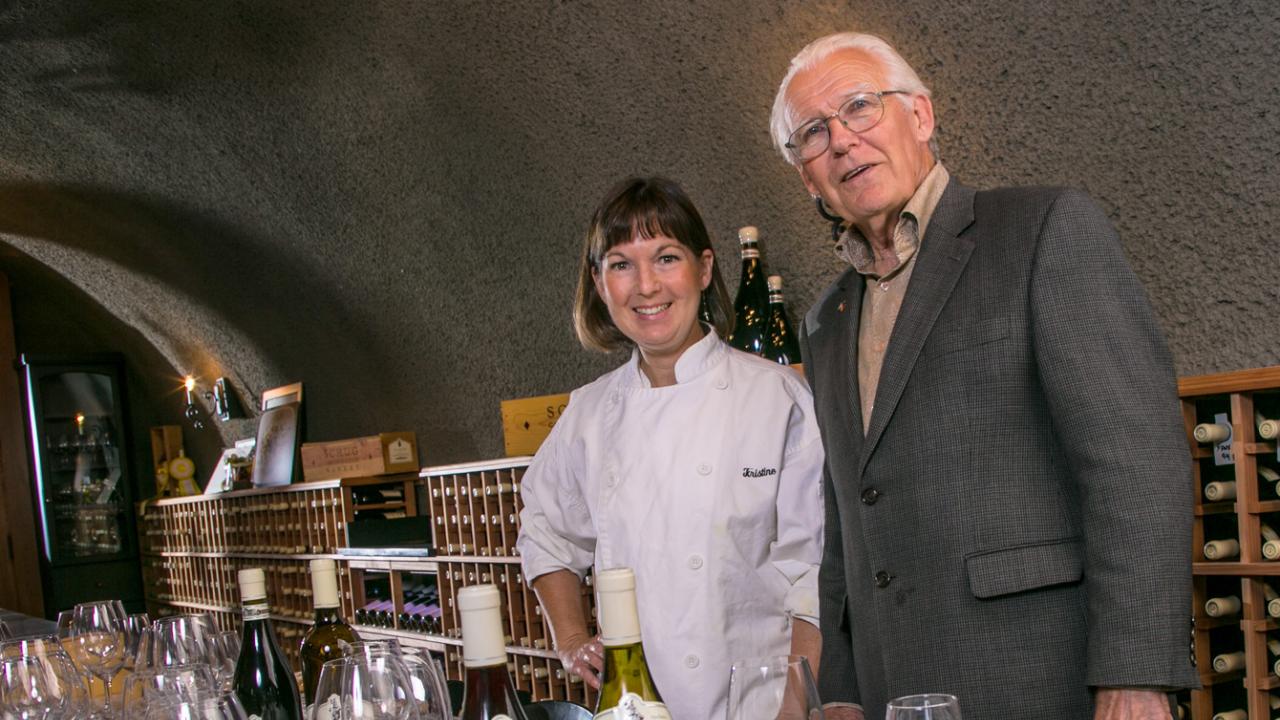 By Corinna Fish
The sensory bliss of a sip of wine mingling with a meal's flavors and fragrance is not just for professional sommeliers or those able to produce perfectly cooked steak. Kristine Schug '89 believes even everyday meals can be elevated by the right bottle of wine—and that everyone can learn how to craft their own perfect pairing. 
"I like to take the intimidation out of food. If you're just starting out with learning about wine or cooking, the glossy photographs in magazines can be a little scary. I focus on creating familiar, family-style recipes, while taking into consideration what's seasonal and available," said the Schug Carneros Estate winery chef. "Everyone loves seared duck breast, but at the end of the day after work, people are going to make salads and soups." 
In fact, she believes cooks and vintners have the same creative challenge: determine how to blend what's available to craft a satisfying sensory experience. 
"A bottle of wine is like a time capsule, capturing the personality of that particular year. Whether the vine was growing on a sunny valley floor or shady hillside, or whether it's been a wet or dry, hot or cool year—all of that is expressed in the grapes winemakers see and they blend accordingly. They respond just as cooks do to ingredients for a recipe," said Kristine, who creates new recipes to accompany every wine club shipment. "Likewise, in the years when wines are higher in acidity, fruitier or softer, I adjust my recipes." 
Thanks to her efforts, the winery—Napa legend Walter Schug's paean to pinot noir— is dedicated to making food and wine pairing easy to achieve at home. 
Kristine spent several years honing her culinary chops in Sonoma-area restaurants after graduating with a degree in international relations from 
UC Davis, and met her future husband Axel Schug '87 while working at Domaine Carneros. Although Axel had majored in the same department, the two never crossed paths on campus. 
After a second chance encounter at an industry event and a whirlwind courtship, the two married and are now the parents of teenagers. Axel's marketing leadership and Kristine's passion for food pair nicely with the winemaking philosophy espoused by fellow Aggies Walter Schug (Axel's father, who took UC Davis Extension courses after graduating from the German wine institute Geisenheim) and winemaker Michael Cox '91. 
"I think Walter saw some-thing in me that resonated with him about how he viewed winemaking," said Cox. "He was making wines I was interested in—a lighter, more delicate style that shows off where the grapes come from. We both make wines that we like to drink." 
The winery's pairing with the Alumni Wine Program began with pouring at the 2014 CAAA Alumni Awards. 
"It was an eye-opener seeing how alumni of all ages are so committed to keeping UC Davis strong and growing. The event reminded us what a great alumni community we have—Aggies are so sincere," said Kristine. "It's an honor to be associated with such intelligent, successful people, and we have high hopes for continuing the partnership." 
Category
Tags