Three alumni winemakers, one great passion for wine
UC Davis alumni winemakers all have their own unique origin stories. But at their core, they share a love of winemaking and a can-do Aggie spirit.
Read the stories of three alumni, from Jason Mikami MBA '96, whose family has farmed grapes for three generations; Lynn Penner-Ash '84, one of the first women hired as a winemaker in the early days of the Willamette Valley wine scene in Oregon; and Shaina Harding '13, whose Napa Valley winery, like many others, has withstood the hardships brought on by wildfires.
Each winemaker is featured in the Aggies Uncorked Alumni Wine Club, which gives members access to amazing wine produced by vintners with a UC Davis connection, with shipments three times a year.
Mikami Vineyards: family, tradition and legacy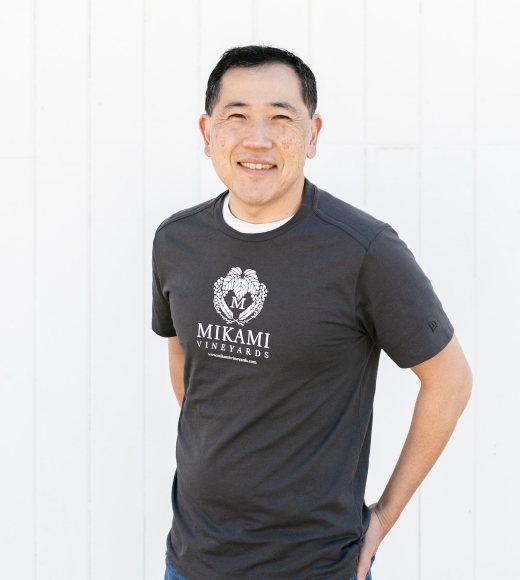 In 2005 Jason Mikami founded Mikami Vineyards in Lodi, where his family has been farming grapes for over a century. In 1896, his grandfather immigrated to the United States from Japan at 14 years old, found work in farm labor and eventually made his way over to Lodi, tending to grapes and other agricultural products.
The Mikami family has been farming grapes in Lodi ever since—interrupted only once. In 1942, the family was forcibly relocated as a result of the presidential executive order that incarcerated Japanese Americans and Japanese immigrants during World War II. After the war, the family returned to Lodi with renewed passion and Mikami's late father, Jim Mikami, bought the land in 1963.
Over 100 years after the first grapevines were planted on the property, Mikami sold the first wine under his family's label in 2008. Their specialty is Zinfandel and Petite Sirah.
"I wanted to honor our family so I took that next step from not just farming the grapes but also producing high quality wines," he said. "It is a labor of love that I'm doing primarily to honor my family, because of our long history."
Mikami, an engineer and senior executive at Uber, grew up on the land learning about grapes and wine from his father. He now he enjoys taking his 14-year-old daughter out to the vineyard to give her the opportunity to connect to his family's legacy and heritage.
"There's not a lot of Japanese Americans left in the farming industry compared to my grandfather's time," he said. "I feel proud to be able to maintain some level of connection to being one of the few Japanese American families in farming and in winemaking."
Mikami Vineyards was featured in the February 2021 Aggies Uncorked shipment.
Penner-Ash Wine Cellars: trailblazing in the Willamette Valley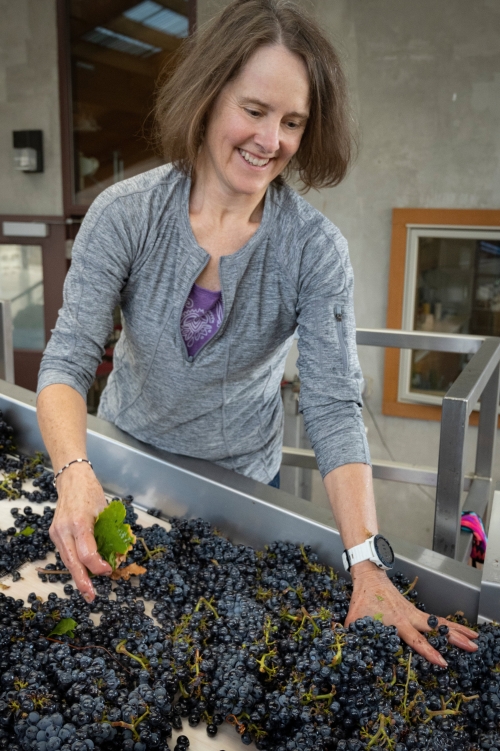 When Lynn Penner-Ash first began attending winemakers' meetings in Oregon's Willamette Valley in the 1980s, she was usually the only woman in the room. At the time, Penner-Ash was one of the few female professional winemakers.
Penner-Ash arrived in the Willamette Valley as part of the area's second wave of winemakers, just after the first wineries there were established in the late 1970s. The region's wine industry has grown tremendously since then—from 49 wineries when she arrived to almost 1,000 today.
"When all of the winemakers of our region would meet in the early days, that was the entire Oregon wine industry sitting right there in that one room," she said. "There was a lot of camaraderie and working together to solve problems because there were few services available locally."
After Penner-Ash graduated from UC Davis, she worked in Napa Valley and was offered the winemaker position at Rex Hill vineyards in Oregon. She stayed there for fifteen years before opening her own winery with her husband Ron, called Penner-Ash Wine Cellars, in 1998, where they specialize in Pinot Noir. 
From being the only woman in the room, Penner-Ash led the way for other women after her to find their place. Along with others, she founded Women in the Room, a group to support and elevate other women in the Oregon winemaking industry. It all comes down to their mutual respect and passion for the winemaking process. 
"My favorite part of my job is definitely production," Penner-Ash said. "I like going out, walking through the vineyards, tasting and talking and wondering what the vintage is going to bring."
Penner-Ash Wine Cellars was featured in the February 2021 Aggies Uncorked shipment.
Gaderian Wines: resilience through seasons of wildfires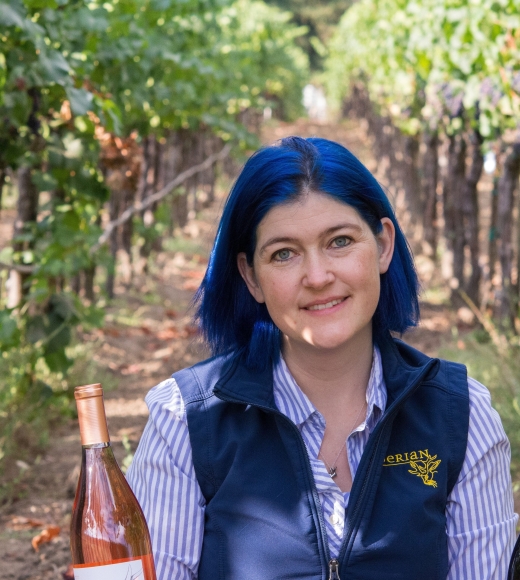 Shaina Harding opened Gaderian Wines in 2017 with longtime friend and 12-time Olympic medalist swimmer Natalie Coughlin Hall to start her own winery after working for many years in Napa Valley.
That same year, major wildfires struck the region and Harding experienced firsthand the challenges that follow.  
"I'd been working in the valley since 2008, but 2017 was my first exposure with major wildfires," she said. "This was actually breathing smoke in the air and it was awful," she said.
While her production and winery mostly evaded damage in 2017, several parts of it burned down in the 2020 fires. Their crush pad, tasting room and surrounding forest burned down and Harding was forced to evacuate. Without electricity, she used old traditional methods to protect the grapes and maintain temperature control.
"You have to be really flexible and be willing to change your winemaking style in this environment because you never know when fires are going to come and you've got to be ready," she said.
A Florida native, Harding's interest in wine began while working in restaurants in New York City, and eventually led her to pursue a viticulture and enology degree from UC Davis. After moving to Napa and working in several wineries of the area, Harding decided she was ready to start her own.
"I had been making wine for others for a long time and I decided I wanted to do something for myself," she said. She opened Gaderian, which means "to gather" in Old English, with the goal of making high-quality wines that would bring people together and be enjoyed. Their signature wines include Chenin Blanc and Pinot Noir.
"When I hear from people who've had my wines it just it makes me so happy because I feel like we're really doing something to help give people joy in their lives," she said.
Don't miss out—Gaderian Wines will be featured in the next Aggies Uncorked shipment in May 2022.
Primary Category
Tags