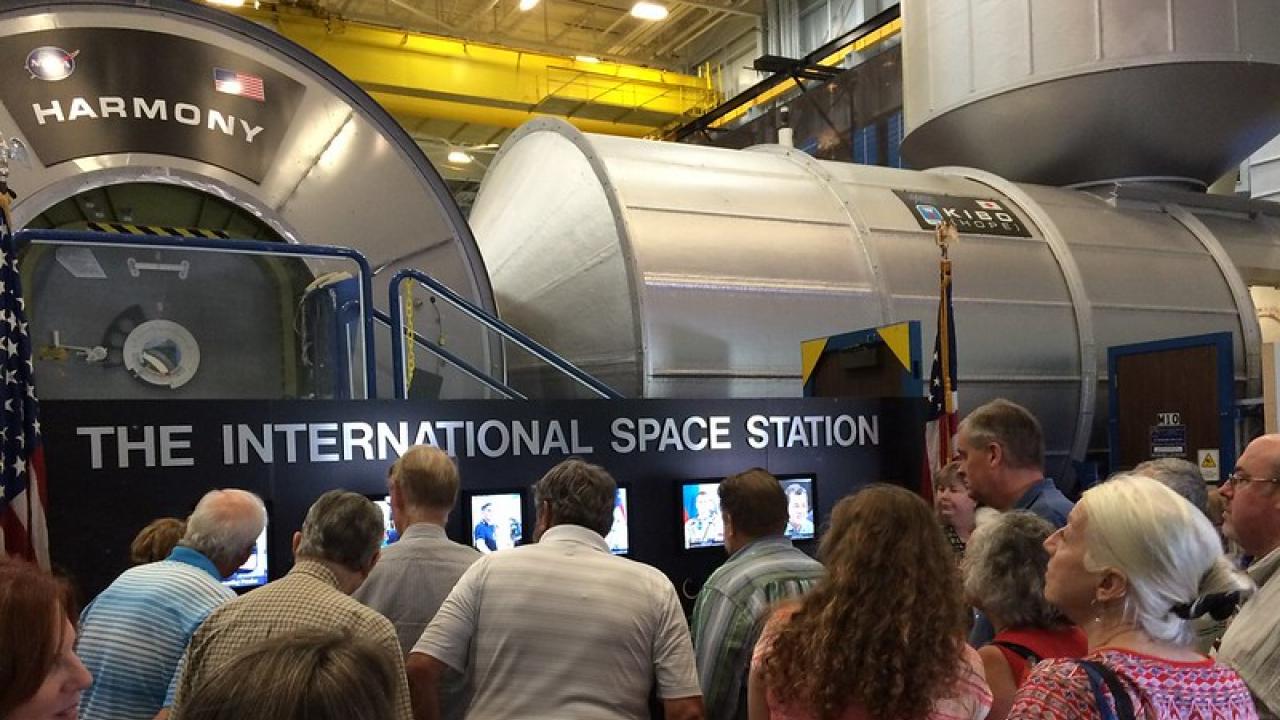 By Yinon Raviv 
Alumni events held early this summer in Houston, Texas remind us that even outer space can be included in the list of places where Aggie alumni and faculty have left their mark.
Featuring an all-star lineup of UC Davis faculty and alumni researchers, two Houston events, (a reception and a luncheon/tour) included presentations for alumni on current UC Davis research in human spaceflight, human physiological adaptation to spaceflight, and robotic exploration of distant planets. Additionally, it provided an opportunity for alumni to reconnect with their alma mater and each other.
Alumna explores the effect of space on the human body
If humankind is to explore the final frontier of space, it is imperative to understand how this radically different environment affects the human body, according to alumna Liz Warren '96, Ph.D. '03. Warren, one of the event speakers, is a NASA spaceflight physiologist and spends her time learning about how astronauts' bodies respond to spending extended periods of time in microgravity.
"We did research on Scott Kelly, who recently got back from a year-long mission on the International Space Station. That was probably the most data we've ever had to work with," she said, adding that there is still much to learn about how humans can minimize muscle and bone loss while spending extended periods of time in weightlessness.
"This event was so wonderful because it really reminded me what an impact the school had on me," Warren said. "UC Davis has such a unique culture of collaboration and teamwork, and that has served me well in my career with NASA."
UC Davis faculty exploring space
Alumnus Stephen Robinson '78 returned to UC Davis after a distinguished 37-year career at NASA. Now the chair of the department of mechanical and aerospace engineering and director of the UC Davis Center for Human/Robotics/Vehicle Integration and Performance (HRVIP) Lab, Robinson conducts interdisciplinary research to extend human exploration in extreme and highly hazardous environments, including spaceflight, aircraft emergencies and robotic surgery.
During the Houston alumni events, the former astronaut talked about his experience on four shuttle missions, including two visits to the International Space Station.  He also arranged and conducted an exclusive tour of Mission Control and the shuttle mockup facility for the group and was joined by fellow NASA colleagues and Aggie alumni, Warren and Ernie Prado '10.
"It was a great event," Robinson said. "(I was) very impressed with the organization and with the turnout!"
Professor Dawn Summer, chair of UC Davis' Earth and planetary science department, spoke to the Houston alumni about her research on the Mars Rover, Curiosity. Working from UC Davis, Sumner collaborates with engineers, biologists and geologists from across the country via remote teleconferencing tools.  Sumner is a former Chancellor's Fellow, a young-faculty award supported by donations to the UC Davis Annual Fund, and used her award money to propel research that eventually led to the Curiosity mission.
"I find it very important to share our research with a wide variety of work because of how it's funded," Sumner shares. "It's important for me to talk to UC Davis specifically because every student who comes to UC Davis contributes something to the university. So, it's vital that we continue this sense of pride and belonging."
Aggie Connections
Jeff Hepper '79 and his wife, Kellie, hosted and helped to organize the event. Jeff described how he felt getting involved with his university again.
"I realized that I had missed being in touch with my alma mater," he said. "So many amazing things have changed at the school since I graduated in 1979, so it's great to be reconnected."
Warren agreed.
"I loved that we were able to talk about UC Davis's amazing contribution in the field of space research, but my favorite part of the event was meeting all these people," she said. "There's something amazing about having this shared experience, knowing the same buildings, the same dorms, the same culture. I think everyone walked away with some new friends."
Category
Tags