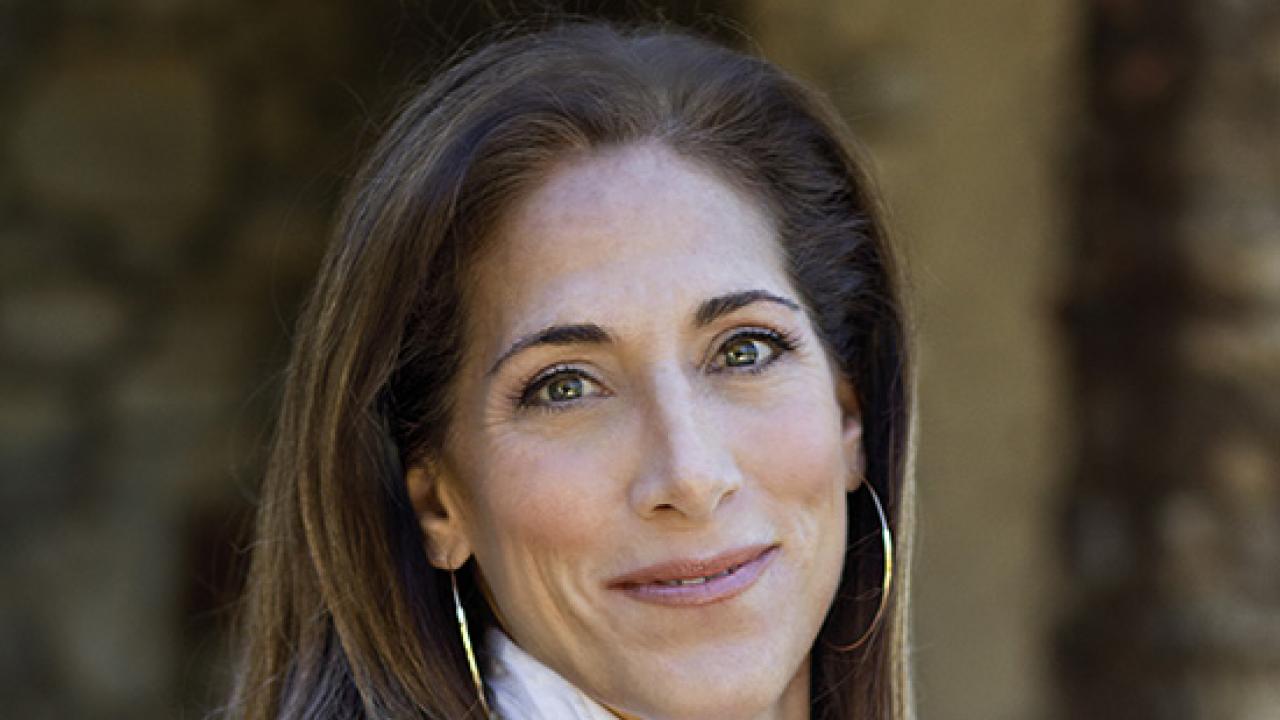 With an eye for design, a mind for the budget and a desire to delight the customer, Laura Rosenthal MBA '96 creates beautiful living spaces for her clients. As owner and founder of Meridian Homes, she is known for full-spectrum residential projects, from the foundation down to the hand-picked silverware. All the while, she is motivated to create environments that shape the hearts and experiences of families – a goal she has achieved for her own family by working from home and striving for work-life balance.
Rosenthal manages renovations and ground-up design of luxury homes, valued between $2 million and $5 million, all from her home office. She founded her business in 2008 in an effort to find a compromise between staying home to raise her two children and maintaining the intellectual and creative stimulation she gains from working. Prior to the time of her company's founding, she had successfully renovated her own home, helped a friend with a similar business endeavor, and designed and sold a luxury spec home – all of which affirmed, in her mind, that design and construction management were a perfect fit.
"I have always sort of had a bent toward entrepreneurship," said Rosenthal, whose father and grandfather both ran their own businesses. "Even as a kid, when I imagined what I'd be doing, for whatever reason, I always pictured it to be something on my own. My MBA from UC Davis gave me the confidence to go for it. But even as my own boss, work-life balance is an ongoing effort. There are times when I feel like I've achieved it and other times when I feel like I am failing miserably."
Over the course of a year, Rosenthal and her assistant handle between five to eight projects, most of which are located in a two-mile radius of her Del Mar home, which rests in San Diego County of California. Rosenthal's clients are mostly acquired by referral, with about 70 percent seeking her expertise on renovations and 30 percent for ground-up construction. By managing her own work load, she can make time for picking her kids up from school, helping them with homework and being available to her family in countless other ways.
Proudest moment
With Rosenthal's desire to make time for key moments in her family's lives, it's no surprise that her favorite part of her business is creating happy environments for other families.
Recently, Rosenthal worked on a project for a professional basketball player and his wife who sought out Meridian Homes because they needed a home that was move-in ready. The couple only had a chance to see the home once – during the demo phase of its construction – before it was time to reveal the finished product.
"That project may be the proudest moment of my career," Rosenthal said. "It felt great to take someone's vision from just a few photographs, showing the types of design they liked, and then bring it into reality for them. Then, to have them not only like it, but to love it beyond their expectations – it's a wonderful and rewarding feeling."
Rosenthal added, "Another aspect of my job that I love is that if I don't go to work one day, it makes a big difference. I am not replaceable here."
Her authentic Aggie connection
Rosenthal also credits UC Davis for instilling qualities in her that helped her become a successful entrepreneur.
"UC Davis and its surrounding community has a certain 'down-to-earth-ness' and authenticity that I carry with me," said Rosenthal, who gives to UC Davis' Graduate School of Management. "I have found there is an appreciation for those qualities outside of UC Davis that has helped lead to my success and built trust with my clients."
She added, "As a creative person, it's especially important to stay linked to my past. UC Davis is like family. When you have an experience like that, it becomes part of who you are and the way you interact with the world, so it's important to remain connected to UC Davis as a grounding factor and a means of continuing that legacy. This provides the opportunity for others to access the same benefits that I received from the university."
Category
Tags