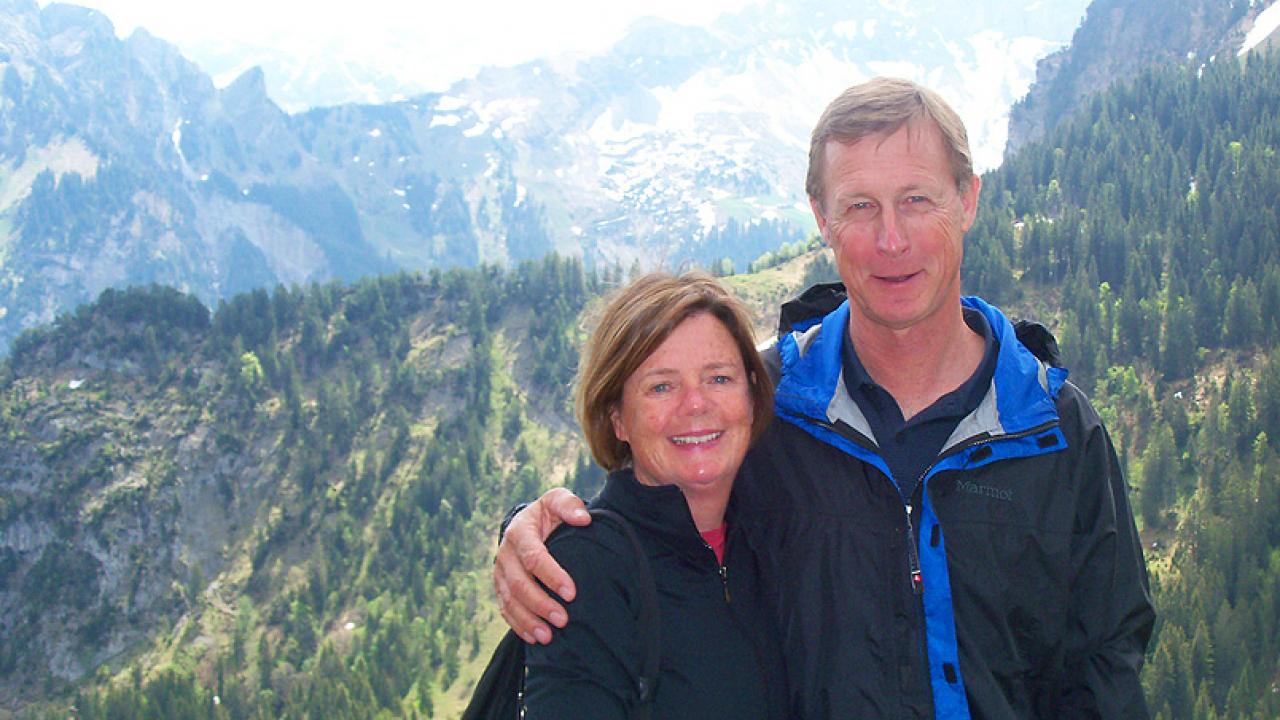 By Sadie Gropen  
It's easy for Frank and Nancy Muller of Woodland to maintain their Aggie ties. 
Frank '79, and his wife of 31 years, Nancy Casey Muller '78, '82 M.S., loved the time they spent at UC Davis. They met on campus, both studying managerial and agricultural economics. 
Frank is a partner in Route 3 Wines. The family's farm, Joe Muller & Sons, created Yolo Vineyards in 1994, which farms 270 acres of wine grapes, vine stock, and olive and walnut orchards in the Dunnigan Hills. They launched the winery in 2007, using grapes exclusively from the vineyard's Hucke Ranch. 
It's a family affair. The two other partners are Frank's brothers, Louie Muller '77, and Tom Muller. Sister Marianne Ferrendelli is an '88 graduate. Dad Joe and mother Marie are both retired. Through time, all six of Joe and Marie Muller's children have been involved. 
Named after the rural postal route on which the family farm resides, Route 3 is best known for Albarino, a variation of a Spanish white wine. It's Frank's favorite summer drink. In winter, he prefers Syrah; Nancy enjoys Merlot. 
Nancy grew up in Burlingame. For her, the move to Davis was a big change. "I visited the UC Davis campus and fell in love with the open space." 
Frank transferred as a junior to UC Davis from Cal Poly, San Luis Obispo. He was drawn to the theoretical education, but loved the fun side as well, especially the Cal Aggie Marching Band-uh! 
They're happy they stayed in Yolo County, and have "a wonderful family business," Nancy said. Their success is rooted in their trust in each other. The wine and vineyards are just part of their business. They also grow lots of tomatoes — Yolo County's No. 1 crop. Nancy and Frank have a high regard for UC Davis. They are on campus about once a month to attend Mondavi Center events or to help with campus research projects. 
He says, "(UC Davis) still has a lot to offer us, even though I'm not going to school anymore." 
The Mullers are life mem-bers of the Cal Aggie Alumni Association, and look forward to continued involvement with the university. 
"The UC education that we got was incredible," Frank said. "In any way we can give back, we have to give back." 
Category
Tags