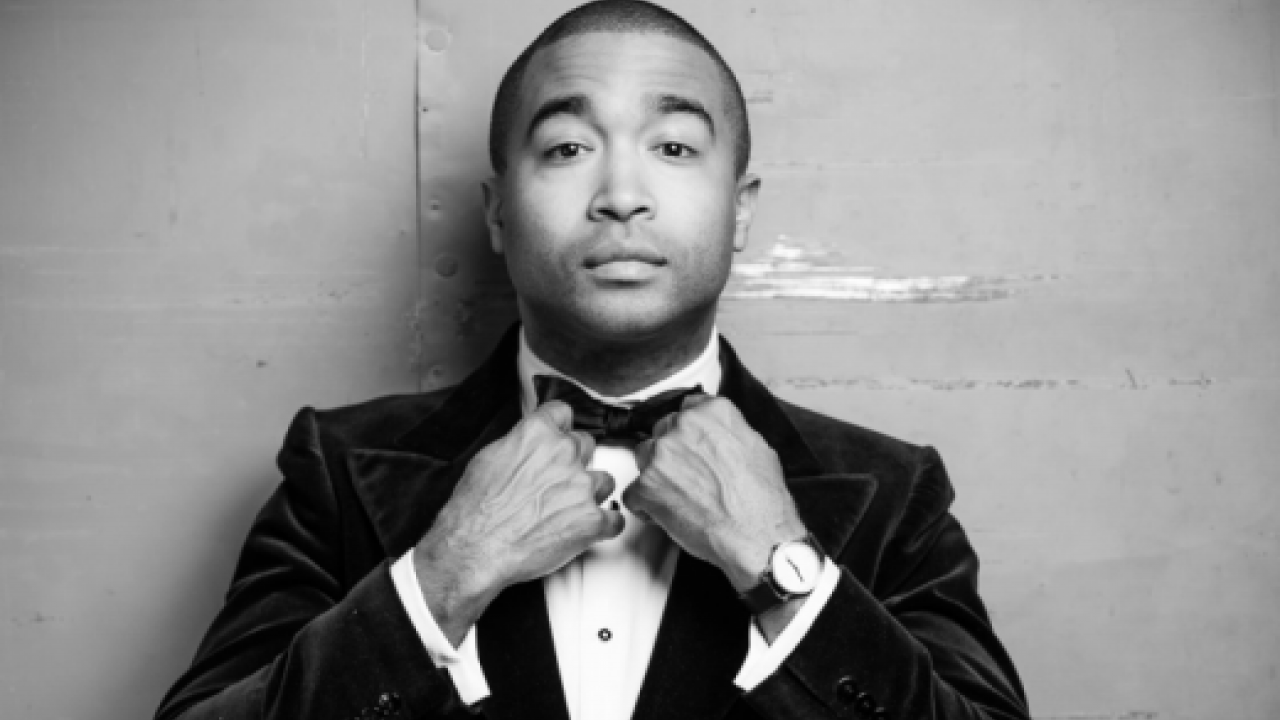 By Cody Kitaura
Tre Borden, MBA '11
Most MBAs don't give up secure jobs to sell earrings made of masking tape.
But that's what Tre Borden did, leaving a job with a local utility to help market a friend's Tapigami products.
"If I can't do something more fun and entrepreneurial, who can?" Borden said. "I can't wield a paintbrush, but I can connect a client with an artist."
Borden calls himself a placemaker and specializes in art curation, specifically installations that challenge conventional thinking of how certain areas should look. He's focused on changing the perception that his hometown of Sacramento is a boring government town.
After curating much of the art in Sacramento's hip new Warehouse Artist Lofts, Borden aimed for something a bit more far-reaching. He waded through more than a year of bureaucracy to get approval for two artists — Sofia Lacin '08 and Hennessy Christophel — to create Bright Underbelly, a 70,000-square-foot mural on the underside of a freeway.
He got the idea on a trip with his Graduate School of Management class to Buenos Aires, Argentina, where he saw bridges and other urban structures painted and transformed into works of art.
He calls his next project even more ambitious, although it's only 12-feet tall and made from plastic. Borden and a group of artists set out to design a work called Portal that could inspire residents to envision the future of Sacramento. Although they didn't have a concept at the beginning, a few months later they had an LED-illuminated doorway next to a former ice plant in an industrial area of midtown. The interactive tunnel changed color in response to motion and social media participation.
The organizers also hosted a series of events ranging from a forum on homelessness to a "silent disco," in which attendees danced to a mix heard only through headphones.
Portal was installed for a few weeks last summer. For Borden, the goal was to help move Sacramento closer to a place where cutting-edge art is expected. He carefully documents each project so others can learn from his work.
"Sacramento is thirsty for these kinds of projects," he said. "The fact that we're doing this makes it easier for people after us to do it."
TJ Lee '15
TJ Lee has already completed her "77 Days of Davis," a fun way to track her last school quarter and a project she created as a student.
Lee, who presented the "bucket list" idea at TEDxUCDavis last spring, now works for Firefox-maker Mozilla, recruiting volunteers to advocate for the firm's open-source software and philosophy of being aware of online tracking.
The job allows her to work off site, and she has been chosen as one of 75 people to take part in an independent program called Remote Year. Participants from various companies spend all year working abroad — living in a different country each month — all without quitting their day jobs.
"People abroad are a little different. I like that," she said. "They're more relaxed and generally happier."
Ignacio Torres '10
Ignacio Torres thought he'd go into politics until an internship at the California State Capitol made him realize he wanted to be a journalist.
As a producer for TV network Fusion, Torres reported on issues like LGBTQIA rights, which he learned about from outspoken UC Davis groups.
He sometimes has difficulty explaining his work to his parents, conservative Catholics who moved to California when Torres was a child and have since moved back to Mexico. They're open to new ideas but have trouble with the nuances, Torres said.
This fall, he started a new job with ABC News in New York. And even 3,000 miles away, he'll still be near friends he met as an undergraduate.
"The friends I made in Davis are still my closest friends now, and I think it's because we're all so different," he said.
Category
Tags