A Long Walk to Freedom
From Voting Rights to Environmental Justice
Celebrating Black History Month is part of my daily practice of gratitude that honors the freedom fighters in history. That includes those within my family and their long walks to freedom that paved the way for my liberation. Their strength from extraordinary accomplishments empowers my work as a change agent, one that I cherish and preserve. My heritage has a profound legacy fighting for voting rights and calls me to continue working on critical issues today.
 
My daily empowerment practice begins with my great-grandmother's voting receipt, as I remember her journey and legacy that blessed generations to come. This document has stood the test of time and will have its centennial in 2026. Her voting receipt traveled three generations forward. As it now lands in my lap, I embrace the responsibility and obligation to speak of the significance. This piece of paper reminds us of the struggles and importance of the right to vote and how we can manifest inspiration to address systemic change today.
In 1926, my great-grandmother Rosie Washington paid $1.75 to vote. Three years after the women's suffrage movement in 1923, my great-grandmother had the right to access a voting receipt. The act of voting for her illuminates intersectional costs for access, including the financial means to vote, women's rights, and how classifications like property-owning property create societal hurdles. This precious heirloom is my great-grandmother's dedication and commitment to our fundamental rights, one she propelled forward for future generations to have the right to vote and move beyond systems that may inhibit human dignity. My great-grandmother may have put her own life in danger; she was at odds with what seemed impossible with the times. She could have faced a hard reality that many people were at odds with, one that could have led to harm or death. My great-grandmother is my shero, and her actions inspire my leadership and commitment to building a more just world.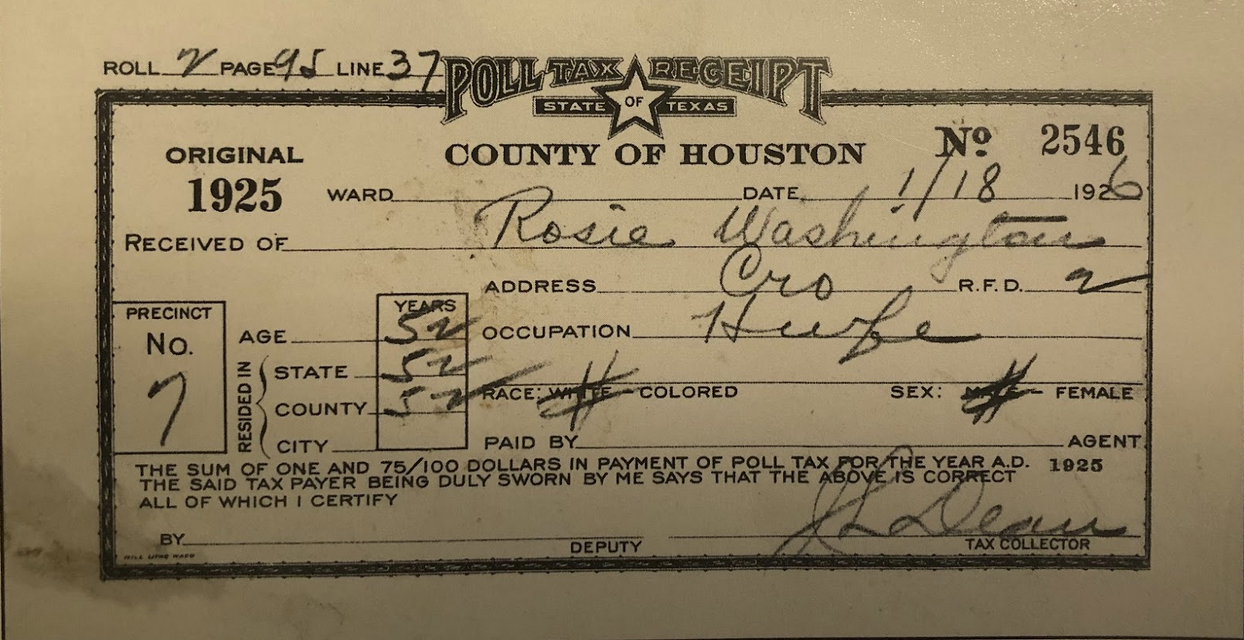 My great-grandmother's voting receipt reminds me that systemic problems are still unresolved and inspires my work to address environmental threats with climate change that undermine the planet and humanity. Inequitable distributions of wealth, resources, and food, paired with public policies, can perpetuate racial discrimination, advance disease, and impact communities.  
In 2002, the Texas Department of Agriculture declared the land ownership of my great grandmother's farm a historically-owned property in the State of Texas, which has been in her family for more than 100 years. In 2013, I visited this historical farm in the community of Crockett, Texas, for the first time. I was amazed that this rural town was better prepared for a catastrophic climate disaster than the urban California city in which I resided. This was an ah-ha moment where I found my passion for environmental justice, to understand how some communities have greater access to resources, especially during disasters.
In partnership with FEMA, the town built the local school gym to serve as a recreation center for students and a safe shelter in case of a disaster. Local support for environmental relief centered in a space where the entire location could rely on the refuge as a community. Unfortunately, methods like this were not the case for communities of color and can have devastating effects, as we saw with Hurricane Katrina. Upon further exploration of shelter, resources, and places of safety, we find Black communities are the most undersized infrastructure in cities for providing protection. When hurricane Katrina destroyed countless communities, it also made many poorer communities unable to rebuild, forcing migrations and displacement to reassemble elsewhere. The vulnerability and threat of Black communities post-hurricane Katrina ignited me to train with the Founder and Chairman, Climate Reality Project (CRP), and the former United States Vice President and Nobel Laureate Al Gore.
In 2018, I matriculated to be a Climate Reality Leader at the Climate Reality Leadership Corps. Today, I've mentored over ninety leaders in the critical approach to the climate emergency and the need to elevate communities most impacted after a crisis while addressing long-term effects for revitalizing neighborhoods. I also established a Climate Justice position in 2020 and served as the first African American Chapter, Co-Chair for the Climate Reality Bay Area Chapter. In addition, my passion has continued the pathways of environmental justice with studying as part of the Tishman Environment and Design Center's inaugural cohort, for which I received a Ripe for Creative Disruption Environmental Justice Movement Fellowship. I also join a cohort of twenty-one leaders from Turtle Island to include Indigenous Territories and the Territories and Nations of Puerto Rico and Guam, centering on climate justice, environmental health, energy democracy, and justice in transition. And in this journey, I continue my great-grandmother's long walk to freedom, uplifting the work that still needs to be done and carrying on the torch to the next generation of leaders.
I continue acknowledging my great-grandmother's strength, tenacity, and courage and hope to inspire the next generation of Aggie leaders. This is why I volunteer with the African and African American Alumni Association and serve on the Cal Aggie Alumni Association Board of Directors. Her long walk to freedom continues with my advocacy for environmental justice. It will, one day, create the next generation of leaders, especially those that we continue to support through our African and African American Alumni Association scholarship and creating a more just campus community at UC Davis.
Teron McGrew '89, M.S. '92
CAAA Board of Directors
African and African American Alumni Association Board Member
Primary Category
Secondary Categories
Tags