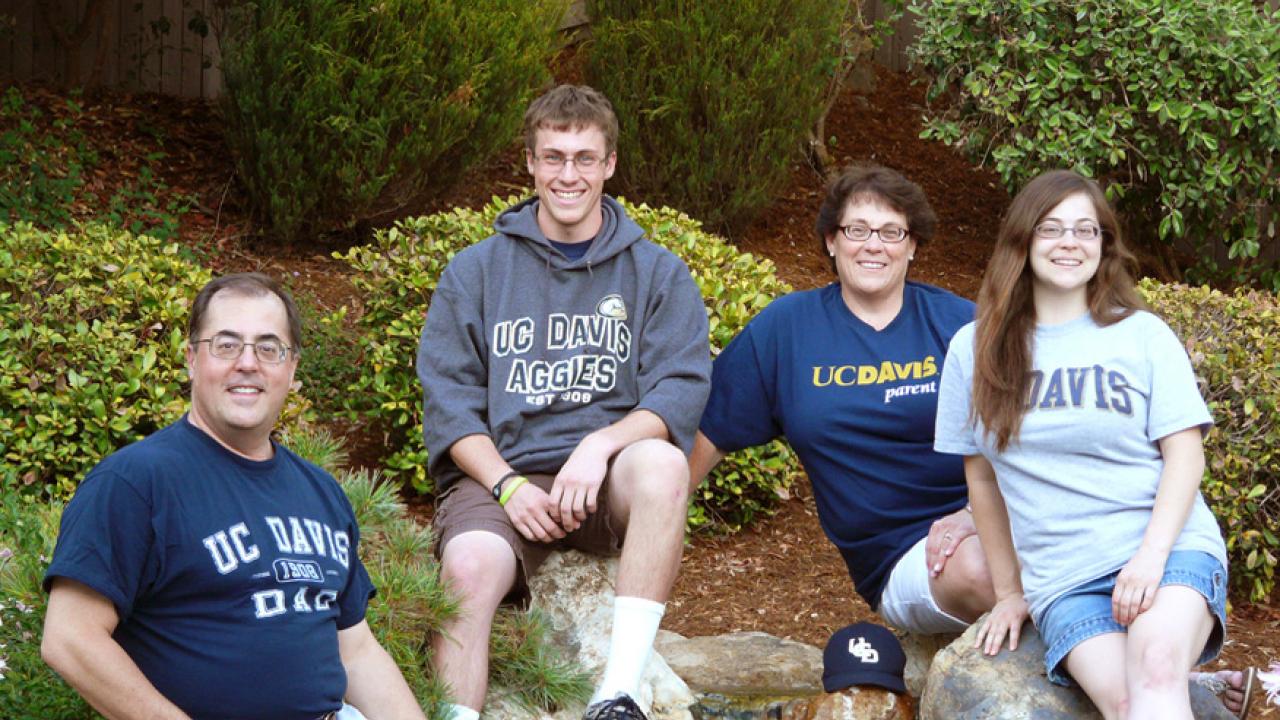 By Sarah Hoover
Alumna Kathy Green '81 and her husband Ted '82 say UC Davis has "always been part of our family history." The couple met here in 1980, and though they have lived in Southern California for the last 13 years, they have still always supported the university. 
Their connection to cam-pus grew even stronger a couple of years ago, when daughter Katie '14 was a senior at Palos Verdes Peninsula High School. She was offered a UC Regents Scholarship and chose to attend UC Davis. Two years later, son Michael was named a Regents Scholar and chose to attend, making him the fourth Aggie in the family. He began his freshman year this fall. 
Kathy and Ted explain that Katie came to love UC Davis on her own, not just because they were alums. 
"She was attracted to the Northern California location, as well as the university's status as a major research institution," Kathy said. Particularly inviting was the integrated studies honors program, which provides scholars with priority enrollment and graduate-level library privileges to prepare them for research during upper division coursework. In her third year, Katie is studying English and environmental science and management. 
Michael also considered UC Davis' merits outside of his parents' alumni status. One such attraction was the Division I baseball program. While visiting his sister, he became familiar with campus and found opportunities to train with the current team. At an Orange County alumni event, he met UC Davis coach and alumnus Tony Schifano and a few former players. While visiting campus he also connected with Dean Winston Ko and Professor Neil Schore from the chemistry department. 
For both students, events like Picnic Day and Decision Day gave them a true taste of life as an Aggie, from meeting current students and faculty to eating in the dining commons. 
The Greens say UC Davis' essential character is "a special place with exceptionally talented students, a welcoming culture, outstanding resources, and a safe and supportive community." This character was central to Katie and Michael choosing Davis, despite offers from other UCs, including Berkeley, San Diego and Santa Barbara.
While their college choices were completely their own, the younger Greens followed in their parents' footsteps by becoming active on campus. Like her dad, Katie serves on the Residence Halls Advisory Board, as well as the Residence Halls Judicial Board and the Regents Scholars Society. Like her mom, she tutors students in writing at the Student Academic Success Center. 
Following a strong family academic tradition, Michael followed Katie into the Integrated Studies Honors Program. Additionally, Michael is trying out for a walk-on position with the baseball team this spring. "There are so many great things happening on campus which impact who our children will become," the parents wrote in an email. 
While the Greens take pride in their children's accomplishments, they maintain that they are extra proud of Katie's ability "to transfer skills and values that were important to us at home and make them part of her life away from home." 
Last summer, the Greens moved from Rancho Palos Verdes to El Dorado Hills to be closer to aging parents and extended family. Because of this, Michael's transition to college is easier for the family than Katie's freshman year was. 
Kathy and Ted know that leaving home affects each student differently. "As parents, we can support them with their struggles and challenges (whatever they may be), while reminding them how proud we are that they have worked so hard to attend UC Davis." 
As members of the Aggie Parents Association and the Cal Aggie Alumni Association, the Greens encourage other parents to join and embrace their Aggie experience. 
"It is a great way to learn more about campus because UC Davis is going to be such a big part of your child's life. Also, as proud parents, the T-shirts are really cool." 
Not every Aggie family has such an extensive history with the university. However, by staying connected and visiting Davis — which the Greens consider "one of the last true college towns in California" — all families can share in their students' college experience for years to come. 
Category
Tags