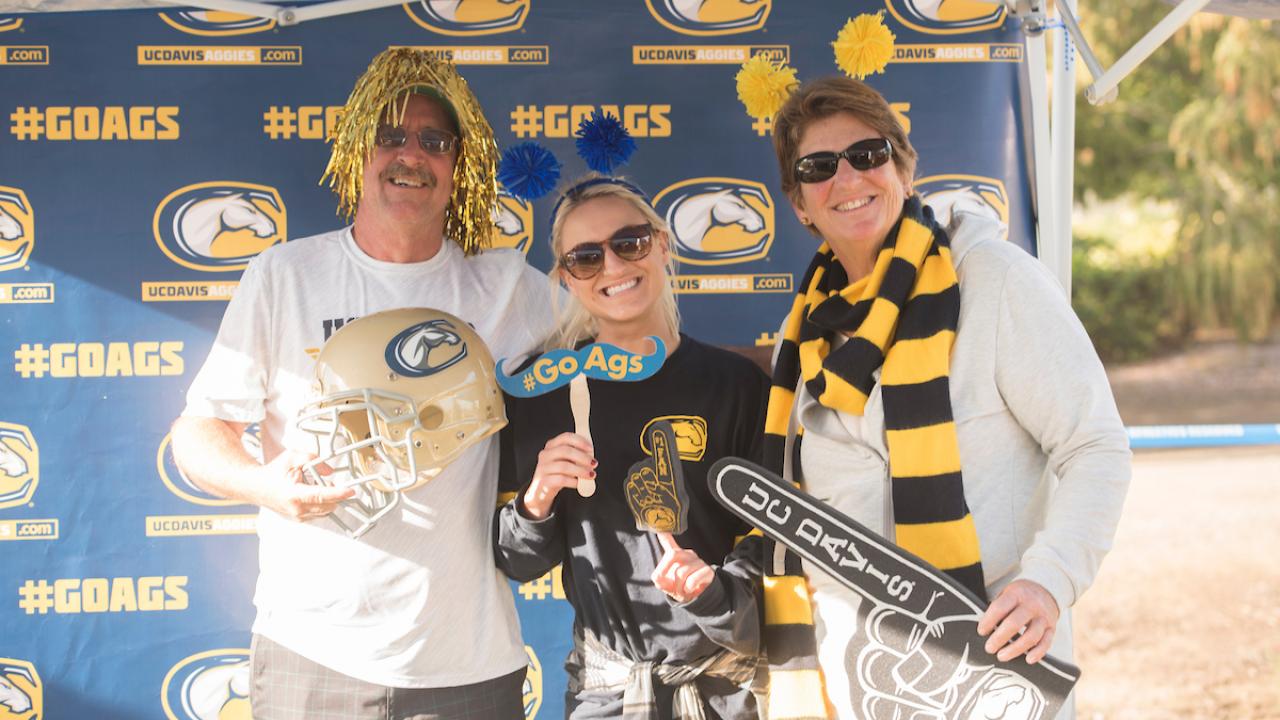 By Kristina Tenner, Aggie Parent and Family Parent Council Member
As we head into the final quarters of school for our second Aggie, the poignancy of "lasts" is setting in. Last Move-In Weekend, last Fall Family Weekend, last Fall Quarter, and the list goes on. We have been an Aggie family since September 2012, when my husband and I, along with our two sons, moved our first Aggie into her dorm room at Ryerson Hall. Over the years, road tripping up from Southern California to Davis to participate in the university's family programming, and our Aggies' extracurricular activities, has become a cherished tradition for all of us. We were delighted when the second of our three children chose to attend UC Davis, in part because it meant three more years as an Aggie family.
Included in our dreaded "lasts" are my final opportunities to serve as a board member on the Parent and Family Council, which has included volunteering on campus, hosting events in Southern California, and attending Board meetings and teleconferences with my fellow Board members, and a variety of representatives of the university.  When UC Davis sent out its first email inviting parents to apply to the inaugural Parent and Family Council during our daughter's freshman year, I enthusiastically applied and interviewed. The newly formed Council met for the first time in the Spring Quarter of 2013.
During the time I have served on the Council, we have worked to support the university's efforts to optimize the experience of Aggie families in a number of ways. Among other things, we have created, funded and facilitated an endowed scholarship, tailored the Aggie Traditions Program to meet the needs and capabilities of families, created the Ambassador Program and participated in Give Day. We have hosted and volunteered at Aggie Welcomes, Aggie Sendoffs and Coffee Talks around the country. We have served on question and answer panels at Orientations, Decision Day, and regional admission events. We have tabled at and volunteered during Move-In Day, Fall Family Weekend, Winter Family Weekend and Picnic Day.  We have scooped ice cream at Picnic Day, made congratulatory phone calls to admitted students, helped the Alumni Association read scholarship applications, designed and written newsletters, contributed to content on parent websites, sponsored Thanksgiving meals for international students, started Facebook parent groups and answered families' questions via email, phone and in person. In the course of these activities, we have had the privilege of meeting families from around the world. I never fail to be impressed with their curiosity, intelligence, sense of humor and eagerness to launch their Aggies into university life.
Each year as the council reconfigures, I am inspired and humbled by the diversity of background and talents that members bring to the table.  Many have become friends.  A few are even coming to our daughter's wedding to a fellow Aggie she met the first hour we were moving her in!
Working with university representatives has provided me an even deeper appreciation for the talents they possess, the heart they share, and the commitment they put into practice for the students and families that make up the larger Aggie Family.  They have treated parents as equal partners in community life, sought our opinions, and constantly evolved to meet the needs of the Council and the UC Davis community at large.
If you want to make a difference in the lives of Aggie families, I sincerely encourage you to apply to be a Council member. Please visit the Aggie Parent and Family Council Page to apply.
If you have any questions, please feel free to contact me at kristinatenner@att.net. As we enter this holiday season, I can honestly say volunteering for the Council is one of the things I am most thankful for, and that the experience has been a gift for our whole family.
Category