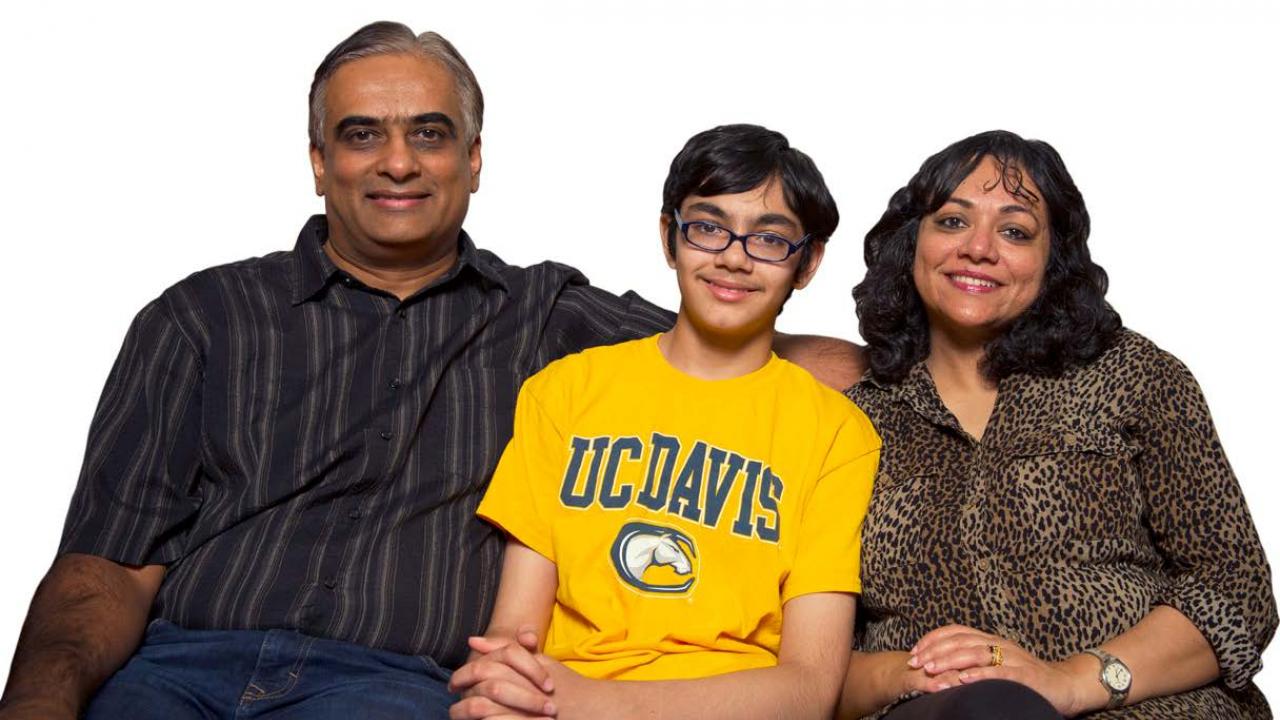 Parents of 13-year old Tanishq Abraham '18 share what it's like to parent a prodigy
By Laura Pizzo
The morning after Bijou and Taji Abraham's son was born, they saw their first clue that he was gifted.
"My mom came to see Tanishq in the hospital, and his eyes were bright and open, and he was making eye contact," explained his mother Taji MPVM '97. "And my mom said, 'Oh my gosh, I've never seen a half-day old baby paying so keen an interest in what you're saying.' And the pediatrician said something similar. So looking back, there were clues here and there that showed he was advanced."
At the time, Taji was enrolled in a Ph.D. program at UC Davis in veterinary medicine. She had already completed her Master of Preventative Veterinary Medicine (MPVM) at UC Davis.
And although she was committed and passionate about veterinary research, she decided to take a yearlong sabbatical due to post-partum health and childcare issues, and soon after she decided to be a stay-at-home mom. At only a few months old, Tanishq was already  skyrocketing past developmental standards, and it became clear that he would need to be home schooled—a decision that came in handy again when Tanishq's sister Tiara was born, who is also gifted.
"My baby books would say, 'When a child is a year old, this is how they communicate, this is how much comprehension they have,' and Tanishq was doing those things when he was only a three-month old," said Taji, who lives with Bijou and her two children in Sacramento. "So I decided to stay home. I wanted to be there, observe him and help him out." 
But even at that time, Tanishq's parents did not imagine that he would move as quickly through his education as he did.
At age 7, he began taking classes part-time at American River College (ARC). At age 10, he earned his high school diploma. At 11, he received three associate degrees. A year later, he was accepted to two UC schools. And this fall, he is taking an even bigger leap, transferring to UC Davis as a 13-year-old, third-year student and majoring in biomedical engineering with the hope of going on to medical school and becoming a doctor and researcher.
College at age 7
When Tanishq enrolled, ARC required that Taji take his classes with him and that he get professors' approval before taking a class. 
"For the semesters I studied with him, I was trying to understand quickly, but the classes—astronomy and geology—were very different from my field, so I would say 'Oh Tanishq, I'm stuck on this part,' and he would say, 'Mom, it's so simple!' and then he would explain it to me," she laughed. "So that's one unique thing about Tanishq; he understands new concepts quickly and then on top of that he does a lot of reinforcement."
"I'm excited about the research opportunities that will finally be available to me at UC Davis."
—Tanishq Abraham
Even after Taji stopped going to classes, it remained important that she and Bijou stay informed about Tanishq's coursework, more so than the average parent of a college student. She and Bijou continued to handle administrative tasks, such as getting permission for classes and speaking with professors to make sure the language and content were appropriate for a child.
"If a 7-year-old kid asked most parents 'Can I go to college?' they wouldn't take it seriously," said Tanishq. "But my parents realized I really  had a passion for it, and they supported me. My parents' role in my academic journey is huge, and I am very grateful." 
Changing the world, beginning with UC Davis research 
When Tanishq speaks about transferring to UC Davis, he uses the word finally in a way that few 13-year-olds could. He's been working  toward this goal for half his life.
"I'm excited about the research opportunities that will finally be available to me at UC Davis," he said. "I'm excited that I can get my bachelor's degree because I have wanted to do it for quite some time now. It's been a long journey."
Tanishq chose UC Davis due to its proximity to his Sacramento home. This summer, he also secured an invite to work with biomedical engineering professor Cheemeng Tan, doing research on artificial cells.
"I'm very excited about the possibility of working with Professor Tan," Tanishq said. "I find the therapeutics and diagnostics component interesting, and the research also has a computing factor. We'll have to design genetic circuits, which I have a lot of interest in.  He also said I could design my own research about artificial cells, which would be a great opportunity." 
In addition to Professor Tan, Tanishq has corresponded with other biomedical engineering professors about research opportunities as well, receiving positive responses from many of them. 
Taji and Bijou are flattered that Tanishq is following in their footsteps, pursuing a degree program that is a melding of his mother's medical  research experience and his father's engineering career. The interdisciplinary major appealed to Tanishq because the combination of math  and science will help him prepare for medical school, and the smaller class sizes afford him more one-on-one faculty attention.
"He's driven by a desire to change the world, and we— as parents—are very proud of that," Bijou said. "Of course, sometimes it frustrates  him that at his age he can't do more. For example, he's been wanting to get into a research lab for a long time. He's been telling us to have  a lab in our garage for years—no way! But now at UC Davis, he's going to really be able to apply his ideas, so we're very excited for him."
Category