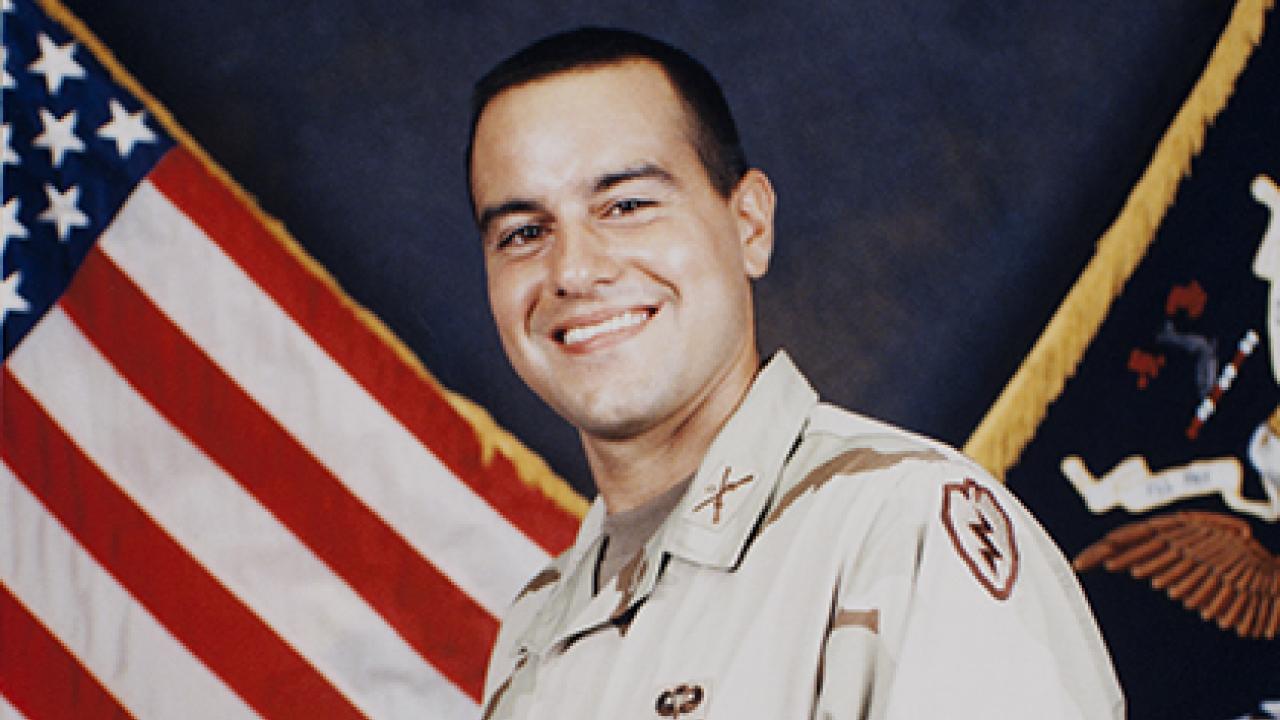 by Charles Mak '17
The Seattle alumnus who works for Amazon — the worldwide retail giant that partnered with UC Davis to help raise money for scholarships — said his drive and passion for leadership truly developed while he was an undergraduate student at UC Davis. 
During his time as a student, Jonathan Pedroza '02 was involved in ROTC, Sigma Phi Epsilon fraternity and Associated Students University of California, Davis (ASUCD) — serving as a student senator for a year. These extracurricular activities, combined with his studies as an International Relations major, provided him with a holistic learning experience that, he said, taught him how to be organized and efficient.
"The leadership skills I forged while at UC Davis helped me hit the ground running after graduation," he said. "The discipline and interpersonal skills I developed were just as important for my success post-graduation as the broad and rigorous academic training."
Upon graduation Pedroza was commissioned as Second Lieutenant in 2002 and was stationed in Hawaii before deploying to Afghanistan in 2004.
"My greatest achievement post-UC Davis was being honored to serve my country overseas in Afghanistan," he said. "I am proud that I worked on a project to reduce the Army's host nation transportation costs by more than $8 million annually and earned a Bronze Star Medal."
After leaving the Army as a Captain in 2008, Pedroza found success in the corporate world with The Hershey Company, Reckitt Benckiser, and Amazon in 2014. As a Senior Category Merchant Manager, he oversees the third-party seller Media marketplace on Amazon Canada and drives projects to improve the Seller experience and grow product selection. 
Recently, Pedroza reconnected with his alma mater and helped CAAA in hosting a UC Davis alumni event at the Amazon campus in Seattle. At the event, alumni learned more about the UC Davis-Amazon partnership, which is a co-branded web portal through which people can purchase clothes, electronics and other school necessities. A portion of the proceeds from purchases made through this website raise money for textbook scholarships and other UC Davis student programs and services.
"There are so many students who need help," said Ellen Davis '16 who is a part of the student-run philanthropy program We Are Aggie Pride, which is one of the beneficiaries of the Amazon-UC Davis partnership. "We Are Aggie Pride uses the bookstore award to help students so they can focus more on their studies and work toward their end goal of graduation, rather than focusing on trying to stay financially stable."
New Campus Store and Amazon@UC Davis Open June 6, 2016
The new Campus Store, formerly known as UC Davis Stores' Memorial Union store, will open June 6 along with one of the first brick-and-mortar locations for Amazon.com. Although the grand opening and ribbon cutting ceremony won't be until fall quarter, the soft opening on June 6 will make both the Campus Store and the brick-and-mortar Amazon location, Amazon@UC Davis, fully available to the campus community.
The Campus Store is now truly a modern retail location, remodeled for the university of the twenty-first century. It was designed to be uniquely UC Davis and serve the growing student population. New features include improved accessibility, adjustable fixtures to meet changing business needs, seismic upgrades, a state-of-the-art TechHub repair center, a featured campus author section, and kiosks for featuring products, departments and vendors.
The Amazon@UC Davis store will be located right next to the Campus Store in the Memorial Union, with its own entrance and hours (9 a.m.–9 p.m., Monday through Friday and noon to 9 p.m. Saturday and Sunday). It will provide a convenient location to pick up and return Amazon orders. Prime Student and Amazon Prime members will have access to free same-day pickup on a variety of items when shipping to the new Amazon pickup point.
Amazon's collaboration with UC Davis predates the brick-and-mortar location; ucdavis.amazon.com, a shared online storefront that donates a portion of profits to UC Davis, has generated over $700,000 to support student services since the program began, including over $100,000 toward textbook scholarships for UC Davis students.
So visit ucdavis.amazon.com for all your online shopping needs; it offers everything Amazon.com does, while contributing a portion of each purchase to UC Davis student services and scholarships.
Category
Tags