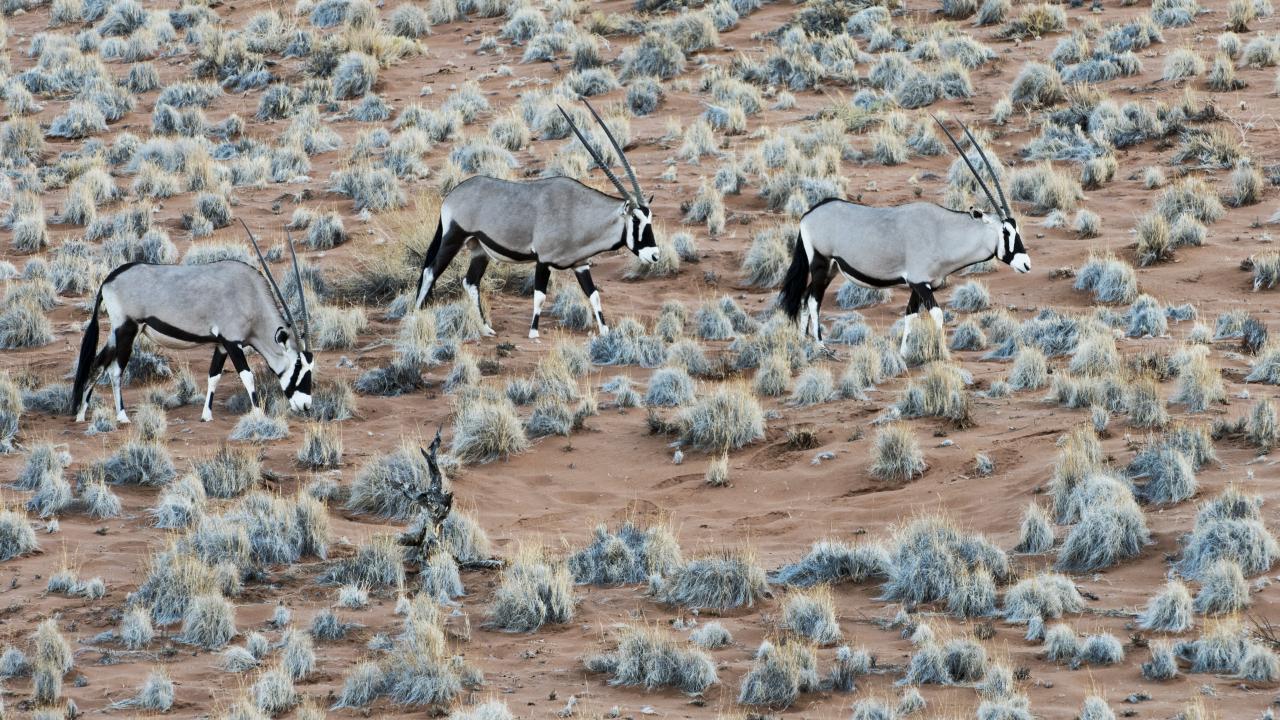 By Ben Ginsburg '17
After spending a career studying and observing plants at UC Davis, Clyde Elmore Ph.D. '76 has found a new calling in wildlife photography and spends part of his retirement traveling the world to capture images of large animals. Elmore's photographs are currently on display in his eighth show at the art gallery in the Walter A. Buehler Alumni Center.  
Elmore's exhibit in the Alumni Center Art Gallery is titled "In the Wild" and features landscapes from Washington, Oregon and Alaska as well as animals from Wyoming, Colorado, Namibia and Botswana. The gallery is named after Liquid Sugars Inc., Warren Mooney and Alfred B. Saroni, Jr. and features art by UC Davis community members, including alumni, students and retirees. 
"It's a great privilege to be able to see these animals in their natural settings. I especially love to capture different species interacting with each other," said Elmore, who has been on trips to photograph animals in countries such as South Africa, Namibia, Botswana, Tanzania, Kenya, Zimbabwe, India, South America, and Canada, as well as many states. "These animals have so much personality. I get to see and capture it close up." 
Elmore caught the travel bug early. He came to UC Davis for a research fellowship while studying for his doctorate and ended up staying for 38 years, working in what is now the Department of Plant Sciences in the College of Agricultural and Environmental Sciences. In his work as a Ph.D. in the department, Elmore had opportunities to travel around the country and the world, visiting the Middle-East, China and Eastern Europe. As he moved towards retirement, Elmore knew he wanted to photograph animals and started learning about the animal behaviors of the species he wanted to observe. Since retiring, Elmore has made dozens of international trips in pursuit of his passion for wildlife photography. 
"I don't get scared when I'm with the animals, and they certainly aren't afraid of me," Elmore said. "When you take the time to learn about their behaviors and habits, you can get much closer to them while remaining safe. I've been six feet from a brown bear because I know bears living on the coast of Katmi, Alaska, have lots of protein from salmon in their diet and aren't interested in human flesh." 
In addition to the Alumni Center's art gallery, Elmore's photographs have been featured in galleries around the City of Davis and in Oklahoma.  
UC Davis-affiliated artists interested in displaying their work in the Alumni Center may submit their artwork and a brief biography describing their relationship to UC Davis to Facilities Manager Adrianne Bataska.  
Category
Tags